Another week, another Monday to dive into! We have new beauty releases from Shiseido with their new skincare collection and Drunk Elephant's first body and hair care products. For our style-savvy readers, we also have exciting news from POMELO and Prada. Lastly, we finally get the Friends reunion we've been waiting for. Dive into the new week with the hottest headlines on the Internet.
Shiseido releases the new Vital Perfection series
Before the Love Month concludes, Asian beauty giant Shiseido releases a new skincare collection to provide your skin with some TLC. The brand-new Vital Perfection series boosts the self-regeneration power of ageing skin. It promises to bring visible lifting results in as quick as one week. It also features a citrusy-floral fragrance that is invigorating on its own.
The Friends reunion is officially happening
Fans of the television classic were overjoyed when the original cast jointly posted to tease the great news. The Friends reunion is happening in May of 2020 and will be available on HBO Max (launching in May as well). The reunion special takes the cast back to their studio at Stage 24 at Warner Bros. Studios in Burbank, CA. If you're mourning the loss of the show from Netflix's roster, you'd be happy to hear that the program will also be available alongside all 236 episodes of the show.
Drunk Elephant releases its first body and hair care products
The cult-fave skincare brand announced that it will be releasing a range of hair care products on the third of April. Taking their ethos of using clean ingredients, Drunk Elephant partnered up with celebrity stylist Chris McMillan — the creator of the iconic Rachel 'do. It will feature a shampoo, conditioner, detangling spray, and scalp scrub. It's guaranteed to be free of anything the brand deems potentially sensitizing or inflammatory to the skin such as essential oils, sulfates, fragrances, and silicones. McMillan even tested it out on his celebrity clients, yes — including Jennifer Aniston.
POMELO to launch its Spring Summer 2020 Collection via live stream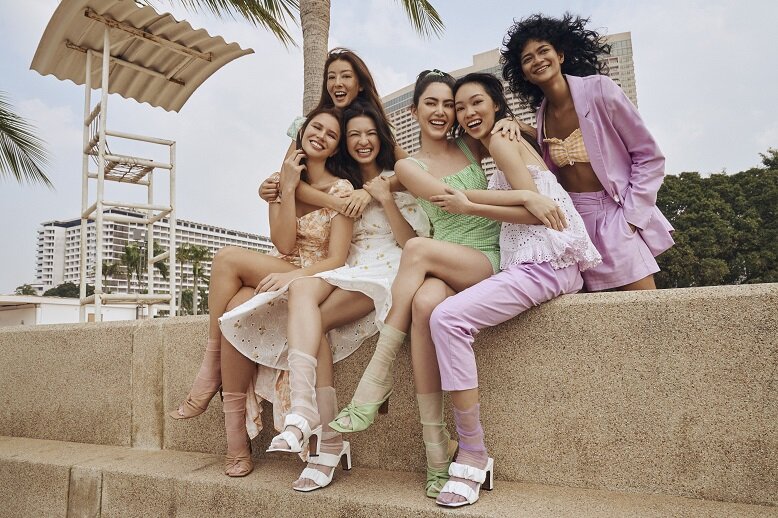 POMELO's Spring/Summer 2020 Collection launch will be live-streamed through the POMELO app.
Don't you wish to be on the frow of a new collection's launch? Luckily, POMELO is set to launch their Spring/Summer 2020 Collection with an in-app livestream. You will be able to catch exclusive, on-site interviews with all your favourite fashion personalities from the collection, including Layla Ong, the first Singaporean to walk the Gucci runway, and actively participate through interactive Q&A sessions. The Spring Summer 2020 Collection launch will be fully live streamed via the POMELO app on February 27 at 5:30PM SGT.
Raf Simons to join Prada as Co-Creative Director
Two creative heads are better than one. Miuccia Prada announced on Day 5 of Milan Fashion Week that they've appointed Belgian designer Raf Simons to join her as the co-creative director of the fashion house. Simons is considered to be one of his generation's most talented designers and a veteran of Dior and Calvin Klein. He will take up his post on 2 April and the first collection from the creative duo will be unveiled in September.
(Cover photo from: hbomax.com)
These were Friday's headliners.
Comments, questions or feedback? Email us at [email protected].