What do you expect when you get a tattoo for the first time? What is a good placement for a first tattoo? Is getting a tattoo really that addicting? These are just a few of the most common questions among the ink-free folk (myself included). A tattoo usually serves as a permanent reminder of an important stage, event, or person in your life and there are a lot of reasons why getting a tattoo is intriguing for a lot of people. However, there's no denying that thoughts about the pain, aftercare, and final designs can be overwhelming.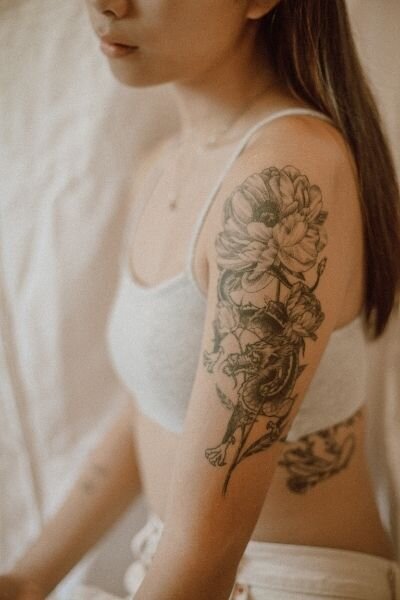 Don't worry though! If you've ever wondered what it's like to get your first tattoo, #TeamClozette has some words of advice for you — including how to choose the right artist and the best aftercare tips for keeping your ink looking vibrant.
Meet the tattoo enthusiasts
It may or may not come as a surprise, but #TeamClozette has a lot of tattoo lovers among our numbers.
"I've always wanted one even as a young teen. I guess because I was a bit rebellious and hurting at the time?" mused Marga Banaga, Clozette Philippines Campaign Manager. "I was 16 and in college when I got my first tattoo though. It was definitely a spontaneous decision."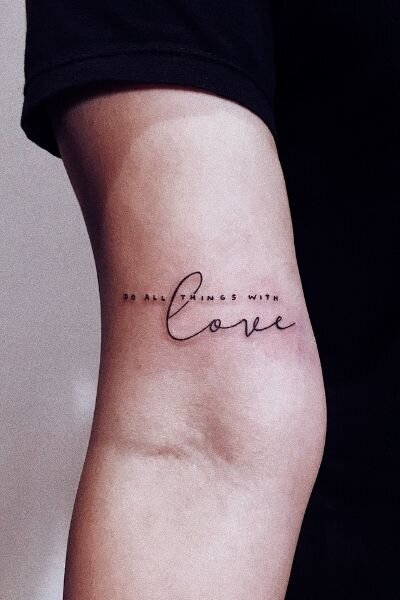 Another person who spontaneously decided on her first ink was our Creative Manager Audrey Ang. "I knew I wanted a script tattoo and always loved this quote by Warsan Shire: 'The only darkness we should allow into our lives is the night, and even then, we have the moon.' I quite spontaneously decided to get it."
Meanwhile, our Digital Media Manager Vicky Wong knew she wanted to get a tattoo years before she committed to the first one. "I have always wanted to get inked after secondary school because I see tattoos as self-expression in the form of body art. However, I waited for quite some time and only got my first tattoo a year after I started working. My parents were quite against me getting a tattoo, but I decided to follow my heart since I've dreamt of it for many years."
First time's the charm… or not
When it comes to getting your first tattoo, a commonly held belief is that you need to be "sure" of the design you're getting since it's supposed to last "forever". But is that really the case?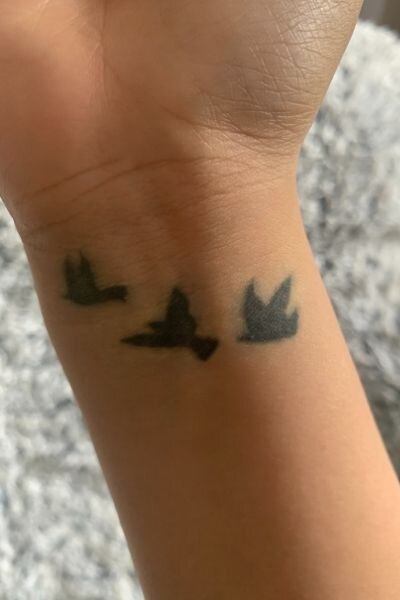 "I was young at the time and I was dealing with quite a few problems, so I wanted something on my wrist that would remind me that life is short and to live it with 'No Regrets'. Although I do regret getting it now. How ironic," Marga shared.
"I got it in white ink because I was afraid my parents would get mad if it were coloured. It was not visible at all. Also, I immediately covered it with another tattoo that I regret. I found a design on Tumblr with no meaning."
But not everyone ends up regretting their first tattoo. For Vicky, her first ink had very special meaning from the start. "I tattooed four stars on my wrist since 'stars' also mean 'hearts' in Chinese. These four stars represent my parents, me and my grandmother. They are the three persons that I love the most in this world and the tattoo reminds me of them every day."
For Audrey, her first tattoo "holds a special meaning behind it [since] this quote always gives [her] hope and courage to get through tough times." She continued, "The artist typed out the quote in a script font at the shop" before having the tattoo done on her torso.
Choosing the right artist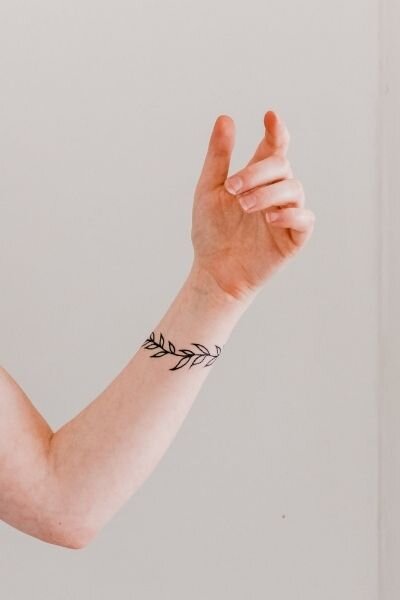 If you're sure about getting a tattoo but are still debating on who should do it, the best thing you can do is to look up the tattoo studios in your area. Audrey, whose first ink was by an artist at the Inked By Finch studio: "I did a Google search and booked him immediately. Now, I would recommend taking some time to look through the artist's past work, especially the healed tattoo, as these will be the best indicator of the artist's skills."
"I used to work part-time in a clothing store in Makati and one of the other shops beside it was the tattoo parlour [where I got my first tattoo]," Marga recalled, as a cautionary tale for first-timers. "Now that I know better, I recommend doing proper research and checking out reviews before deciding on where to go and which artist to choose."
When it comes to searching for the best tattoo artist for your first time, you already have a handy tool in your pocket: your phone. "I feel that each artist has their own design style and preference. Hence, it is important to decide on the tattoo design that you desire and find a matching artist for it. Thanks to Instagram, it is pretty easy to search for artists and browse their work," Vicky shared.
Aftercare 101
Say you've already gotten your first tattoo — congrats! Next, heed these tips from pros on taking care of your ink as it heals. Here's the number one rule of tattoo aftercare: don't scratch it. This could cause an infection which is more of a hassle to treat than a healing tattoo.
"Usually the artist will provide aftercare cream, so remember to apply diligently especially if the new ink is peeling," Vicky advised. Aside from the provided cream, you can also apply petroleum jelly or aloe vera gel to help soothe the skin.
If your goal is to keep your ink as vibrant as when you first got it, then you need to start applying sunscreen on it after it heals. Vicky and Audrey both swear by sunscreen to maintain the vivid colour of a new tattoo.
Is it really painful yet addicting?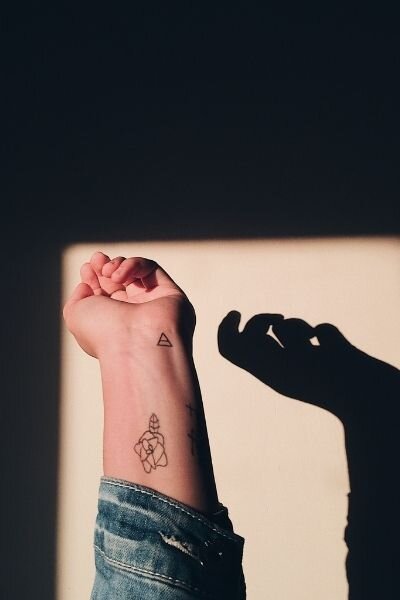 If you're one of the people on the verge of getting your first tattoo but still fear the pain that comes with it, let us put those fears to rest. The pain of getting a tattoo varies depending on your pain tolerance and the location of the tattoo.
"My pain tolerance is quite high, so I am pretty okay with tattooing on any part of my body," Vicky shared. However, she suggests "picking a less sensitive area, such as the back of the shoulder, or choosing a smaller tattoo with mainly outlines" if you have a lower pain tolerance.
Marga described the pain as "thousand injection shots at once" but quite bearable if you have a high pain tolerance. "A tongue ring (which I no longer have) was 1000000x more painful when I got it," she shared.
Once you've gotten over that first tattoo experience, you'll probably end up getting more. Vicky, who just had a new tattoo inked in the week before this interview, has plans of getting more tattoos in the future. "I plan to do more tattoos on my left arm, something like a stamp book cos I don't like to do big pieces. So am definitely adding more in the next few years." She already has her dream tattoo — a reindeer — done by a Korean artist who visited Singapore in 2019.
"Since [the first one] I've gotten quite a few more on my body," Audrey said but added that she doesn't have a particular "dream tattoo".
Marga considers getting tattoos as an addicting experience since "it's a way to express myself and how I feel at the time". She dreams of having a half sleeve on one arm and a big, elaborate tattoo design on her back. Aside from that, she's also planning on getting a moon tattoo to represent her daughter Luna. If the stars align, she's also hoping to get one done by Filipino tattoo artist Mia Claravall-Reyes soon.
Now that you know what's it like to get the first tattoo from three different perspectives, will you be getting inked soon?
(Cover photo from: Sincerely Media via Unsplash)
Ready to start your tattoo collection? Here are some butterfly tattoo designs for your first ink.
Comments, questions or feedback? Email us at [email protected].