We already expected a lot of romance-related films on Netflix considering Valentine's Day just around the corner. While that's partially true (no complaints here either), we also chanced upon some exciting titles with empowering female leads. Curious to see which ones we spotted? Hit the play button on these February Netflix releases starring inspiring heroines.


To All The Boys: Always And Forever
To All The Boys: Always and Forever
arrives on the platform this 12 February — right on time for Valentine's Day. We've already shared a few details about this film when the
trailer was announced
, but that doesn't mean we're done getting excited about it. Ready to see Lara Jean (Lana Condor) and Peter K. (Noah Centineo) again soon? We sure are.
Why you should watch it:
The
TATBILB
series is
no different from your usual teen rom-coms
with cheesy lines and a cliche plot. But even if our heroine is a hopeless romantic, our Lara Jean is no fool for love!
Little Big Women
Starring veteran Taiwanese actress Chen Shu-fang,
Little Big Women
is about a strong family matriarch trying to power through a series of problems triggered by her womanizing husband's sudden passing. Her three adult daughters — played by Vivian Hsu, Hsieh Ying-xuan, and Sun Ke-fang — come together for the occasion, but their different statuses in life, as well as grievances from the past, bring more conflicts to the story.
Why you should watch it:
In contrast to
Bling Empire
's flashy look into Asian culture,
Little Big Women
tells a more relatable story about family and filial piety. Each female character also portrays a different kind of strength that any viewer can either relate to or be reminded of someone in their own life.
Our Sister's Soulmate
This heartwarming 2020 Japanese drama tells the story of Momoko Adachi (Kasumi Arimura) and her three brothers Kazuki (Kaito Takahashi), Yuuki (Hyuga Wataru), and Tomoki (Ryoka Minamide). The siblings were orphaned when Momoko was in high school, which led her to work early and raise her brothers. One day, she meets Manato Yoshioka (Kento Hayashi) whom she falls in love with because of their instant emotional connection. However, even though Manato also falls in love with Momoko, something about his past makes him hesitant to plunge into a relationship with her.
Why you should watch it:
While it seems like a straightforward drama on the surface, Our Sister's Soulmate explores a lot of themes about family, friendship, and most importantly, inner pains and burdens healed by love. Momoko, along with the supporting female characters in the drama, also show that a woman's age, marital status or insecurities and flaws do not summarise her value but rather add more to it.
Mary, Queen Of Scots
You don't have to be a history buff to enjoy the battle of wits between royal cousins Mary Stuart (Saoirse Ronan) and Queen Elizabeth I (Margot Robbie) in this film. This loose depiction of the story of the real-life monarchs covers politics and power-play in the most glamorous yet intriguing manner. A quick Google search will tell you the historical victor; but whether or not you're aware (we won't spoil it!), the back-and-forth between Mary and Elizabeth's ploys is gripping, especially when you realise that their every action also puts the fate of two nations hanging in the balance.
Why you should watch it:
Historical inaccuracies aside, everything about this film is so beautifully done, from the costumes to the cinematography. Saoirse Ronan and Margot Robbie also both received high praise for their portrayal of the main leads. Mary and Elizabeth I are also a couple of the most powerful and unwavering female figures in history despite their reigns set during a heavily patriarchal era, proving that there's more to being a queen (or a princess) than just tiaras and pretty dresses.
The Big Day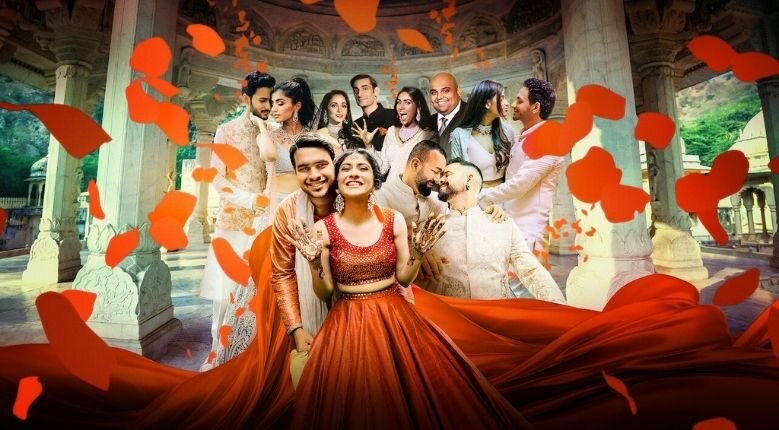 Do you love wedding documentaries? Then this look into India's multibillion-dollar wedding industry is something to add to your queue. Six engaged couples give a peek at their grand celebrations, starting from choosing the right lehenga (wedding dress) to booking the grandest locations to accommodate hundreds of guests. Although it may seem like there's already enough on the couples' plates preparation-wise, the choice whether to follow — or break — cultural wedding traditions, also pose a challenge.
Why you should watch it:
Who doesn't like to root for modern-day Indian brides not letting old stereotypes cage them from getting their dream wedding? Plus, this film might just give you a hint as to why India's wedding industry is
one of the biggest in the world
, valued at USD50 billion in 2020 even despite the pandemic.
Looking for more titles to watch? Catch these period dramas next if you loved Bridgerton.
Comments, questions or feedback? Email us at [email protected].