Emily In Paris's Season 2 officially lands on Netflix this 22 December. The trailer has also arrived and we noticed some interesting details that we'll spill in just a sec.
But first, let's talk about the appeal of the show. It's hard to find another fluffy, lighthearted show that elicited intense, polarised reactions like Emily In Paris. Some loved the first season for its escapist fantasy where one can indulge in a world that doesn't have to care about social distancing and wearing masks. It also doesn't hurt that the cinematography is very dreamy. However, not all were impressed with Emily (Lily Collins) and found her to be ignorant and culturally insensitive. The show's romanticisation of cheating was also off-putting to many. And then there are those who have a complicated love-hate relationship with the show — simultaneously declaring that it's "the worst '' while eagerly wanting more. Well, like it or not, Emily and her trusty little beret is back and she's ready to continue her (mis)adventures in the City Of Love.

In a cheeky fictional letter, Emily's boss in Paris Sylvie (Philippine Leroy-Beaulieu) writes to the American headquarters that despite Emily's "overconfident manner and lack of prior experience", she needs to stay as her work "results are impressive" (like, you know, racking up millions of views for Netflix).
There are also hints of upcoming character development for Emily as Sylvie mentions that "by extending her time in Paris" (a.k.a season two), Emily will make an effort to "delve deeper" into French culture and maybe make an effort to learn the language. With a promise of a well-adjusted, better Emily, should you give this show another chance? To help you decide, here are some things that you should know about Emily In Paris Season Two.
An improved Emily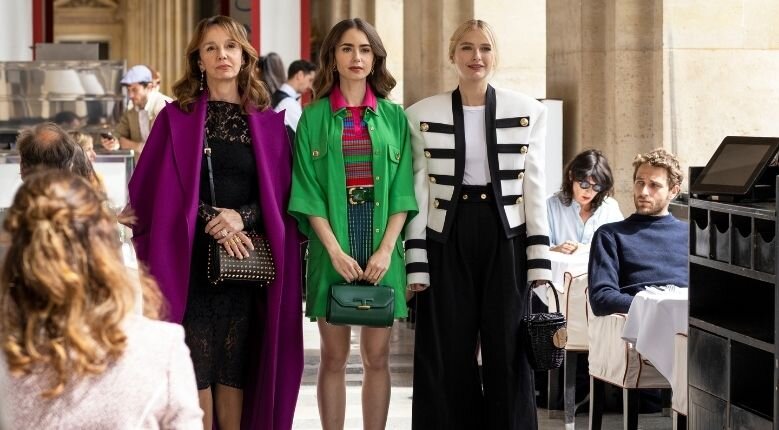 Much of the criticisms about the show centres around its protagonist, a young marketer from Chicago who suddenly got reassigned to Paris because her boss passed on the opportunity due to being pregnant. She arrives on the job unprepared — Emily speaks zero French, doesn't have experience in marketing luxury goods and is ignorant of the local culture. Instead of learning to adapt to her environment, the people around Emily ended up being the ones who adjusted to her, and this annoyed viewers.
However, for the next season, the showrunners may give us a well-adjusted, grounded and less ignorant Emily. "In season 2, she's going to be more of a part of the fabric of the world she's living in. She'll be more of a resident of the city. She'll have her feet on the ground a little more. She's making a life there," show writer Darren Star told Oprah Daily.
While the first season showed us how Emily influenced Parisians, season two will be the opposite and may be more about Emily adopting the local culture now that she's no longer the new girl. "When she got there, she got a bit of a free pass in the beginning and I don't think it will be quite as easy for her in second season. I think she will be more assimilated, in terms of living in Paris and stepping up to the challenges of learning the language," Darren Star told Variety. Sign us up for character development and a redemption arc!
Emily's new romantic interests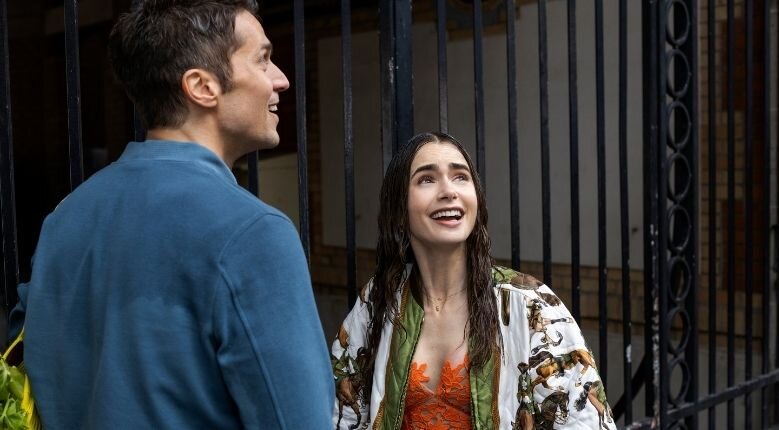 Another theme that irked viewers is Emily's affair with her friend's boyfriend, Gabriel (Lucas Bravo), which was framed as romantic. We are already tired of seeing the romanticised cheating plot (among many other problematic romance tropes); it's a problematic and passé trope that needs to be retired. It seems like the showrunners have picked up on this, and Emily will have new romantic interests next season.
British actor Lucien Laviscount (Snatch) will join the cast to play Alfie, a Londoner working for a British bank in Paris. His character is a "sarcastic and charming cynic" who "refuses to speak French, or immerse himself in French culture" and "works to live", according to Deadline. It seems like Emily and Alfie who have clashing personalities will be involved in a classic will-they-won't-they scenario. Let's hope it's a good one.
#EmilyInParis Season 2 News:

Jeremy O. Harris will play an iconic fashion designer, Lucien Laviscount joins as a Brit who gets under Emily's skin before she starts to like sarcastic charm, and Arnaud Binard guest stars as the party boy owner of a popular Saint Tropez nightclub. pic.twitter.com/lwiX1hZlsQ

— Netflix Queue (@netflixqueue) May 24, 2021
Aside from Alfie, Arnaud Binard (Modern Family) will appear in season two as a "party boy" who owns a club in Saint Tropez. Could he be another of Emily's fun flirtationship? A serious relationship or fun fling, whatever her love life has in store for her in the next season, at least we can safely say that it's better than betraying your newfound best friend.

Emily outside Paris
Speaking of Saint Tropez, Emily will be exploring other places in France in the upcoming season. We're sure that the cinematography will be as dreamy as in the first season. It's also another opportunity for us to do some armchair travelling and take down notes of the spots we'd love to visit once the pandemic is already a distant memory. A few places we'd love for Emily to explore (aside from Saint Tropez) are the historical old towns in Montpellier, the wine capital of Bordeaux and more.
Fashion for the season
Emily had quite a few fashion hits and misses last season, and based on some sneak peeks and paparazzi shots, it seems like the character will continue wearing her signature maximalist style no matter how ringarde (read: tacky) others deemed it to be. A couple of outfits that caught our eye are the bold ensemble where Emily is sporting a bomber jacket over a red cocktail dress with eyelet details and the shirtdress with geometric print and small slit.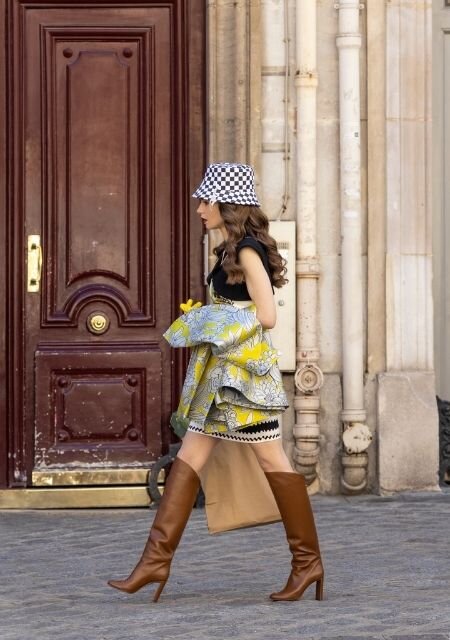 Although we adore Emily's loud looks, we'd also love to see some visual storytelling through fashion. She can take a few cues from her Parisian friends and adopt a little bit of their sense of style to show that the character has evolved and is becoming a Parisian in her own right.
We can also expect more fashion-related drama to unfold. Remember Pierre Cadault, the fashion designer and client of the agency Emily is working for? His former protégé, Gregory Elliott Dupree played by Jeremy O. Harris (Tony-nominated for Slave Play), who is now a famous designer, will enter the picture and stir the pot.

More of Mindy and Sylvie
It seems like Emily will share more of her spotlight with other characters, specifically her friend Mindy (Ashley Park) and her boss Slyvie. Ashley told E! Online that there are "clear directions" for her character and that Mindy will be showcasing more of her singing skills now that she's working as an entertainer. Another important plot point is Mindy and Emily becoming roommates. It will be interesting to see Emily's professional and personal circles converge.
Fan-favourite Sylvie will also likely have more solo plotlines. Showrunner Darren Star shared with Vanity Fair that he wants to explore more of Sylvie's psyche and "what makes her tick". Since we have a shortage of stories about more mature women, diving deeper into Sylvie's life is a refreshing take.
With these new developments, would you give Emily In Paris a second chance?
(Cover photo from: Netflix Philippines)
Next, find out what to expect when travelling to Paris.

Comments, questions or feedback? Email us at [email protected].