Happy CNY and Valentine's Day in advance, everyone! We've got a long weekend ahead of us. While heading out (with precautions) may already be on your schedule, choosing to stay in is still advised.
If you do choose to stay in, then chances are your long weekend will be all about
binge-watching dramas and films
on streaming platforms. But if you're already tired of mindlessly scrolling through your watchlist, what do you say about changing things up a bit and turning to edutaining podcasts instead?
More and more creators and known personalities like
Michelle Obama
and
Oprah
have recently turned to podcasts to drive conversations about almost every topic. It's probably because it's a medium where people can easily listen in even when you're on the go (compared to watching a vlog, for example). On top of that, it evokes
nostalgia for live radio shows
. Despite it being a thing since 2004, podcasts are pretty much gaining huge traction lately because of its
long-form and intimate format
.
Ready to trade your watchlist for a podcast stream? Hit play on these Spotify playlists to get started.
Learn Japanese: Japanese Survival Phrases
Want to learn a new language but too busy to book actual classes? Make use of the long weekend to learn at least a couple of helpful Japanese phrases with this podcast. Each episode only has five to 15 minutes and focuses on short but easy-to-understand lessons even for beginners. Travelling to Japan may not be possible at the moment, but hey, it's good prep for your future travel plans, don't you think? Plus, learning a new language helps
enhance your cognitive abilities
, too!
Our favourite episode:
Survival Phrases S2 #30: Taking Pictures
. Asking strangers to take photos of you (especially when you're travelling solo) can be even more challenging with language barriers. This episode will teach you how to do it in the most respectful way possible.
Happy Place
English TV Presenter Fearne Cotton hosts this inspiring podcast where she shares stories about love, life, and anything under the sun that defines 'happiness'. Her guests range from celebrities (Natalie Dormer, Jada Pinkett Smith), singers (Sam Smith, Alicia Keys), and even authors (Elizabeth Gilbert, Bryony Gordon) and artists (Henry Fraser, Jonathan Yeo). The show features anecdotes that are not usually disclosed in mainstream interviews.

Our favourite episode: Jonathan Yeo. In this episode featuring contemporary British portraitist Jonathan Yeo, they talk about how body language plays a huge role in self-expression and also the importance of face-to-face communication even with the prominence of digital platforms.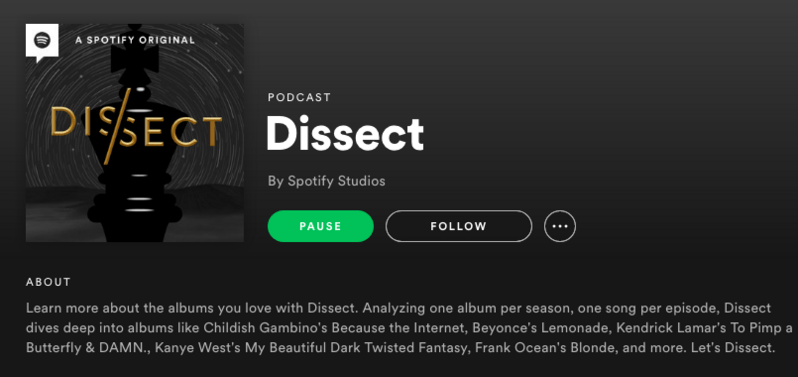 If you've been curious about some of the singles and albums you've been playing on loop, then this podcast is for you. It's all about dissecting these releases from your favourite artists. You'll discover a fun fact or two about your song obsessions through track-by-track analytical discussions or interviews with the producers of the songs.


Our favourite episode: S6E11 All Night by Beyonce. This episode focuses on one track from one of Queen Bey's most talked-about releases, Lemonade. It talks about triumphing over family and marital challenges. It also dives deep into the empowering message of turning life's 'lemons to lemonade', while also discussing the technical aspects that went into the track's production.
Stuff You Should Know
Ever fallen into a Wikipedia rabbit hole at wee hours of the night for reasons you can't even remember? Then this podcast is for you. This podcast will have you coming out of the long weekend stocked with interesting facts because it's filled with trivia and anecdotes about the 'whys' and 'hows' of things.
Our favourite episode: Short Stuff: Petticoat Rulers.
Just in time for everyone's obsession with
period dramas
because of
Bridgerton
, this episode talks about women in history who ruled city councils amid male-dominated politics in the Old West.
Business Wars
Spending your time adding to cart over the long weekend? How about trying to learn about the brands you're clicking 'Purchase' from too? Learn about how brands fight over your attention — and wallet — using interesting techniques, campaigns, and strategies. Business Wars covers competing brands in beauty, fashion, lifestyle, and more.
Our favourite episodes: TikTok vs Instagram (parts one to six).
What could be timelier than a head-to-head battle between these two platforms? These series of episodes look back at TikTok's past to present — from failed attempts to rise against Facebook to becoming 2020's 'it' platform — and contrasts it with Instagram's ways to catch up to TikTok's continuously growing popularity.
You'll surely come out of the long weekend with more knowledge and well-entertained with the help of these. That said, which of these podcasts are you excited to tune in to?
Comments, questions or feedback? Email us at [email protected].