If there's a celeb who's been sparking joy lately through her dressing, it's 25-year-old actress Anya Taylor-Joy (pun intended!). From playing Gina Gray in the period crime drama Peaky Blinders to making chess "cool" again with her unforgettable role as Beth Harmon in The Queen's Gambit, the Golden Globes awardee has been experiencing a winning streak in the sartorial game as well and we're here for it.
Read on and take style cues from the star, who was most recently a stellar Saturday Night Live guest host below. Just to tease you, Anya Taylor-Joy fashion means various fanciful looks, such as frothy tulle frocks, retro-ready ensembles and body-hugging slip dresses.
Lace into a nude and black palette
Regardless if you're planning to walk down the aisle, have already done so, or have no intentions to do so, you'd likely be familiar with the name "Vera Wang". She's a veteran fashion designer who's highly sought-after for her dreamy wedding dresses. Although Anya wasn't looking to get wed, she did celebrate a momentous milestone in her life — where she accepted her first-ever Screen Actor's Guild Award — in a nude and black Vera Wang dress with lace detailing that's been custom-made for her.
Following Anya's lead, why not try your hand at wearing lace outside of the bedroom too? It's a chic, beautiful opportunity for you to embrace your softer side and indulge in your affinity for more delicate-looking details.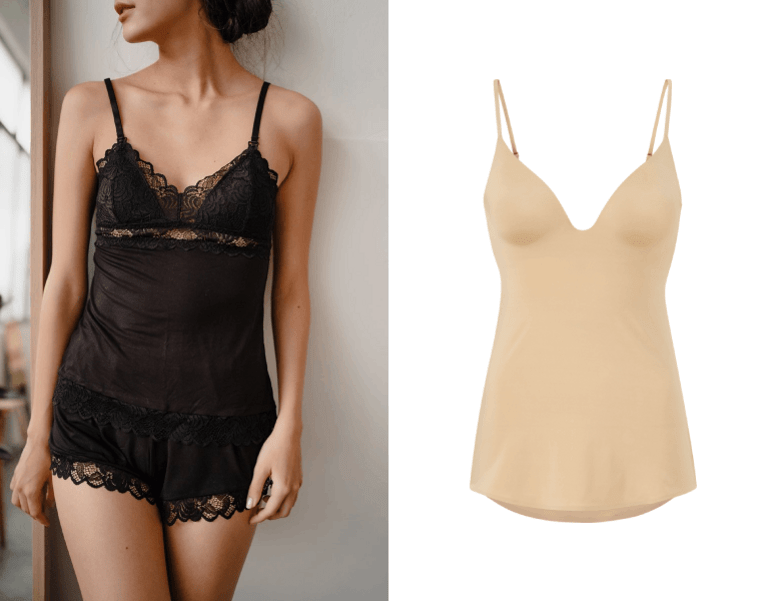 Get fancy in: the Harper Padded Camisole by Perk by Kate, which pairs well with crisp, black cigarette trousers. Alternatively, nail stay-home casual chic in the Plunging Bra Camisole from the upcoming UNIQLO and Mame Kurogouchi collection that's set to launch on 18 June. Simply throw on a white button-down shirt and a pair of tan paper bag shorts over this sleek innerwear and you're good to go.

Cash in a cosy checked ensemble
Waiter, check out this charismatic look from Anya, please. The ol' checkered shirt doesn't seem to hold much of an appeal when it's worn by the average, middle-aged man (sorry!). However, Anya's take on this printed fashion item deserves a nod of approval from us as it carries a fashionable twist. Plus, it's hard for her to do any wrong in either of these looks (swipe above post for more), given that they're from Miu Miu's Autumn/Winter 2020 collection.

This is undoubtedly one of the easiest looks to re-create from the lot — all you have to do is to fully lean into the retro aesthetic and opt for items in muted colours and more "traditional" fabrics, such as corduroy pants, vintage cotton t-shirts and flannel shirts. This ain't no dramatic ballgown, but it definitely exudes a unique, down-to-earth charm that's equally tough to resist.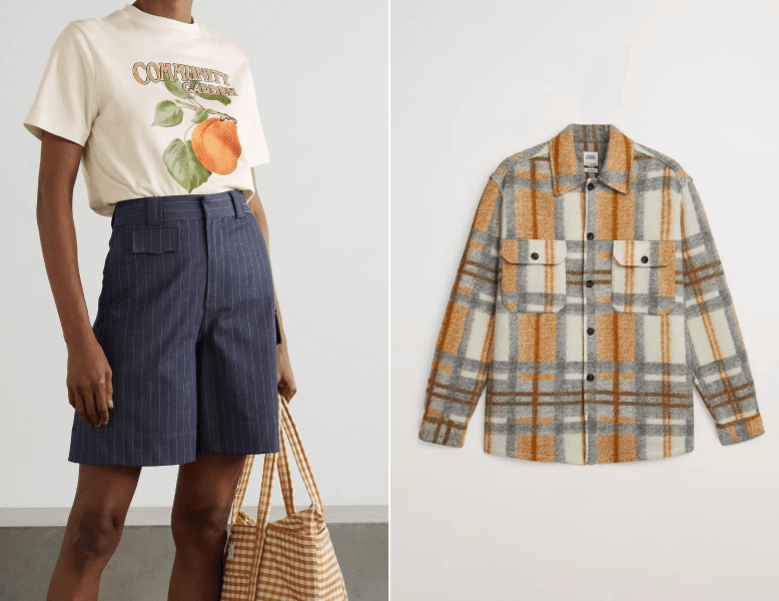 Get fancy in: the Printed 'Kjerag' Organic Cotton-jersey T-shirt from Holzweiler, which is part of Net-A-Porter's NET SUSTAIN edit. For an added layer of cosiness, throw on the Textured Check Overshirt from Zara Man.

Unveil the drama in a sheer number
Hold your wands and spells, Anya's making magic in mulberry and magenta. In true Anya Taylor-Joy fashion, the doll-like beauty swept us off our feet at the Critics' Choice Awards earlier this year with her breathtaking Dior tulle ball gown that was styled with chandelier earrings and a bold, red lip. As the cherry on top, the outfit also included a pair of elbow-length sheer gloves that are made from tulle as well. This goes to show the actress', her stylist Law Roach's and Dior's dedication towards creating a show-stopping style moment that'll be remembered for years to come.
So, tulle certainly won't be your go-to choice when it comes to everyday dressing, however, there's something to be said about its otherworldly, romantic appeal. If you've grown tired of your grey sweaters and are looking for an uplifting, fun fashion piece, you can always consider adding a sheer blouse to cart.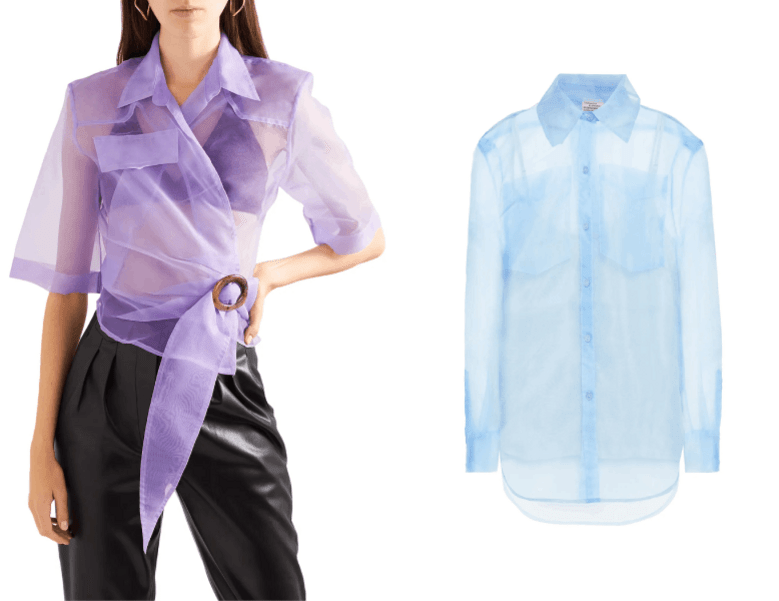 Get fancy in: shirts that are made from organza as they feature the same airy, lightweight effect as tulle and are also more comfortable for daily wear. Stay ahead of the fashion curve in a solid-coloured number, such as the lavender Wrap-effect Organza Shirt from Nanushka or the baby blue Organza Button-down Shirt from Baum Und Pferdgarten.

Swing along in a '60s mod-style dress
Fans of eternal style icons Twiggy and Brigitte Bardot, this one's for you. During her hilarious hosting stint on Saturday Night Live, Anya channelled her inner '60s screen goddess persona with a series of retro-fied outfits that looked nothing short of fantastic. One ensemble that stood out for us was this navy mod-style dress from French brand courrèges that was actually made in the '60s. The outfit looked even more spectacular because of her beehive hairdo and matching accessories.
Do like Anya and slip into a versatile shift dress with sleeves for your next Zoom meeting. Look for design details that convey your unique style and personality, whether they're oversized gold buttons, functional dress pockets or contrasting hems.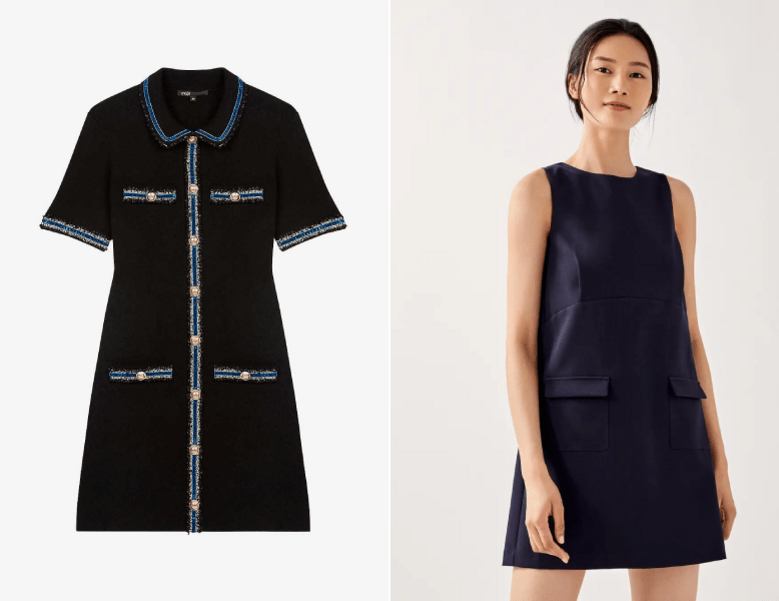 Get fancy in: the 'Ravena' contrast trim stretch-knit dress from MAJE, which is designed with a round collar and gold-tone buttons. For an easy, everyday look, go for the fuss-free 'Presley' Pocket Shift Dress from Love, Bonito.

Get preppy in a Peter Pan-collared shirt
Of course, this Anya Taylor-Joy fashion roundup wouldn't be complete until we've given an honourable mention to all the terrific '50s-inspired outfits that the actress wore during her time as the inimitable Beth Harmon in The Queen's Gambit. Apart from causing a global surge in interest in chess, the series also explored the magnificent fashion styles of the decade, some of which still look effortlessly on-trend in today's context.
Case in point: the Peter Pan-collared shirt paired with a fluffy cardigan that Anya was wearing in the image above. Although the series was set in the 1950s, Beth's statement-making shirt originated from the 1920s. There's not much of a case to plead with this classic piece, really, as it works well on different body types and various occasions too. We're imagining it as a loungewear item for lazy, laidback days or as a casual blouse that's appropriate for quick errand runs.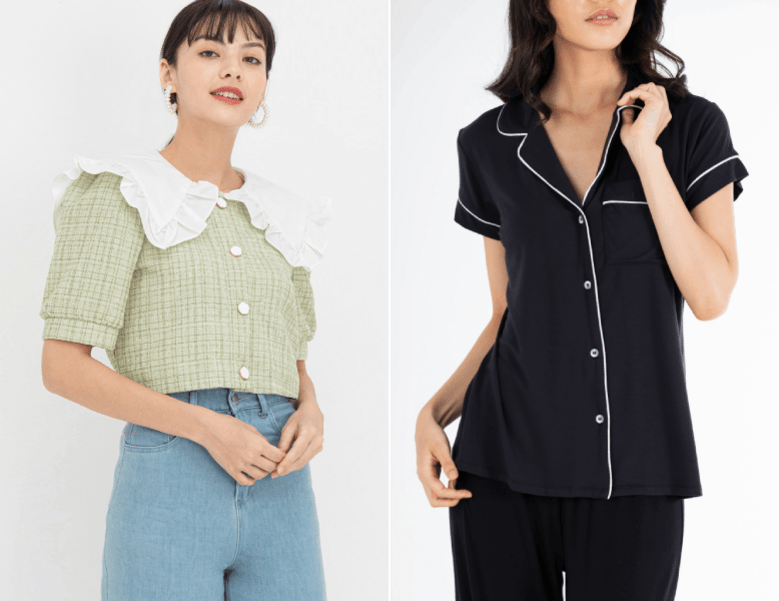 Get fancy in: the 'Ledell' wide collar blouse from Modparade, which comes in a soft sage hue, or lounge away in 'Je Dors' Long Set Pyjamas from Rawbought, which is made from buttery-soft modal.
Which other celebs do you admire for their fantastic fashion sense?
(Cover photos from: @anyataylorjoy, @luxurylaw and selfridges.com)
ICYMI, Lindsay Lohan's set to star in a Netflix rom-com! Learn more here.

Comments, questions or feedback? Email us at [email protected].