How many hours do you spend on your phone? You may already have a rough idea since we're all joint glued to our smartphones these days but have you ever paid attention to the actual number?

Filipinos spend the highest average of four hours and 32 minutes on social media alone in a day, according to a 2019 report by the Asia News Network. Malaysians are fourth on the list, which includes 11 Asian countries, at two hours and 58 minutes. Meanwhile, Singaporeans are in seventh place with two hours and eight minutes.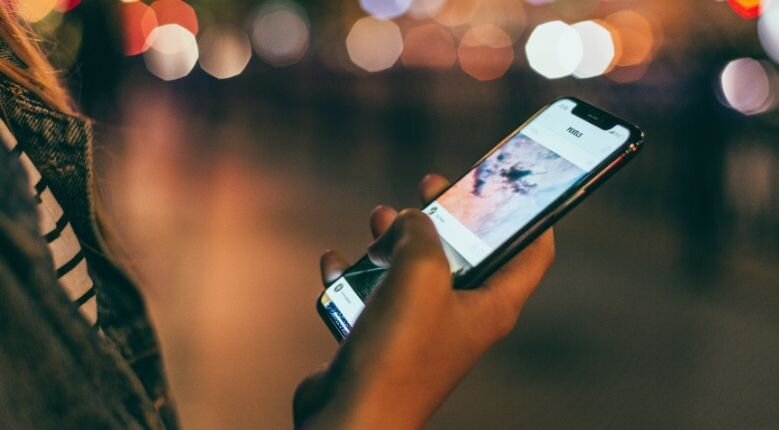 When averaged with the rest of the countries listed in the report, we get a total of two hours on social media per day. That is on top of whether or not your job relies heavily on the use of the internet or if you "surf the web" and not just use social media platforms.
The truth of the matter is, the idea is quite simple: We just all can't go about our day without checking our smartphones. Some of the most common explanations would be FOMO or the fear of missing out on the ever-changing trends, using it as a defence mechanism to avoid interactions, and simply because it's been embedded in our routines that it's become anxiety-inducing not to look.
Interestingly enough, studies suggest that while it's still inconclusive if excessive screen time is bad for one's mental and emotional health (debatable, if I say so myself), it does pose a lot of physiological health risks such as cardiovascular diseases — really. This led me to ask: What will happen if I track my screen time for a week? I gave it a try. Here's what I discovered.
My usage habits
Since my job is very internet-reliant, just counting official work hours alone already brings me to an average of eight hours on the internet every single day. But as much as I would like to say that I get tired of this level of screen time exposure after I retire post-duty, even my off hours from work are mostly spent online.
Just in the week of 25 September to 1 October, I spent an average of 10 hours and 53 minutes on my phone, with online platforms such as Twitter, Discord, and YouTube taking the most of my time. Device apps like my phone camera also take a chunk of that number. This doesn't count the screen time I spend on my desktop device, which I have no means of tracking at the moment.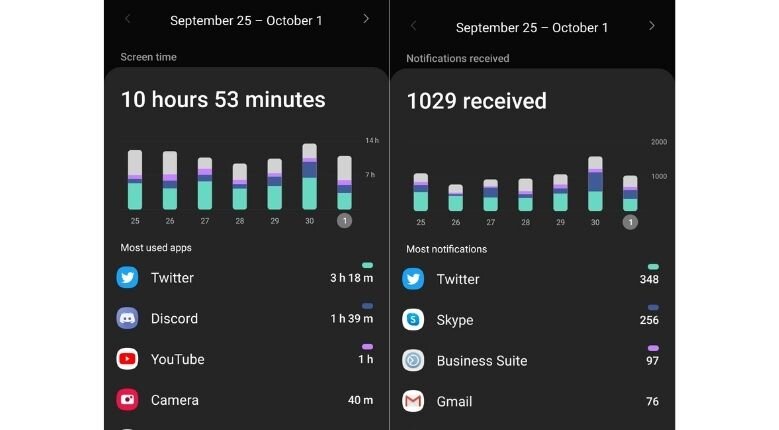 In the same week, I apparently received 1029 notifications, mostly coming from Twitter, Skype, and Facebook's Mobile Business Suite. I don't exactly have the most active and engaging lifestyle on social media so it's amusing how I still reached four digits when it came to device pings.
The importance of screen time monitoring
Social media platforms, as well as our own iOS or Android devices, are now developed with screen time trackers so that we can be more mindful of our use of not just our apps but also our gadgets. For my device, there are also options to separate Work Time and Me Time, as well as make use of App Timers — which quite frankly I'm too lazy to set up or to even give a chance. I do think they will be helpful on days when I really want to go on a digital break, while still keeping up with work or personal stuff from time to time (something I just can't go a day by without).
Generally, limiting one's screen time is said to significantly turn around your health. Exposure to too many devices for too long — as well as the tasks or actions we co-relate to it (i.e. work, relationships and more) — can lead to stress, erratic sleep habits, and constant episodes of depression or anxiety. If not addressed, excessive and uncontrolled screen time use can even lead to risks of heart disease because of its relation to a sedentary lifestyle. So it truly made me rethink about using these built-in programs once in a while.


Realisations and insights
Looking at my own numbers, I'd have to say that I'm pretty pleased with what I saw. I'm well aware of why certain apps and platforms dominated my phone usage and that level of awareness brought me comfort. Compared to the usual average of Filipino users, I also fall significantly lower on the spectrum at one and a half hours on average a day of phone use.
In hindsight, I realised that my first priority for putting down my phone to engage at home or set aside
proper hours for sleeping
have contributed significantly to why my screen time numbers turned out the way they are. I also still enjoy creating, posting, and lurking at content in my own time.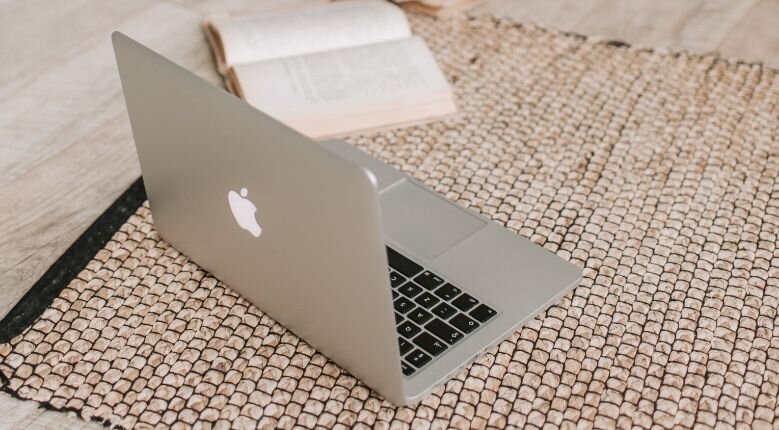 Still, these are questions that I never really thought I would ask myself if I hadn't explored this. This is because these habits concerning our internet or smartphone use come so naturally in the world we live in today. But then again, after doing this passive experiment, I realised that maybe we should try to be more aware of our actions and to set aside some moments to actually check in on ourselves from time to time. I realised that I could cut these numbers even more and use the chunk of time I save to try out and do something that doesn't involve a screen.

What to do next
Now that we've checked our numbers, what do we do next? If you've been spending your screen time on one app more so than others, ask yourself why and if it's doing you any good. If you've been spending way less on an app or a platform that you feel should be higher up your list, take time to reflect on what may have affected this development. If you need any proof to step back, to reconnect, to simply just be more introspective of how your screen time is affecting your lifestyle, this is a simple audit that can lead to significant — albeit subjective — discoveries.
Next, take control. Remember, your device is nothing more than just codes encased in metal and plastic. Turn off push notifications, go on 'Do Not Disturb' mode or simply put your device down and do something else other than mindlessly browsing through the internet during your free time. It all sounds like common sense, but you'd be surprised at how hard unplugging can be. This is why actually having the commitment to go on a digital detox is key.
Finally, pick up a new hobby that doesn't involve your phone. Our smartphones make it so easy for them to be our go-tos whenever we need to do something leisurely. But finding new activities to keep your mind and body working will definitely reduce your screen time significantly. Try cultivating plants or baking — or even something laid-back like knitting. New hobbies promote a lot of health benefits — stuff that your screen time simply can't go up against.
Now that we can actually quantify how much of our lives we're spending looking at our screens, we can decide whether or not that time was worth it.
Speaking of smartphone usage, why not dedicate a small fraction of your screen time usage to these mental health apps?
Comments, questions or feedback? Email us at [email protected].