In this fast-paced world where the internet reigns, it is easy to find a match. But a match that will last forever? Not quite. For this month's INSIDER series, we interview real people who turned to the internet to meet new people, sustain their relationships, or even find their one true love — proving that sometimes, one right swipe could change your life.
Unlike our Western counterparts, we Asians have a more conservative online dating culture. We're in uncharted territory. Never before in history has dating been so fast-paced, convenient and confusing. And now, with apps like Tinder and Bumble getting more popular (and more socially acceptable), you would think that finding your soulmate will be as easy as finding the perfect shade of foundation. But isn't it ironic how even with the ease of technology, it seems like online dating, particularly in the region, remains complicated?
It may be time to consider dating apps beyond the ones we're familiar with. With the right tools and advice, we might be able to hack into the system and find what we're looking for — whether it's a lifelong companionship or just a fun encounter. We spoke with the top execs of two dating apps in the region, Paktor and The League, for online dating tips to navigate this maze in 2020.

Pick the right dating app for you
Even though most dating apps have a more or less similar interface — swiping, filters, chat functions — they're not all the same. The main difference lies in the crowds they attract and some key features. Below, we weigh the pros and cons of the two.
Paktor
Currently, Paktor is only available in several Asian countries including Singapore, Taiwan, Malaysia, Indonesia, Vietnam, Thailand and the Philippines. You may think having location restrictions will be a bad thing but it's actually a plus factor and key to the strategy of the dating app. "We make it a point to have a high level of localisation in user experience to ensure that culture-specific dating nuances are captured," says Shn Juay, Paktor Group's CEO. Paktor also has fun features that take into consideration local contexts. For example, you can give virtual "gifts" to your matches. "Asians are usually shy about expressing our affections. So we designed many 'gifts' to allow users to make the first move," she added. "For example, we have Chilli Crab and Tutu Kueh for Singapore users while Taiwanese users can use Xiao Long Bao and Bubble Tea."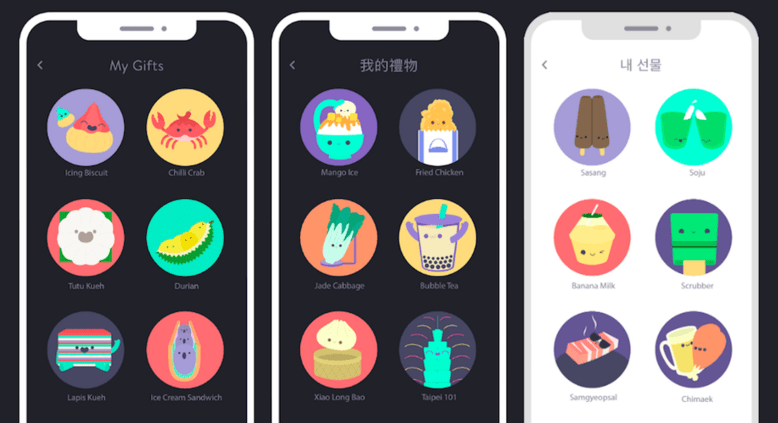 Paktor interface
You can also be more selective on Paktor than on Tinder or Bumble. Aside from location, gender and age, premium users can also filter out height. The only thing that may pose a challenge to users is its slim number of members. "I already reached the limit after just a couple of swipes. I tried adjusting the age filters to see if that can generate more users but I still ended up with no more than 30 people to find a match with," says Senior Features Writer Amanda. "Overall, Paktor is an app that has a lot of potential. It's also great for online dating newbies who wouldn't want to be overwhelmed with so many people to swipe left or right to."
The League
A newcomer in Singapore, The League has already distinguished itself from other dating apps. Unlike other platforms, they are very selective in who they admit as members; basically, you have to apply and there's a waiting list. What gets you off the list? Well, it's partly due to chance and your overall profile. The League tries to maintain a 50/50 balance of men and women on the app and they also weigh things like your current job, where you went to school and so on. You also have to authenticate with LinkedIn as this will activate "smart blocking" where they don't show your profile to coworkers and other business connections.
But here's the most interesting, albeit controversial, feature: the very specific filters. It's not only the basics that you can filter out, but they also consider your preferences in terms of height, educational attainment, religion and ethnicity. Because of these, The League has been labelled "elitist" by some. To this, Founder Amanda Bradford says, "It's an unfortunate label but it's true to some extent. We are admissions-based and just like how Google, Oxford doesn't accept everyone who applies, we also don't just admit everyone who signs up."
Again, this is both a good and a bad thing depending on how you look at it. On one hand, it slows down the process as the number singles in the dating pool are limited. Clozette's Creative Lead Laura stumbled upon this challenge while using the app, "Getting a match is not easy and it's definitely not instant. You can only get your matches once a day at 5PM also known as 'Happy Hour'," she shares.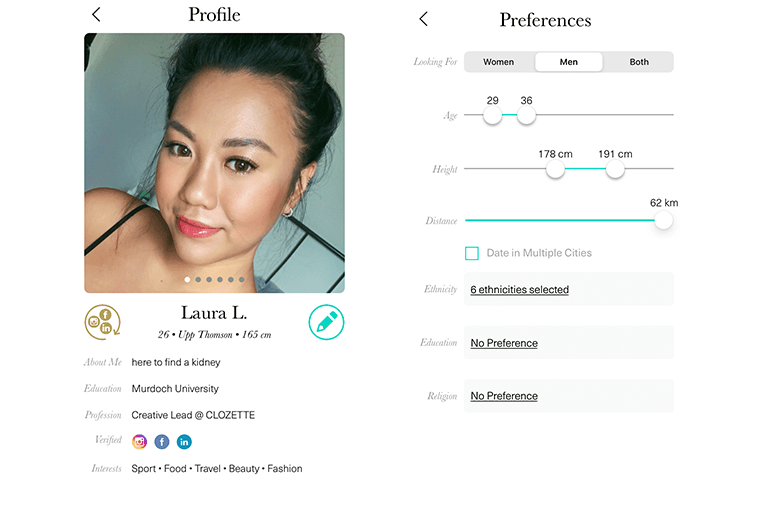 Laura's profile and preferences


However, even though it's a slow process, it does give you more realistic prospects because all matches meet your set criteria for a potential romantic companion — and you also meet theirs. "It's for people who are looking for the right person and not really for those looking for a dopamine hit," Amanda explains.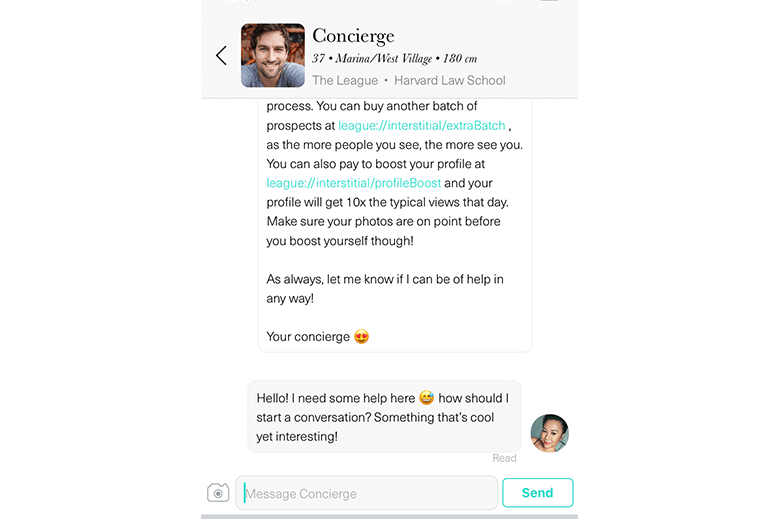 The League App's concierge
The app also has some interesting features like flakiness score (ahem, ahem!) which will flag you as flaky when you continue to ignore your matches or is generally unresponsive; they also have a personal concierge which can act as your personal dating coach, and it's an actual person, not a bot; you can also join interests groups where singles who have common interests can mingle with each other online.
If you're someone who's very sure of what you want in a lover and don't mind taking the "slowly but surely" route, The League is your best bet. It's indeed efficient when looking for someone with a specific background and mingling with like-minded people.
Put your best face forward: Let's talk about your profile photo and bio
Let's face it: almost all dating apps are photo-centric. Before someone swipes right or left on a profile, the first thing they will see is your profile photo. "It's less about how beautiful you are, and more about the fact that you put in the effort to upload a nice photo with a good resolution. It sends a signal that this person is put-together, authentic and is willing to give time," Amanda explains. So while you don't want to misrepresent yourself, you should pick the best photo you have on your camera roll. What constitutes a good photo? The consensus is that it should be a high resolution, shows your face clearly (no group photos!), and showcases your interesting hobbies, favourite things, adorable quirks and experiences. This can spark conversations with your matches.
As for the bio, Juay's advice is to be authentic and warm. "Don't pretend to be someone you are not in your bio description and stay away from bad puns! Be positive and friendly." You can also consult with professionals on how to best present yourself only. Services such as those of Fleek, which offers image and social coaching among others, helps clients craft an effective and authentic dating profile.
Don't be too quick to judge
Anyone who's ever tried online dating is probably guilty of judging someone too quickly. His profile photo is him at the party? Must be a womanizer. Oh, he's a surfer? Must be a douche. We all have these stereotypes ingrained on our minds, but when on a dating app, keep an open mind. On Paktor, Juay noticed how users are too quick to swipe because they're spoilt for choice but you might be missing on a potential match if you keep on judging people too quickly. "Take the time to review each bio and give more profiles a shot," she says.
Look out for these red flags
While being open is a good virtue when online dating, it's also important to be on guard for red flags. Let's start first with the most obvious ones: don't give out personal information including where you live and your contacts, and never share bank details or give money to anyone you just met online.
Now onto the more subtle red flags. When spotting a fake profile, Amanda advises taking caution against profiles with overly attractive and polished photos. What you can do is reverse search the pictures on Google Images and see if it's fished out of a random website. Another red flag is when a user is trying to get you on another platform too early in the game as they could have hidden agendas.
As for personality red flags, Juay says to look out for passive-aggressive behaviour such as "sending ten texts in a row when you do not respond right away." That really does not spell good in the long-term! Other things to be sceptical about are sweet-talking that does not come across as sincere and users who are pushy for more intimate details.
First date dos and don'ts
Finally, you found the person you want to get to know better offline. Congrats, you're taking a big step! But before doing so, make sure that you are totally comfortable in meeting this person and have verified their identity. Now onto first date dos and don'ts. Juay has some helpful tips to share for when meeting someone IRL for the first time.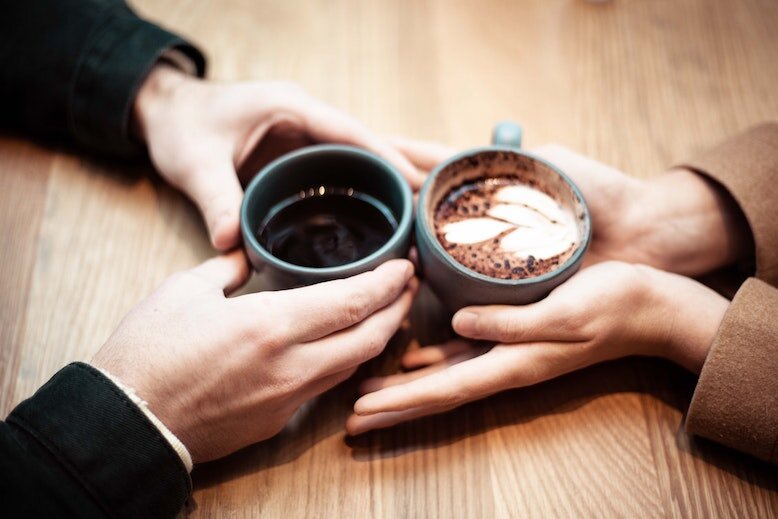 First, pick a location you're familiar with; this will put you at ease and can help with confidence. Next, pick an activity both of you enjoy instead of the usual dinner and movie. Most would advise a popcorn date, but really, you won't be able to have a proper conversation during a movie. A nice, wonderful activity is the perfect opportunity for both of you to know each other on a new level. Previous findings from Paktor also revealed that Asians prefer to meet fellow users in groups, rather than intimate one-on-one dates. Finally, don't talk about your exes. Juay shares that this is a big no-no but many still fall into the trap of complaining about their past relationships.
Amanda also offers some interesting tidbits of advice that's based on her personal experience while she was still on the dating pool. "Always sit at the bar instead of getting a table. This way, you can interact with the bartender once in a while when you need a quick breather and you also avoid that awkward face-to-face positioning in a first-date dinner," she shares. "I also advise to always commit to only an hour. If you're enjoying the company and hitting it off, you can always delay it. But if not, then you avoid that awkwardness of having to determine when to wrap up a date. This avoids anxiety and resentment on both parties if things don't go as planned."
Learn to accept rejection
Speaking of things not going as planned, it's almost a guarantee that you'll face rejection at some point in the online dating world. Maybe you had a good conversation online but the chemistry didn't translate offline or feelings changed halfway through a date — these things happen all the time. All you have to do is handle it with grace. We know, it's easier said than done. So take the word of someone who has been on dating apps for months and has handled a handful of rejections. According to Lori*, someone who is immersed in the dating app world, one thing that you should never do upon being rejected is to go back in the game too soon. "It's tempting to go back immediately for that exciting swiping and getting compliments from loads of guys. It's basically a validation that you still got it. But it's just a band-aid and you really need to take time to heal. Otherwise, it can be a destructive cycle."
We ask does it ever get easier? "It's never gonna be easier," says Lori. "Each rejection will leave you feeling jaded but you just have to push on, be patient and believe that somewhere out there your perfect match is waiting."
*names and identifying details have been changed to protect the privacy of the interviewees.
Interviews were edited for brevity and clarity.

Comments, questions or feedback? Email us at [email protected].