It is inevitable to talk about today's futuristic technology without citing its advantages. From more leisurely things such as the beauty gadgets we use on the daily to getting our fortunes told virtually, down to more serious functions such as mediating healthy retail therapy and keeping us well-connected during the pandemic, it surely has most of the bases covered. If we look back on this technological leap from, say, one or two decades back, it is fitting to say that the future really is now.

Technology also has its fair share of disadvantages, mostly surrounding our own mental and physical health. This is why, ironically, the development of mental health apps has been widely received and is even projected to boom further into a USD300 million industry by 2027. According to the same report, Asia Pacific is predicted to have the fastest growth in adapting to this method of mental health improvement. Talk about unsurprising, considering that mental health is still, unfortunately, a conservative topic in the region.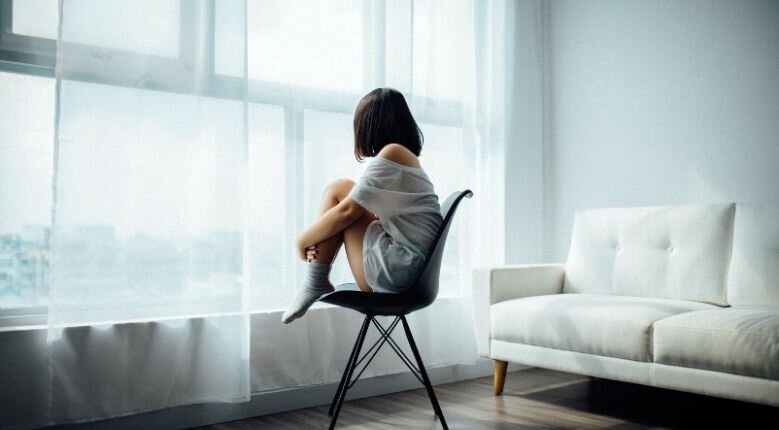 Is self and tech-mediated mental health help the answer? And if so, is it solid proof of how far we have come as a digitally-dependent society?
Team Clozette puts this inquiry to the test as we try out
top-rated mental health apps
to see just how far our technology has come to solidify the statement —
The Future is Now
— when it comes to our own personal wellbeing.
A brief history of artificial intelligence
In the 50s, British cryptographer Alan Turing developed the
Turing Test
, which determines if a machine can actually perform and mimic human response behaviour. Five years later, the term '
artificial intelligence (A.I.)
' was coined. It has been the baseline for A.I. learning and development ever since.
No machine or computer has ever beaten the Turing Test until 2013 when a computer program named
Eugene Goostman
convinced 33 per cent of the judging panel that it was human, based on a virtual conversation. Then, in 2018,
Google Duplex
partially beat the test after successfully making a live booking reservation over the phone with an unsuspecting booking agent on the other line. And while the tech was found unfit to carry out casual conversations, it was considered a bizarre feat by I.T. and scientific experts in the field.
Fast forward to today, A.I. technology is deemed capable enough to mediate virtual mental health apps programmed with the help of science-backed research.
Reviewing mental health apps: Moodpath, Youper, Sanvello and Happify
Given those fast facts, each of our four writers was assigned to a
top-rated mental health app
that uses varying degrees of technology and artificial intelligence. There's
Youper
, a chat-based AI interface that promotes self-help therapy;
Moodpath
, a standard smartphone mood tracking app;
Happify
that uses a game interface to help alleviate stress or depressive thoughts; and
Sanvello
(formerly known as Pacifica), a mindfulness app that promises all-in-one mental health support. The apps were used consecutively for two weeks.

Each of the apps is tested based on the standards set by the Anxiety and Depression Association of America (ADAA), which covers: Ease of Use, Effectiveness, Personalisation, Interactiveness, and Research Evidence.
All four writers expressed having bouts of anxious feelings recently caused by stress, personal issues, and, of course, uncertainty due to the pandemic. The most often solutions to ease these emotions are often through escapism in the form of watching Asian dramas, taking time-off from stressful factors when necessary, coping with the company of loved ones, and trying to pursue a positive mindset. With these factors in mind, the apps were introduced into our routines.


Starting off with the app that I tested, Youper's interface is quite easy to understand. It looks like your typical messaging app, where the A.I. greets you like a friend and asks you how you're doing. I picked this app because of my long-time fascination — and scepticism — with A.I. technology (I am a self-professed Turing fan). My initial expectations were immediately shattered when instead of being able to type in what I feel or want to talk about, the app provided me with predetermined choices to serve as responses instead. The rest of the anxiety, depression or borderline personality trackers, as well as the meditation feature, are all limited to Premium users.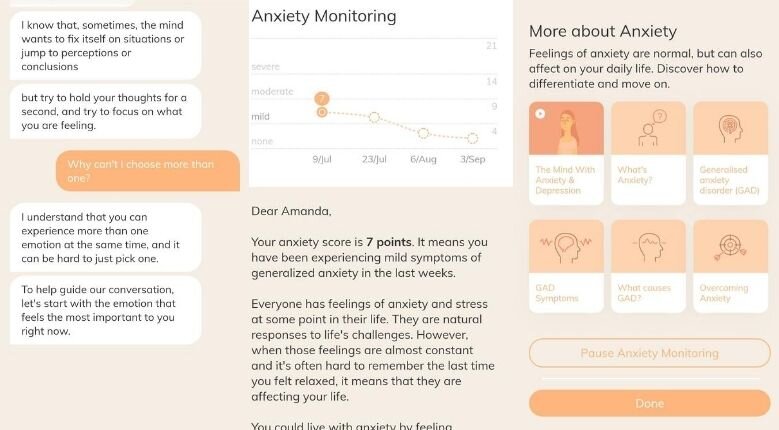 Thankfully, it's quite low maintenance for someone like me who's not fond of interactive apps in general. Chats are usually quite quick; prompts can be set on a specific time of day. It also allows me to gauge my mood using a simple metric and determine the possible roots of my current emotions at the time with pre-set options. From there, the app will give reassuring responses based on my choice. On some cases, the app highlights specific studies on effective coping methods to help me understand and self-address more negative entries.
After using it for two weeks, it felt quite interesting to be able to just track my mood and its causes and be more mindful of my days. There are also one-time quizzes to better assess one's personality and coping type, which also takes a small amount of time to accomplish but provide insightful readings based on scholarly articles and studies.
I've tried apps like these before but they tend to be really tedious that I gave up after a day or two. So I'd say Youper is a great match for individuals who simply want a small fraction of their day spent on reflecting about their current state of mind and not have it feel like a chore.
Ease of Use: 5/5
Effectiveness: 4/5
Personalisation: 3/5
Interactiveness: 3/5
Research Evidence: 5/5
For Senior Features Writer, Therese who tried Moodpath, trying out an app labelled for anxiety and depression initially felt like a disconnect for someone like her who is not clinically diagnosed with any of these disorders. However, after trying out the app, she realised how it can be helpful to any kind of user.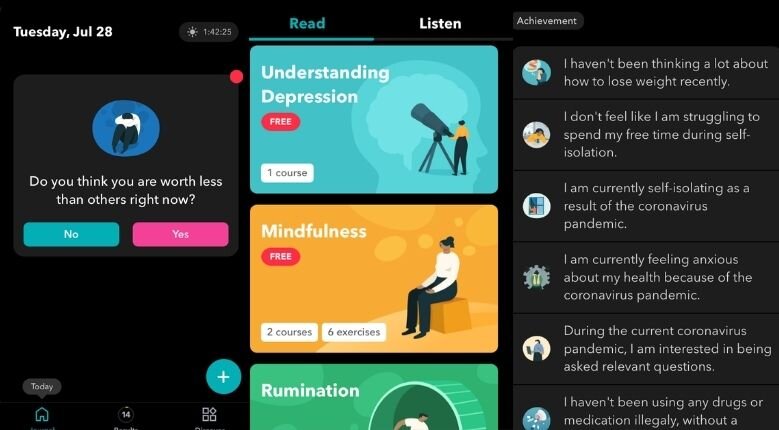 The app has three sections: a mood tracker, a Read tab (for understanding mental health conditions) and a Listen tab (with guided meditation programs for anxiety and stress). Therese expressed that the app's interface is easy to understand and setup, given its fair share of highs and lows, of course.
"I find that the 'emotion options' are limiting and not quite complex enough to match specific feelings. For example, one may feel 'disheartened' instead of 'afraid'. Another thing is, personally, I'm against labelling emotions as 'good' or 'bad'. I firmly believe emotions aren't bad, it's the handling of it that gets complicated," she commented, talking about the app's mood tracking feature.
The Read tab is a sure highlight, she noted, as it allows for better understanding of mental health. She also compared the Listen tab of Moodpath to another mental health app, Headspace, which provides short self-meditating programs that are perfect for calming and de-stressing after a long day.
After two weeks, Therese concluded: "The app must be used three times a day. It checks in your emotions in the morning, noon, and evening. It can be a bit bothersome, but it's nice — kinda like a friend checking up on you; only that friend is you because you check your own feelings. I feel that this helps with being more aware and mindful of how we're currently feeling and why we feel the way we do."
Ease of Use: 5/5
Effectiveness: 3/5
Personalisation: 3/5
Interactiveness: 4/5
Research Evidence: 5/5
For Features Writer Em who gave Happify a try, the app boasts over a hundred programs meant for "specific issues and lifestyle goals". After taking a short personalised quiz, Em ended up with the recommended 'Managing Stress in Uncertain Times' track. This program is comprised of "research-backed activities" that gives the user one or two tasks a day to accomplish and "makes you wait for a certain day to unlock the next ones."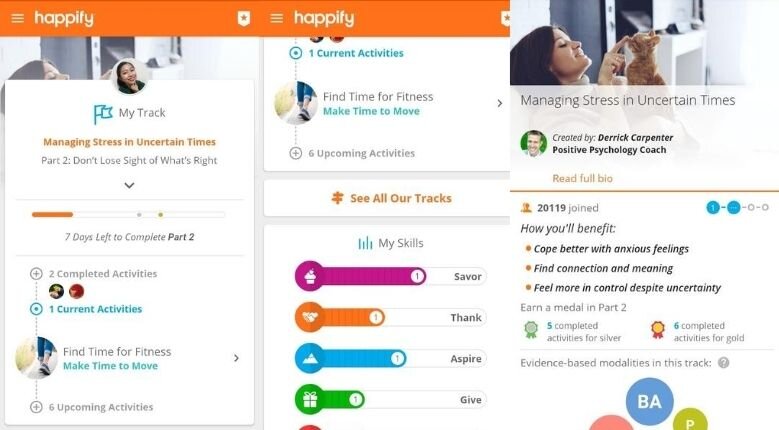 Em said: "The app didn't pressure me to finish everything in one go, but at the same time, helped me form a habit to follow. There are games that quite literally help you beat down negative thoughts but there were more prompts that let you reflect and savour the positive things in life. My absolute favourite is the Autogenic Training that prepares you for a calm sleep at night. I also appreciate that it has a check-in quiz every few days so you can track your progress."
Most of the challenges come from the app interface itself given its high RAM usage, making the functions load slower. The meditation feature also easily gets cut off when the phone goes on screensaver mode which is quite an interruption when you are 'in the zone'. Navigation can also get tricky when it comes to resuming from one day to the next. Still, Em said that the app gives users something to look forward to by the end of the day and really does a good job in terms of reducing stress and help cope with "creative activities".
Ease of Use: 3/5
Effectiveness: 4/5
Personalisation: 5/5
Interactiveness: 5/5
Research Evidence: 5/5
Finally, for Fashion Features Writer Sheryl, initially diving into Sanvello was quite an amusing yet refreshing experience.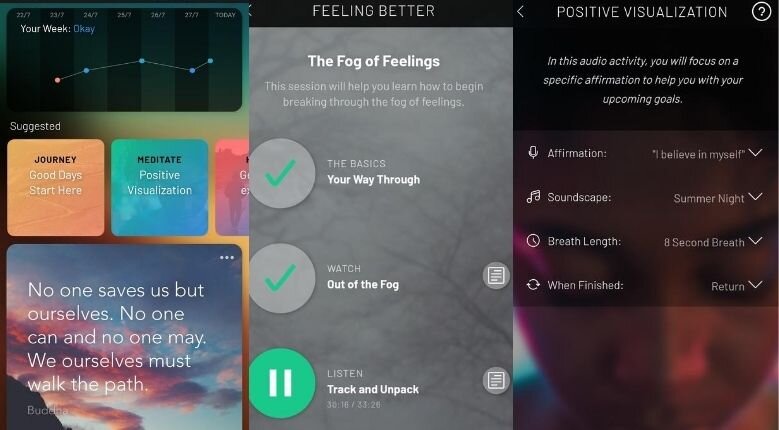 "Not going to lie — I snorted when I first opened the app! The phrases and words that they use seem really 'safe' and 'comforting', to the extent that I felt they were meant for 'others' and not me," she said. "I guess I was in denial of the fact that I could use an app to keep my mental health in check. And also that everyone, to a certain extent, has undergone or is undergoing mental health issues and that we should bravely address them."
She liked that the app is made "thoughtfully and beautifully," both aesthetic and concept-wise. It also did not require too much commitment, allowing the user to choose their own time and pace to interact with the app. For its best functions, the app allows a customised meditation experience. Sheryl said that as someone who has never meditated before, the app helped her "enjoy the process of being quiet and present in the moment" and actually get into meditation.
Sanvello also features certain 'journeys' you have to accomplish before moving on to the next one — from listening to a three-minute audio recording to watching a motivational video — which can be quite bothersome if you have a busy schedule ahead. Still, Sheryl shared that despite that, it can be very motivating.
"The app successfully 'convinced' me to get my butt off the couch and go for a brisk walk as part of its 'One Small Step' journey. I ended up enjoying a little time out in the neighbourhood (with my mask on, of course!)."

Ease of Use: 4/5
Effectiveness: 4/5
Personalisation: 4/5
Interactiveness: 5/5
Research Evidence: 3/5
The future of mental health in the hands of technology
After trying out Youper, I still don't think these apps can replace talking to an actual therapist or peer to for holistic mental health assistance. However, I do think that it is a great start to satisfy our constant need to reflect and take our mental health seriously.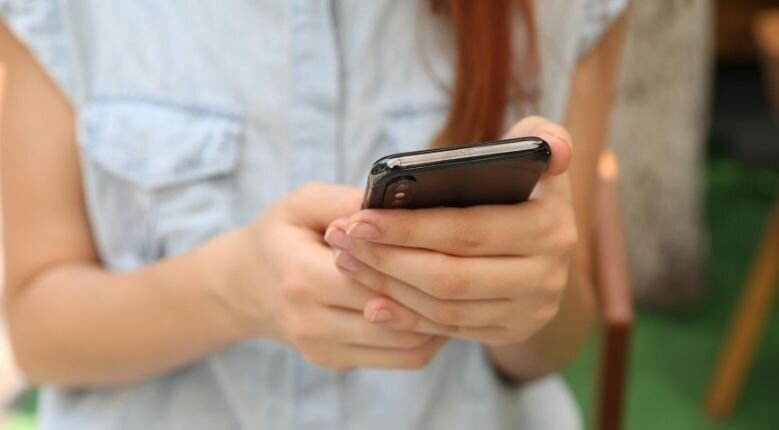 Em echoed similar thoughts: "As with most apps, Happify still needs some tweaking. But overall, despite these minor issues, I found its activities helpful in bringing a bit of positivity to my day. While it's still best for those diagnosed with mental illnesses to seek professional help, the app still does a good job of reducing stress. I'm only at the second part of my track so I still have weeks to go to finish it all, but I can't wait to see how Happify will help me cope with its creative activities."
Therese also reflected on her own experience: "Sometimes, I'm curious about how is it to live back in the day [without technology]. Today, with apps like these, we can check ourselves and continue to improve our mental health in a convenient way without fear of judgement."
"These apps are great examples of how the current crowd and the future generation should perceive mental health and illnesses," concluded Sheryl. "It is an important aspect of our health that we should bravely address, especially with the taboo surrounding mental illness in Asia. Mental health issues are not the end of things and there is light at the end of the tunnel. We must believe in our inner strength and power, and we shouldn't underestimate our self-determination in overcoming mental hardships in life."
Mental health apps, in general, may still have its shortcomings as with every piece of tech today, but our experiment proves that given this evolved relationship between man and machine — especially when it comes to matters of the mind — we are indeed at the peak of technology today.

Looking at how far we've come today, can we say that the future is here and now? We certainly think so.
Speaking of the future, check out how these change-making women are proving that the future is female here.
Comments, questions or feedback? Email us at [email protected].