This 2020, we will be running monthly horoscopes by our resident astrologer Sarah May Low, a tarot and i-Ching Oracle practitioner, and the CEO of Sarah May Low Tarot Academy. Sarah was mentored by one of New Zealand's top astrologers and frequently travels around Asia to read for clients. With a background in various forms of divination and healing — including chakra healing, Chinese feng shui, palmistry and tea leaf reading — Sarah will guide you ladies on how to live your best life this 2020.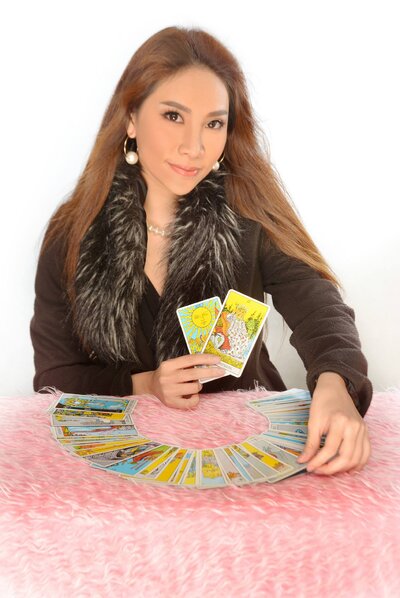 Clozette's resident astrologist Sarah Low
Love is in the air this month, but what is also in the stars (or more accurately, planets) is
Mercury Retrograde
. Mercury Retrograde in Pisces and Aquarius is happening from 17 February until 10 March. If you can, hold off any activities, events, and execution during this period. But if you cannot, make sure that communication with people around you is clear. After communicating verbally in person or through the telephone, make sure to follow up with a black and white email, letter or text message to make sure that everyone is on the same page.


Astrologers believe that during Mercury Retrograde, problems in technology and communication are likely to occur.


Aries ♈
21 March - 19 April
You want to make a big decision this month, a decision that will affect the rest of your life. After months of consideration, you want to move on to a brand new phase of life. This will be a good opportunity. Great outcome and career success is guaranteed.

Taurus ♉
20 April - 20 May
Taureans often hate changes. It can be difficult for them to get out of their comfort zone as they prefer environments that are structured and predictable. Because of that, they tend to be possessive of their belongings and are overly protective of others. Life is all about balance — your intentions may be good but too much of a good thing can be a bad thing. Learn to be more flexible.
Gemini ♊
21 May - 20 June
Geminis are air signs and air signs are known for their mental prowess and thus, are often geniuses. However, those who are thinkers often live in their mind and while thinking is good for finding solutions but overthinking might leave you feeling powerless and trapped. Learn to control your mind! Observe and look closely around you and don't be shy to ask for help or advice from those around you.

February's looking pretty fly with new opportunities ahead.


Cancer ♋
21 June - 22 July
There's an opportunity on the horizon for you! You may be feeling extra enterprising or entrepreneurial this month and hence, there may be a new business relationship, job opportunity or even passion project that you are wanting to start.
Leo ♌
23 July - 22 August
Things that you have been wanting have not come — a business or career opportunity, a relationship, or maybe even the chance to showcase certain talents. Because of that, you may be feeling a bit discontent and envious of those around you. Always remember that everything happens for a reason and we all have our path and calling in life. One door closed means another door will be open for you very soon!
Virgo ♍
23 August - 22 September
There's a start of something new for you this month! It can be a new love, idea, inspiration, career, marriage or even career path. Prepare for overflowing joy and happiness for you this month.


The month of love also has its fair share of ups and downs. But don't fret! The stars are bringing in balance one way or the other.
Libra ♎
23 September - 22 October

You're feeling imbalanced this February — emotionally, physically, financially, spiritually and this imbalanced can also be related to certain a family member's opinion or decisions surrounding your family life. Learn to prioritise what is most important (like your mental health) and manage the expectations of those around you.
Scorpio ♏
23 October - 21 November
There may be some dramatic changes in events for you this month. You are finally making that decision that you have put off for a while like travel overseas, moving to a new home, changing a new job or to go after a childhood dream.
Sagittarius ♐
22 November - 21 December
You are in your positive, happy bubble and you are not wanting to push yourself too much or overly stress yourself unlike those around you who are hustling to achieve each of their new year #resolutions. It may be a bit reckless to not plan but at the same time, many people should learn to be more relaxed like you, the #YOLO icon of the zodiac and masters of "going with the flow" because life is exactly like that — going where the universe takes you!


At the end of the day, you are the captain of your own ship. Optimism is key.


Capricorn ♑
22 December - 19 January
Think positively about your prospects — both your career, business prospects and also your relationship and love prospects. Lots of options for you this month and that's GREAT news as it's always better to have choices than no choices at all, right?


Aquarius ♒

20 January - 18 February

Changes and important decisions will be made — either by you or by those around you, possibly involving certain legal or contractual disputes. You may also be a victim of slander or malice, so learn to guard your energy this month. Don't allow toxic people to live in your headspace (and heart-space) rent-free!

Pisces ♓
19 February - 20 March
You are looking to invest your money, time and effort in the development of a new skill, qualification or even pursue a new job opportunity. Any form of investment to improve yourself will ALWAYS be worth it — go for it!
Follow Sarah Low on Facebook, Instagram, and LinkedIn. Alternately, you may book a tarot reading session here.
Curious as to which style piece will help you harness your luck? Check out our fashion recommendations based on your star sign here.
Comments, questions or feedback? Email us at [email protected].