Social media has changed the way we communicate with the world. And while it has improved how we stay connected tremendously — we don't have to physically be there to know you had that insta-worthy acai bowl last week — social media has also "let loose" a myriad of hate preachers, cyber bullies, and keyboard warriors.
You see, unlike the occasional networking events and social gatherings, social media is always on 24/7. However, just like how there are proper social etiquettes in real life circumstances, we think there should also be etiquettes we should observe in the digital landscape. That's why we spent one Saturday afternoon to chat about how we can foster a positive social media experience with four Clozette Ambassadors and social media personalities — Christy, Hanna, Maybeline, and Roanna.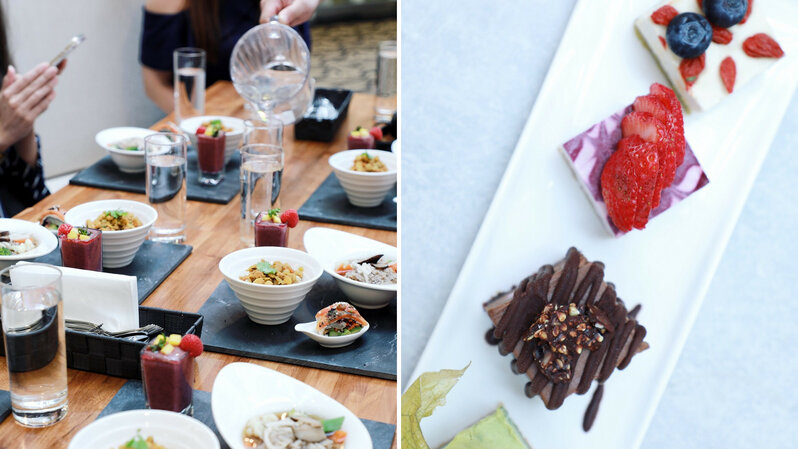 To tie in with our discussion on the "healthy" ways of making meaningful connections online, we settled down offline at
Wholesome Savour
, a fully-vegan delicatessen located at the basement of Palais Renaissance. The raw-centric, gluten-free, plant-based eatery delivered tasting palettes lined with guilt-free, delicious food that teased our palettes with an explosion of flavours. To round off the wholesome meal, the no-baked Raw Nutrient Dense Cakes were a crowd-pleaser. To think these desserts contain no sugar, dairy, flour, butter and eggs! Looking for a wholesome social media experience? Here are our four hard rules for navigating social media with grace.
Rule #1. Keep it real
For the four ladies, becoming social media personalities were not part of the original plan. They were seeking an outlet to share their personal stories and experiences, such as on blogs like Blogspot or Livejournal. In time, they gained readership, followers and popularity. Then, social media platforms came along.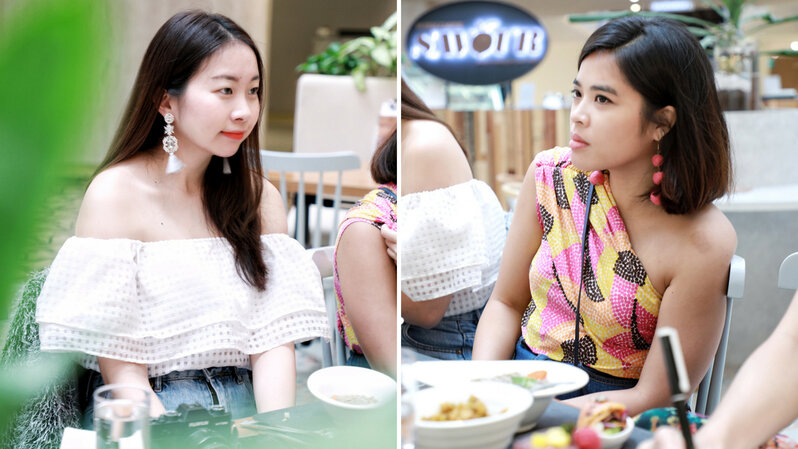 But no matter which platform they choose to be on, everyone agreed that staying authentic is how you stay relevant. "Be authentic and show all sides of you — not just the pretty side," said Christy. "People relate to you better."
But here's the thing: though social media may be thriving now, it is interesting to know that blog views are increasing, too. "My blog is an extension of my travel photos [from Instagram], where I share my experience [even deeper]," shared Hanna.
Rule #2. Forget algorithm
Forget trying to outsmart algorithm. "Your content is your content. If [your followers] like your stuff, they will come," said Christy. Although social media algorithm does play a part in driving reach and engagement, it seems like these social media personalities would rather focus their time on creating what's unique to each of them.
For Roanna, as a beauty blogger, it means swatching make-up in artful ways rather than simply swiping them on her arm. Social media feeds should be decorated with your personality, whenever and however you want.
Rule #3. Social media is about being social




Social media may have influenced the way we interact, but that doesn't mean you can't add a human touch to how you communicate digitally. Maybeline's advice? "Take your time to reply to all questions from your followers." After all, social media — as the term suggests — is about being "social". Responding to comments from your followers closes the loop to what makes us human.


Rule #4. Enjoy social media on your own terms
We all have some sort of a love-hate relationship with social media. But at the end of the day, how you experience these platforms is a matter of personal choice. Not so keen on watching a particular Instagram story? It's as easy as swiping left. You are in full control of what you like or dislike.
Where do they see themselves on social media in five years? "I still see myself on Instagram because it's something that I really like," replied Roanna. The bottom-line is: as long as there is a creative outlet and whatever that outlet may be, these four ladies will be there — enjoying it on their own terms.
Wholesome Savour is located at Palais Renaissance, 390 Orchard Rd, B1-06A, Singapore 238871.

Read our inaugural Clozette Chats with female entrepreneurs of our community here.
Comments, questions or feedback? Email us at [email protected].