Don't you just miss the snazzy flip phones we all used to have back in the 2000s? Somehow, as we moved to the more modern features of touch phones in the past decade, the simplicity of old tech just became a piece of nostalgia. Trends come and go, but luckily for us, however, they almost always come back to be all the rage. Tech giants are suddenly bringing back our fave feature with a high-powered update. Among the first few is Samsung, which, with their new Galaxy Z Flip, attempts to open up a new decade of foldable tech.
Samsung began the foldable era with its Galaxy Fold last year. But by kickstarting the Galaxy Z series, they're attempting to redefine the innovative trend that will delight stylish users. "Galaxy Z Flip is an important next step as we look to build the foldable category by bringing to consumers a new form factor, new display and most importantly, a new kind of mobile experience," says Dr. TM Roh, president and head of mobile communications business of Samsung Electronics in a press release.
But aside from getting to experience the satisfying flip once again, what exactly can we do when we get our hands on the much-coveted device? Read on to find out how the fashionable phone combines the best of stylish form and function.
Pocket style
The Samung Galaxy Z Flip is designed for ultimate portability. It folds in the size of a small wallet that can easily fit into your pockets, but when opened, it doubles to reveal a stunning screen with a 6.7-inch display. That means you get the ease of use that comes with smartphones with larger screens, minus the bulkiness. Not to mention, it comes in cool colour palettes: Mirror Purple and Mirror Black. Plus, with Samsung's proprietary bendable Thin Glass (UTG), the phone's been made slimmer for a sleek and luxurious look.
Flip it
Samsung's new flip phone features a Hideaway Hinge backed by a dual CAM mechanism. This small engineering detail ensures that every flip and fold is smooth. The new flip smartphone works like a laptop and can stay open at any angle. Aside from helping you get that satisfying feeling with its snap, the hideaway hinge also integrates Samsung's new sweeper technology and uses nylon fibres to remove dirt and dust on your device. Literally neat, huh?
Do more
Working with Google, Samsung designed Flex mode for a unique viewing experience. When folded forward, the display is automatically divided into two four-inch screens. This way, you can view content at the top, and control it on the bottom. It's perfect for when you want to watch videos on Youtube while writing comments and searching for more right at the same time.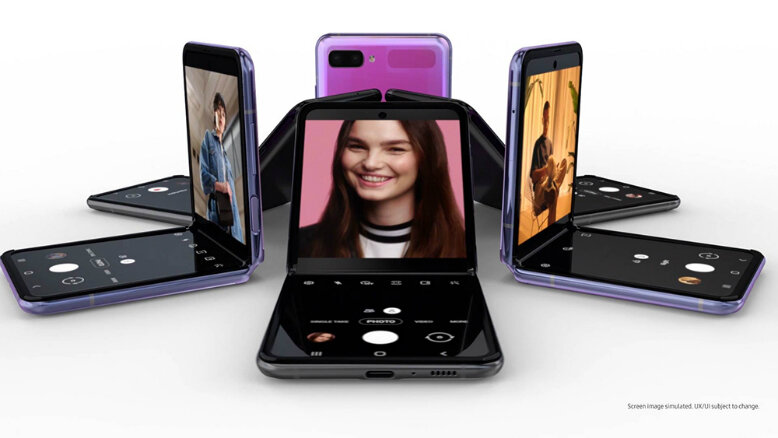 Fold the device forward so you can enjoy easy multi-tasking on your device (Photo from: samsungmobilepress.com)
But it's not only on YouTube that you get to kill two birds with one stone. Users can also take advantage of the phone's Multi-Active Window if they wish to use other apps. Simply drag the apps you want to use on the Multi-Window Tray et voila! You can scroll through your IG feed at the top and shop beauty finds on your fave online shopping destination below.
Never miss a thing
Whatever positions and angle it's in, the Samsung Galaxy Z Flip will never fail to remind you of important stuff. When closed, you can quickly glance at the date, time, and battery percentage on the cover. You can also opt to get real-time notifications. Answer calls without unfolding your device or respond to a text by unfolding your Galaxy Z Flip.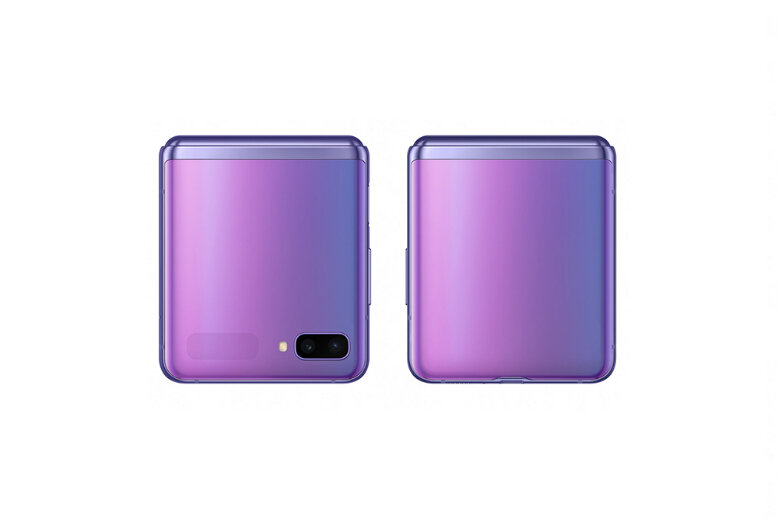 See all the important notifications even when it's closed
Capture more moments
Because the new flip phone can stand on its own and stay open in multiple angles, you can unlock more opportunities for your communication and content creation; capture more whenever, wherever; be able to get decent, timed group shots that capture more of the environment; and even take vivid night shots with the Night mode to the show the beauty of the city. For those who love shooting video content, you can easily find the best angle and enjoy recording steady 4K videos with a 16:9 ratio that's perfect on social media. You can even capture high-quality selfies one-handed when it's closed. The possibilities are right in your hands.
Power up
Despite its compactness, Samsung Galaxy Z Flip features an optimised dual battery system that holds more power that you can quick-charge wired and wireless. Plus, with their Wireless PowerShare, you can feel free to wirelessly charge your Galaxy Buds, Galaxy Watch or even your friend's mobile. With this kind of power, surely, you can face the day with ease.
That's quite the innovation, isn't it? Samsung also announced a limited-edition collaboration with Thom Browne featuring smart textures launched exclusively in the U.S. But no worries, Samsung Galaxy Z Flip in its classic colours will launch in Singapore tomorrow, 14 February, the first-ever in Southeast Asia to experience this ground-breaking tech. For SGD1,998, it will be available in local telecommunication operators like M1, SingTel, and StarHub as well as in Samsung stores. Looking to give yourself some love this Valentine's Day? Perhaps this is the gift waiting for you!
Next, other gadgets you can use to pursue your creative passions.
Comments, questions or feedback? Email us at [email protected].