We were recently invited on a trip to Seoul by LG so that we could get acquainted with the brand's pioneer line of home beauty tools, ahead of its launch in Singapore.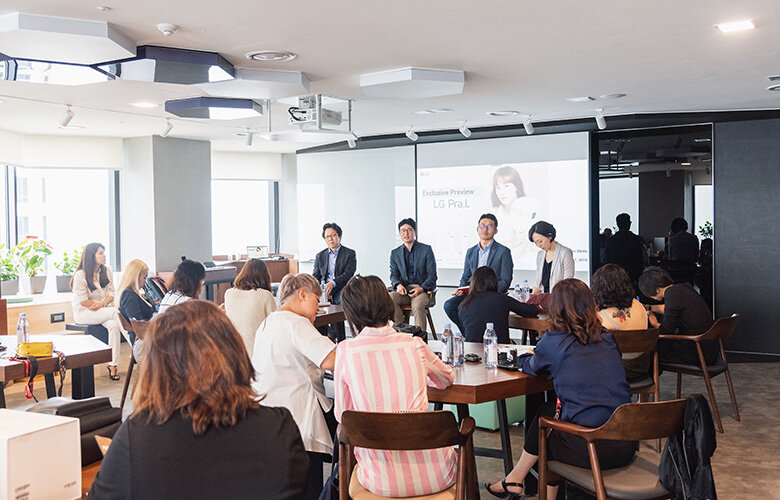 On our first day, we embarked on an exploration of LG corporation and their portfolio of brands and products, and this only served to build up our anticipation for the moment we've been waiting for: an introduction to the
Pra.L
series of beauty tech products.
Launched in September 2017, the LG Pra.L first debuted in Korea before making its way to Hong Kong. Singapore will mark Pra.L's third release country as LG feels that Singaporean consumers are trendy and fashionable as a whole, thus, offering good opportunities for useful market feedback.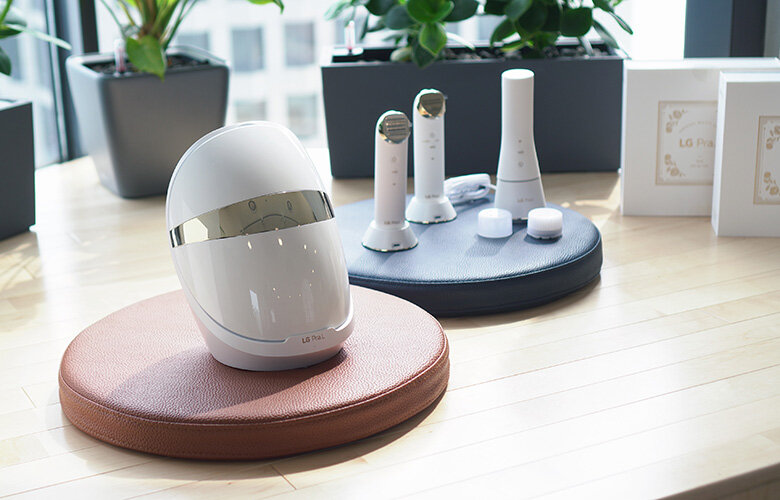 The LG Pra.L series currently comprises four devices designed to solve skin concerns we commonly face as we age.
Pra.L Dual Cleanser (SGD449)
One of the first key skincare steps we pick up as we enter our 20s is proper cleansing, especially when we begin wearing makeup and realise how cleaning off makeup is actually more important than putting it on.
The Dual Cleanser comes with two interchangeable brush heads: a silicon brush for daily gentle cleansing, and a fine fiber brush for weekly deep pore cleansing. It's kind of like having a Clarisonic and Foreo rolled into one handy device and enjoying the best of both worlds, with adjustable cleansing settings that you can select based on your needs, such as when you only require a light cleansing or when you have heavy makeup to remove.
The UV lamp built into the Dual Cleanser's cradle to sanitize the brush after each use is also a very nice touch, and the delightful voice assistance feature that accompanies every LG Pra.L device is extremely useful. Each prompt reminds you when to move on to your other cheek, nose, forehead, and chin, meaning you don't have to exert even more mental energy tracking and pacing your cleansing ritual after a long, tiring day.
Pra. L Galvanic Ion Booster (SGD529)
As more women tend to consider investing in higher-quality skincare when approaching their 30s, a device that helps boost absorption and product efficacy sometimes comes into consideration. The Galvanic Ion Booster is designed to enhance skincare product absorption, with two different settings.
In Cleansing Mode, the Galvanic Ion Booster leverages the attractive forces between ions of opposite charges to draw out fine impurities from the skin. To help ingredients penetrate more deeply into the skin, Boosting Mode is used to apply ultrasonic wave vibrations in conjunction with heat massage.
All Pra.L device heads are made of medical-grade materials typically used for surgery and implants, so you can be assured of safety during use.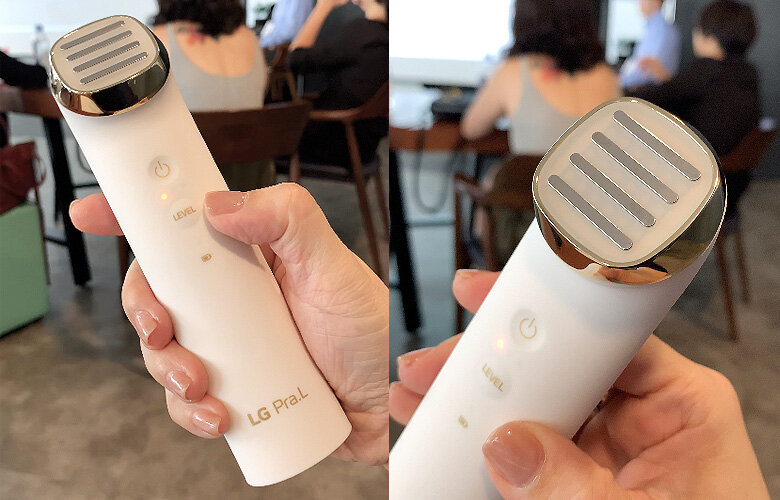 Pra.L Total Lift Up Care (SGD699)
Many ladies in their mid-30s know all too well the need for skin lifting and brightening solutions as time and gravity take their toll on skin tone and elasticity.
Pra.L Total Lift Up Care can be likened to a gym for your face, stimulating muscles beneath your skin so that they can build the strength necessary to hold up against gravity through two modes. Tightening Mode delivers high-frequency currents and red LED into the skin for improved elasticity, while Lifting Mode utilizes microcurrents to stimulate skin tissues and muscles to help with facial lifting.
LG claims that users can expect a visible change in eight weeks with regular usage for six minutes, twice a week. Sounds like a workout we wouldn't mind signing up for ASAP!
Pra.L Derma LED Mask (SGD1,349)
If you have been looking at home-based solutions for daily skincare because you feel like the occasional aesthetic appointment simply isn't enough, LG has launched something that could just be right up your alley.
The Derma LED Mask offers the effects of a clinical skincare treatment in the comfort of your home. This is a firming and brightening skincare system built with an array of 160 strategically placed red and infrared LED lights that generate a combination of long and short-wavelength light rays, penetrating the skin at different depths for optimal improvement of skin tone and firmness. According to LG, improvements can be seen after about six weeks when the mask is used for nine minutes, twice a week.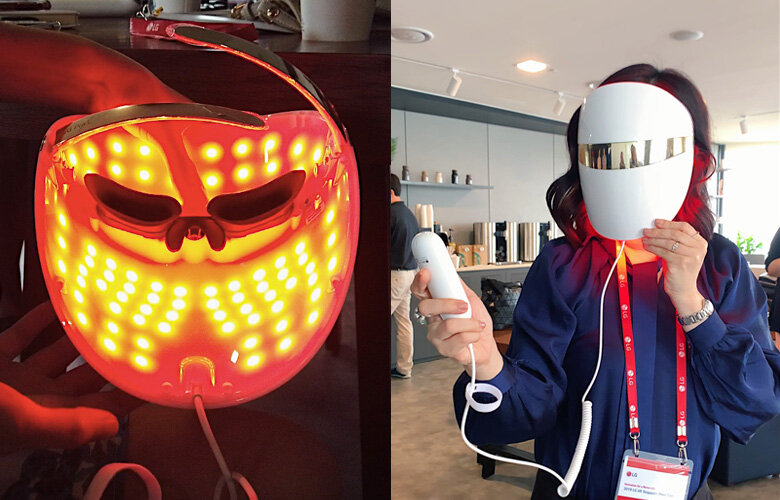 The mask also features an eye-shield design made of body-safe silicone to protect eyes from any glare from the LED lights and has also been fitted with proximity sensors to ensure the mask only activates when worn correctly. Unlike many beauty devices in the market that are only registered with the FDA, the Derma LED Mask has not only been registered but also FDA-cleared and certified in the United States for safety and proven effects.
Considering LG has amassed a deep knowledge in LED technology since 2000, we can safely say that they definitely know a thing or two about what they do. It is also evident that they are not content to rest on their laurels since they wish to bring their expertise and innovation in this field as well as their know-how in motoring and vibrations into daily life applications for the improved well-being of people.
The Pra.L concept began life in 2012, so it was an idea that was five years in the making before its launch in 2017, and it has been very well-received in the Korean market ever since.
We will be receiving our media set in August, and can't wait to get our faces on Pra.L. Do look out for our full review next month. If you can't wait, LG Pra.L launches in Singapore today at Tangs.


You can also read about our time in Seoul with LG here.
Comments, questions or feedback? Email us at [email protected].