Apple is once again turning yesterday's science fiction into reality with the launch of its extraordinary new products in 2023. We've rounded up three new products to watch out for.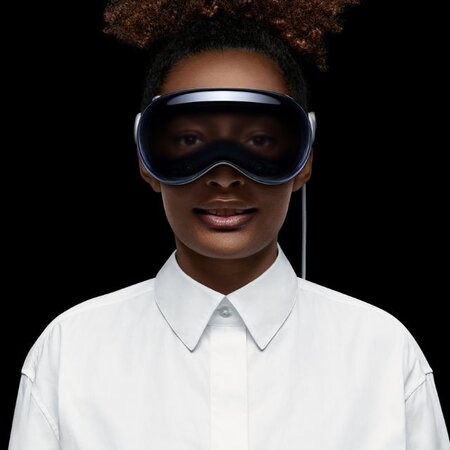 Apple new products in 2023
1. Apple Vision Pro
Black Mirror
and
Ready Player One
are a couple of sci-fi titles that come to mind after Apple CEO Tim Cook officially presented the
Apple Vision Pro
during the Worldwide Developer Conference (WWDC) 2023. The company calls it its first spatial computer which has the power to seamlessly blend digital content with the physical world.
You put on the headgear and navigate apps with your eyes and scroll and zoom in with your fingers. It ushers in a whole new world of gaming, capturing and reliving memories, streaming TV shows and movies, and connecting with others.
What sets the Apple Vision Pro apart from other similar devices (like the Meta Quest 2) is that Apple's product is designed to keep users grounded in the present and is focused on mixed reality instead of virtual reality. You could still see and talk with other people outside of the headset.
It's priced at USD3,499 (or around SGD4,715.95) and will be available in the US next year. Stay tuned for more details about its release in Singapore.


2. iOS 17
Aside from the futuristic
Apple Vision Pro
, the tech giant also revealed new upgrades such as the
iOS 17
. It's said that the new update will make the iPhone more personal and will offer new experiences for users.
One example is the NameDrop where people can exchange contact information by just bringing their iPhones together. Some are saying that it's interesting, but it can be dangerous too.
Another new feature that's not as creepy is the Journal app which helps users reflect and practice gratitude through journalling. The company says that it's designed to protect the user's privacy so that not even Apple can access the entries.
You can find more details about iOS 17 here. It's expected to be released later this year, so stay tuned.


3. MacBook Air
Apple's new
MacBook Air
now comes in its thinnest 15-inch model to date. The new line also has a 13-inch model, and both come with an M2 chip that will give you up to 18 hours of battery life. Its other features include a fanless design, a spacious display that claims to have double the resolution of other PC laptops, and an immersive sound system.
It's priced at SGD1,899 and will be available for pre-order via Apple's website tomorrow, 7 June, and will be available to all on 13 June.
You can find more details about the new MacBook Air here.

(Cover photo from: Apple)

Comments, questions or feedback? Email us at [email protected].