Sun's out, new frappés in! Starbucks Singapore has unveiled its menu of summer drinks for 2022 and it's oh so cool. Check out the new beach-themed offerings below.
What new drinks are coming to the Starbucks menu in summer 2022?
It doesn't matter if you're a beach person or not, you'll surely be delighted with these new delicious drinks that come with a complimentary candy-coloured reusable straw.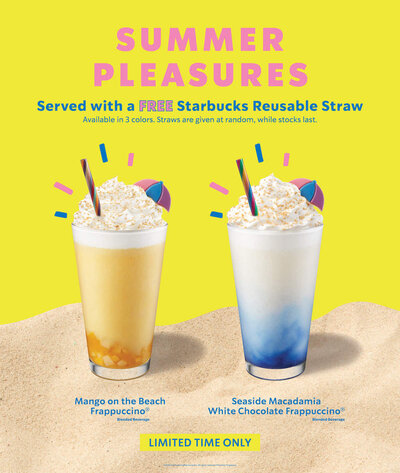 If you're a fan of fruity drinks, the Starbucks® Mango on the Beach Frappuccino® Blended Beverage (SG8.20 for Tall size) is a must-try. It boasts a yummy combination of zesty mango sauce blended with milk and ice. Mango jelly chunks, graham crumbs, and an adorable beach umbrella-shaped chocolate cap off the tasty drink.
Want something that will satisfy your chocolate cravings? Go for the Starbucks® Seaside Macadamia White Chocolate Frappuccino® Blended Beverage (SG8.20 for Tall size). This Instagram-worthy frap features an ocean-inspired blue and white ombre look that will go well with your summer outfits. But it's not just eye candy, it's also very flavourful. It contains rich white chocolate macadamia syrup with milk and ice. Blueberry sugar powder and graham crumbs are added to round off this treat. Bonus: it also has that charming beach umbrella-shaped chocolate on top!
Both Starbucks summer drinks are now available for a limited time only. So catch them while you can.

For those of you who love tea, there's the Strawberry Mango Jelly Starbucks M:LK Cream™ Oolong (SG8.20 for Tall size), which features sweet strawberry, juicy mango jelly chunks and non-dairy creamy layers of Starbucks' plant-based M:LK cream. Stay tuned for its launch on 11 May.

New desserts from Starbucks' menu for summer 2022
Need a slice of cake to go with your drink? You can choose from three new dessert options: the malty yet floral Earl Grey Lavender Cake, the decadent Less Sweet Yuzu Cheesecake, and the luscious Chocolate Hazelnut Cake.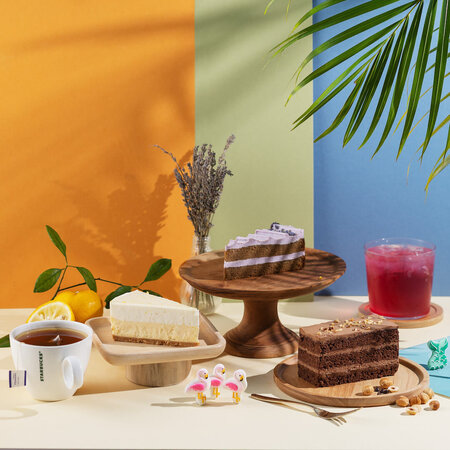 Check out the Starbucks summer drink collection
Take the beach vibes home with the Starbucks' new sunny drinkware collection! The collection includes beach-perfect brightly-coloured tumblers, water bottles and mugs. All are now available in-store and via the Starbucks Online Store.
Which one will you be ordering?

Next, check out the best non-dairy milk options for your coffee.
Comments, questions or feedback? Email us at [email protected].