Want to make your diet more eco-friendly? You'll be happy to know that the anticipated Salad Stop! CapitaSpring is now open!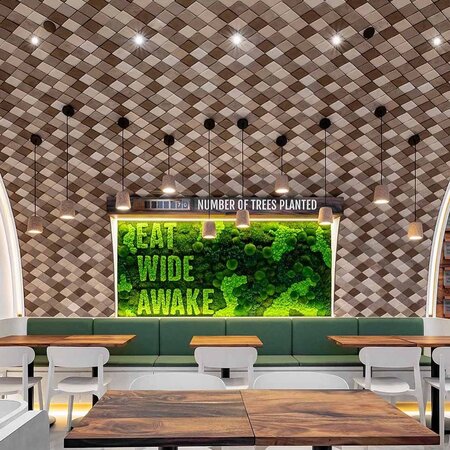 The new branch at Downtown Core in Singapore is the first food and beverage outlet in Southeast Asia to be certified "Net Zero". This means the carbon dioxide emissions produced by the store, through the use of electricity, packaging materials, ingredient sourcing and so on, are reduced. The remaining ones are negated by carbon offsetting, which is basically a way to cancel out carbon footprint by funding carbon dioxide-reducing projects such as forest conservation and more.
Salad Stop! CapitaSpring: Store design, interior
It's not just the day-to-day operation of Salad Stop! CapitaSpring that's environmentally conscious, even the store design itself is made with Mother Earth in mind. The studio was crafted by the designers from Pomeroy Studio, who made sure that the interior and exterior are all sustainably made.
Even the furniture pieces are eco-friendly and made from upcycled logs. Meanwhile, the wall tiles use recycled plastics. The statement green wall showcases plants that are treated with biodegradable liquid so they can go months without water.
Salad Stop! CapitaSpring: Menu, delivery
The SaladStop! CapitaSpring will be offering a branch-exclusive Homegrown Salad 2.0, made entirely from locally grown ingredients in Singapore and includes egg, kale, baked chilli barramundi, tamarind vinaigrette and more.
Want to take this to-go? SaladStop! CapitaSpring has partnered with Muuse to offer waste-free eco-friendly reusable packaging for takeaways. You can download the Muuse app and scan a QR code on a trolley at SaladStop! CapitaSpring. The reusables can then be returned through drop-off at partner cafes.
For deliveries, SaladStop! CapitaSpring teamed up with Deliveroo to make sure that deliveries from the branch are made only by foot or bicycle.
(Cover photo from: @saladstopsg)
Next, check out these must-visit Italian restaurants in Singapore.

Comments, questions or feedback? Email us at [email protected].