Kim Kardashian's shapewear brand SKIMS is on a roll. Not long after gaining a spot in Time Magazine's prestigious Most Influential Companies in 2022 list, the three-year-old business hit the headlines once again with a head-turning campaign featuring some of the most celebrated supermodels. Former Victoria's Secret Angels Tyra Banks, Heidi Klum, Alessandra Ambrosio and Candice Swanepoel are all tapped to star in the latest ads for SKIMS' Fits Everybody collection.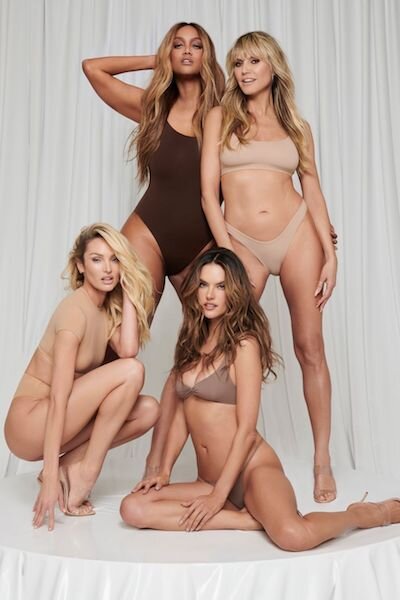 Even Kim Kardashian herself, an icon in her own right, joined the photoshoot. The reality star shared that she didn't plan on taking part in the campaign but found that the moment was "too iconic" to miss out so she "jumped in" to join the fun.
OK so I wasn't supposed to be in this @SKIMS campaign but I stopped by and jumped in because it was too iconic. pic.twitter.com/z2EdcOEyrr

— Kim Kardashian (@KimKardashian) April 4, 2022
About the Fits Everybody Collection
The Fits Everybody Collection is famous for its comfortable "moulds-to-your-body" quick-dry fabric that can stretch up to twice its size. The range offers a variety of underwear designs including a bandeau bra, bralette, cami tops, high-neck bra, thong, briefs, boy shorts and more. Each piece is available from XS to 4X. You can shop them here (price range SGD42 to SGD100).
Reactions to the new Fits Everybody campaign
While many applauded the appearance of the supermodels in the SKIMS campaign, some have pointed out that the former Angels, who embody unattainable beauty standards, may not be the best models for a collection that's marketed to fit everybody.

Victoria's Secret itself has retired the title Angels and calls its new ambassadors the VS Collective. Among the VS Collective are Olympians Naomi Osaka and Eileen Gu, model and designer Sofía Jirau (the first model with Down Syndrome to lead a Victoria's Secret campaign) and socialite Hailey Bieber.
The shapewear and underwear industry itself as a whole has become more inclusive, with the latest newcomer, Lizzo's YITTY, boasting a size range of XS up to 6X.
(Cover photo from: @skims)
Next, learn the history of shapewear and how it improved over the years.
Comments, questions or feedback? Email us at [email protected].