Everybody's doing a Hot Girl Walk on TikTok right now and you're probably wondering — what is a Hot Girl Walk, exactly? Fret not, we're here to break it down for you.
What is a Hot Girl Walk?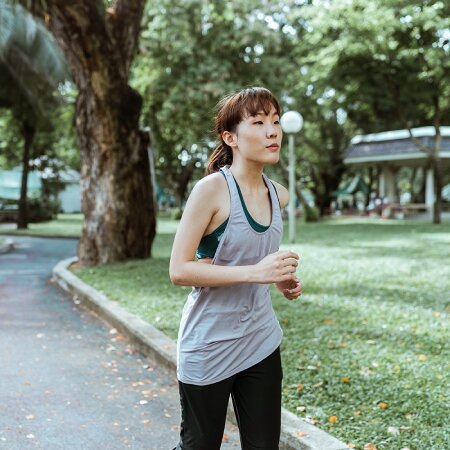 The Hot Girl Walk is TikTok's latest fitness-slash-wellness trend, which has accumulated over 354.4 million views under its tag as of writing. It involves going out for a four-mile walk. Coined by TikTok user Mia of @exactlylikeothergirls, the trend involves thinking about only three things as you stroll: what you're grateful for, your goals, and how hot you are.
What does this mean? To put it simply, you cannot multitask on your Hot Girl Walk. No making mental to-do lists of everything you have to do that day, stressing out about work, nada. All you have to think about is how good you're looking with every step you take, how you're absolutely killing it in the #adulting game, and what you want to achieve in general. Essentially, you're metaphorically pep talking your way to a fantastic day. Mia says this helps to build up confidence, which helps you make a change internally rather than fixating on your outward appearance.
Benefits of doing the Hot Girl Walk
So yeah, your daily walk doesn't need to involve any special moves or hard-set fitness goals to make it have a positive impact on your physical and mental health. Of course, brisk walking for 10 minutes is known to improve muscle endurance and cardiorespiratory fitness so you should be already doing it. The Hot Girl Walk just makes it more fun and intentional.
While the mindfulness walk is meant for you to be alone with your thoughts, a lot of people prefer to listen to a podcast or inspirational playlist while on their Hot Girl Walk. You can reconcile the two by either starting out your walk without music and turning it on once you're done reflecting or beginning with the music and then transitioning into the recommended series of mental mantras as you wind down from the walk.
Now that you know what a Hot Girl Walk is about, here's a playlist of songs people are listening to on their walks. These tracks have been included in Spotify playlists from around the world and verified by the research team over at PureGym. Do you spot any familiar tunes?
The ultimate Hot Girl Walk playlist
1. About Damn Time by Lizzo
Lizzo's 2022 single took TikTok by storm with its catchy dance challenge so it's no surprise that it tops the list of most popular Hot Girl Walk songs. It's been featured in over 266 Spotify playlists. Its lyrics promote self-love, confidence, and not "giving a f*ck" way too much — the perfect background to any stroll.
2. Maneater by Nelly Furtado
We can definitely see why this 2006 hit made its way to one of the most popular Hot Girl Walk songs. With lyrics saying "And when she walks, she walks with passion / When she talks, she talks like she can handle it / When she asks for something, boy, she means it", it's almost like it's tailormade for that specific purpose.
3. Gimme More by Britney Spears
Ms. Spears is here to retake her crown as the pop girl of the century, with her song Gimme More from 2007 being added to 205 Hot Girl Walk playlists. It's like she's calling for you to give more confidence and positivity with every strut — and we're definitely here to deliver.
4. Vegas (From The Original Motion Picture Soundtrack ELVIS) by Doja Cat
Doja Cat's song was recently featured in the ELVIS movie soundtrack, so people are quickly discovering the track. It has that bad b*tch vibe which is empowering considering the song's persona is a woman who knows her partner is cheating on her. With that in mind, the song inspires you to reclaim your power and self-esteem after a confidence-shaking experience — making it a good addition to your Hot Girl Walk playlist.
5. Woman by Doja Cat
Don't be surprised by Doja Cat's multiple entries on this list because this rapper-singer knows how to encourage women everywhere to be confident in their skin. With lyrics like "I mean I could be the leader, head of all the states / I could smile and jiggle it 'til his pockets empty / I could be the CEO, just look at Robyn Fenty / And I'mma be there for you 'cause you on my team, girl" it doesn't just inspire you to be confident but also cheer on other women in their journeys.
6. Promiscuous by Nelly Furtado
Another Nelly Furtado song inspiring Hot Girl Walks everywhere is this 2009 collab with Timbaland. The lyrics certainly highlight Nelly's knowledge of what she wants and how she isn't afraid to let people know about it. It's definitely the kind of attitude you'd want to have as you take on your day.
7. Get Into It (Yuh) by Doja Cat
Doja Cat's Planet Her album is full of hit songs and this track is not an exception. We're sure the upbeat tempo of the song puts a pep in many people's steps, so we're not surprised to see this on the list.
You can use this playlist for your HIIT workout too. Check out these HIIT gyms in Singapore that you can visit.
Comments, questions or feedback? Email us at [email protected].