Muay Thai is one of the most popular forms of martial arts in Singapore. It's a great way to stay fit and active since it boosts your strength and endurance by using all your limbs throughout the session. Hence why it's called "The Art of Eight Limbs".
What's more, the movements you use are pretty straightforward: quick and powerful kicks, punches and knee jabs are the core of this martial art. Ready to start training? Here are the best Muay Thai gyms in Singapore.
1. PFG Muay Thai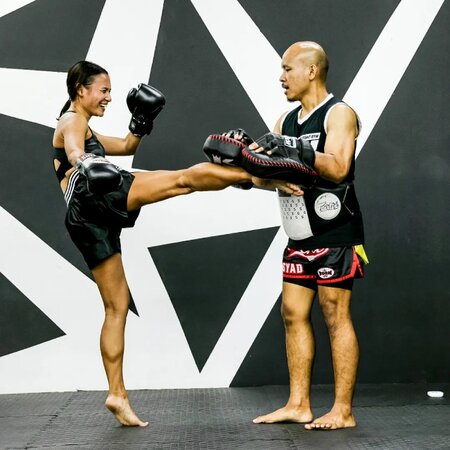 If you're juggling a 9-to-5 but still want to take Muay Thai classes, this Muay Thai gym offers 79 classes per week from 7AM to 9PM. You'll still be able to enjoy hands-on instruction since every class will include a maximum of eight students at a time. They offer basic, circuit, and sparring classes that cater to all levels of knowledge.
Address: #01-06 Balestier Point, 279 Balestier Rd, Singapore 329727
Book a free trial here.
2. Chawraiooi Muay Thai Singapore
This gym is affiliated with Chaorai-oi Boxing Gym in Kubon, Thailand which is led by Adjharn Chartchanoi a.k.a. The coach of Thailand's National Team. The gym itself is headed by Robert Yap, the Master Trainer under the Amateur Muay Thai Association of Singapore (AMAS). He leads a team of instructors who are AMAS-certified, some of whom are current or ex-National Muay Thai Team fighters.
Address: 5001 Beach Road, Golden Mile Complex, #04-07, Singapore 199588
Book your training slot via WhatsApp.
3. Evolve Mixed Martial Arts
Known as the largest Muay Thai gym in Singapore, Evolve is the home of the largest collection of World Champion Muay Thai fighters-slash-instructors under one roof. You'll be given an official Sityodtong certificate as you progress through the different levels and also eventually become eligible to compete in amateur or pro events.
Address: Various locations
Book a trial session here.
4. Muay Art Fitness
This Muay Thai gym offers 20-member group classes that include general fitness exercises and individual pad-work with their instructors. Each group class lasts for 90 minutes without breaks so you'll definitely be challenged with every session!
Address: PUB Recreation Club, 48 Woodleigh Park, Singapore 357844
Check out their schedule of classes here.
5. The Jungle MMA
The Jungle offers classes on various forms of martial arts, including Muay Thai, Boxing, and Brazilian Jiu Jitsu (BJJ). The studio describes itself as a community gym where students and coaches work and encourage each other to improve their skills and meet their goals.
Address: 35 Boat Quay, Level 3, Singapore 049824
Book a class here.
6. Impact Mixed Martial Arts
Founded in 2010, Impact MMA was the training ground for Singapore's first and only Ultimate Fighting Championship (UFC) fighter Royston Wee. It offers a holistic approach to training with the instructors who have undergone coaching on the psychological aspect of training by their consultant, sports psychologist Edgar Tham.
Address: 424 Race Course Road, Singapore 218670
Check out their schedule of classes here.
7. Naksu Muay Thai Gym
Located on King George's Avenue, this standalone Muay Thai gym offers professional Muay Thai Training for students of all levels, from beginners up to professional fighters.
Address: 324B King George's Avenue, King George's Building, Singapore 208566
Inquire here.
8. The Ring
This boxing gym also offers Muay Thai and strength and conditioning classes, plus training sessions for kids aged nine to 14. It offers credit packages for their classes, so you can enjoy a Muay Thai session one day and try boxing the next.
Address: Various locations
Check out their membership packages here.
9. Onyx Mixed Martial Arts
This mixed martial arts gym chain offers Muay Thai, Brazilian Jiu Jitsu, boxing, Ironlab strength and conditioning, and personal training classes. It offers classes for kids too.
Address: Various locations
Register for a class here.
10. Junior Muay Thai
Junior Muay Thai has nine locations across Singapore, offering both convenience and affordable quality training. It also offers female-only training at its Katong, Joo Chiat location.
Address: Various locations
Book a class here.
(Cover photo from: @pfgmuaythai)
Want to improve your posture? Head over to a pilates studio.
Comments, questions or feedback? Email us at [email protected].