This article was first published on 30 March 2022.
Gym bags are not the first accessories that come to mind when you think of things to bring to the office (unless it's sports day, of course). Most of them don't quite match office-friendly outfits or just semi-formal/formal workplace settings in general. Good thing there are now many versatile ladies gym bags that fit our dynamic routines and fit well to serve both our workout and office needs.


What makes a good, versatile gym bag for women?
If you think of functionality, gym bags are actually great for the office because they're spacious (to fit your laptop, tablet, and other devices), have utility pockets (for stationery supplies, your phone, CDs and USBs), and are typically waterproof/moisture resistant (for securing important documents). The only issue now is finding a gym bag that can discreetly pass as an office bag for you to reap its benefits to full capacity.
Don't worry, we got you! These 12 gym bags you can buy in Singapore are just what you need for that touch of practicality to match your office aesthetic.


1. Mango Leather-effect Bag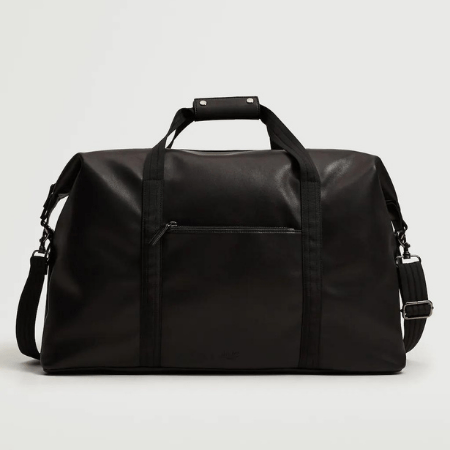 This bag has an adjustable long strap that can be detached when needed. It also has two short handles that transform it into a tote or a handbag. It can look like a case that can conveniently fit your meeting files and your bulky gadgets while keeping its structured shape.
You'll love it more for its faux leather material that gives it its sleek look that's perfect even for your formal officewear.
Get it on Mango for SGD159.


2. Guess Betty Gym Bag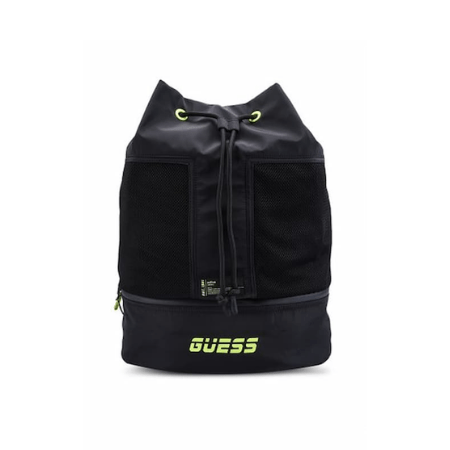 Gym bags aren't just limited to carry-all styless. Some (though not many) come in backpack form too, just like this one from Guess. This pick has a lined interior that helps the bag keep its shape, making it sturdy especially when keeping gadgets and folders inside.
Love it more for its inner zip pocket to keep your wallet and phone secured when you commute to and from the office.
Get it on ZALORA for SGD160.89.


3. Herschel Novel Duffle Mid-Volume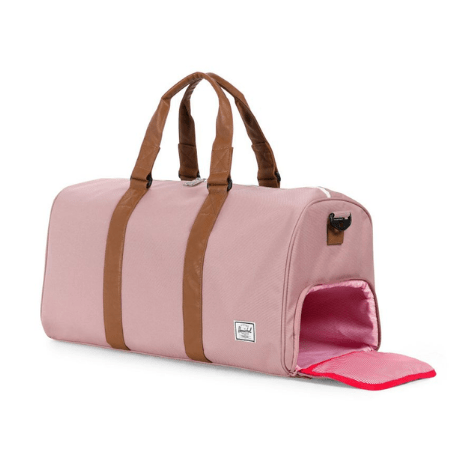 This bag has a spacious main compartment with waterproof zippers that are rust-proof and stuck-proof, so you can access your belongings without hassle. The internal mesh storage sleeve also helps to delicately separate your stuff from one another.
Love it more for the shoe compartment that is perfect for storing office essentials that need extra protection or for keeping a pair of flats to change into when you're tired of walking around in heels. P.S. It comes in black and grey too.
Get it on Herschel for SGD159.


4. Under Armour Project Rock Gym Sack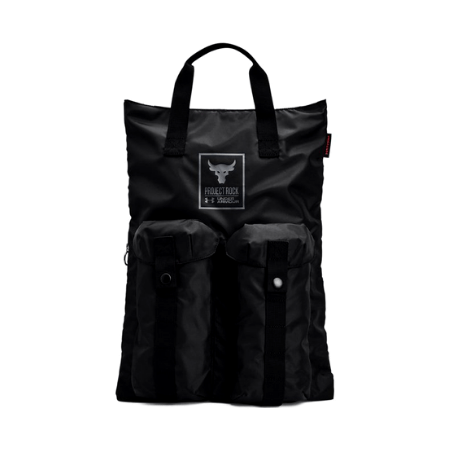 This bag is created using UA Storm technology that's made to withstand strong heat, winds, and water. You can use it either as a tote or a backpack. It also has snap-closure pockets on the front that can hold your water bottle or your small knick-knacks.
Love it more for its straps and adjustable webbings on the sides which allows you to add more attachments for more storage.
Get it on Under Armour for SGD49.
5. Puma Active Organiser Training Grip Bag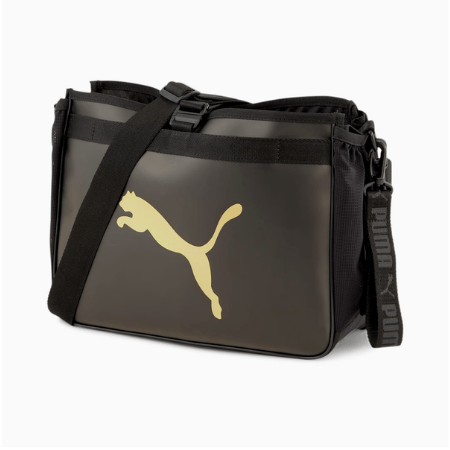 The structured silhouette of the main panel is perfect for keeping your laptop, tablet, or documents in place while the rest of the other pockets are great for keeping all your other essentials organised.
Love it more for its detachable grip bag. This extra bag pouch gives you an option to extend your storage space whenever you need it.
Get it on Puma for SGD79.


6. adidas 4Athlts Gym Bag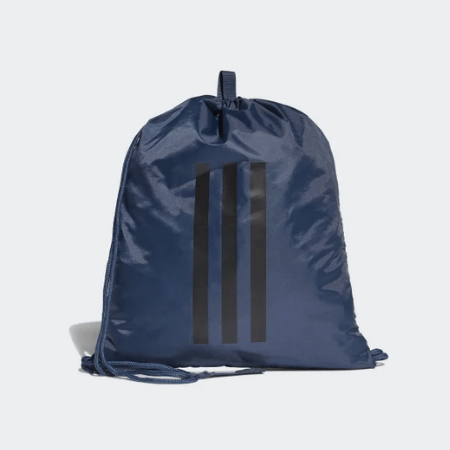 Looking for a lightweight bag that's less structured and more casual-looking but still fits your office attire of choice? This is the one to get. This drawstring-type gym bag doesn't have thick linings, making it more lightweight.
Love it more for its heat- and water-resistant plain weave material that provides extra protection for your belongings.
Get it on adidas for SGD18.75.
7. Nike One Women's Training Backpack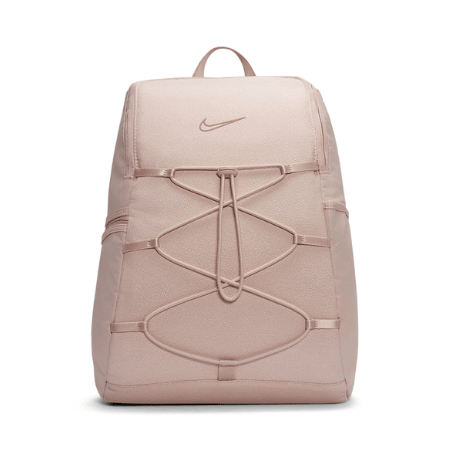 Whether it's your yoga mat or your work laptop, this backpack can carry it all – and look gorgeous while at it. It has spacious side, back, and top compartments that look invisible on the outside, keeping the bag's shape while securing all your essentials in place.
Love it more because the bag is made from 50% recycled polyester fibres, making it more sustainable than other finds.
Get it on Nike for SGD85.


8. Decathlon Fitness Gym Sports Tote Bag Domyos 25L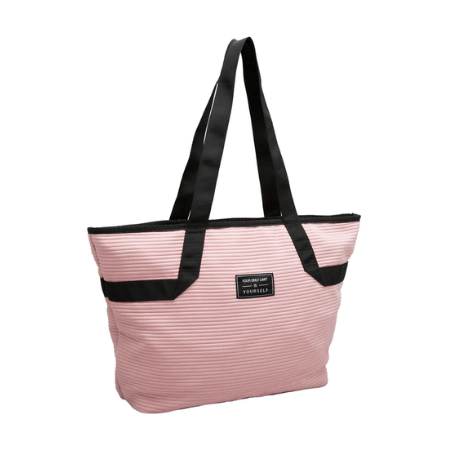 Typical gym bags usually don't come in tote form but this bag does, making it perfect for office use too. The padded insides packed with multiple pockets ensure you can keep your belongings practically organised.
Love it more for the bag's ribbed outer lining gives it an extra fashionable look. It comes in black to match your neutral office ensembles too.
Get it on Decathlon for SGD20.


9. Calvin Klein Utility Gymsack Bag
This gymsack can also double up as your new stylish laptop-slash-tablet jacket – with extra room to spare. It can easily be carried through the top handle or the adjustable vertical strap to match whatever fits your convenience.
Love it more for its internal lining that helps the bag keep its structured shape, keeping it sturdy even with continued long-term use.
Get it on ZALORA for SGD109.90.


10. Maverick & Co. Oasis Gym Duffel Bag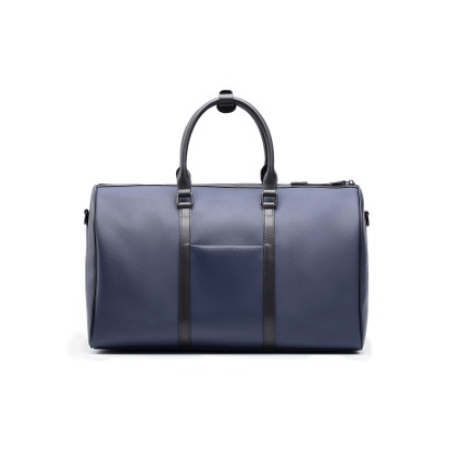 Water- and scratch-resistant, roomy, stylish – this bag is all that. It also has multiple compartments inside and adjustable straps outside, making sure you maximise usage on your own terms.
Love it more for its silhouette that's is similar to medical doctor bags from the 1940s (in a good way), making it a great match for preppy and crisp office ensembles.
Get it from ZALORA for SGD154.
11. lululemon City Adventurer Duffel Bag 29L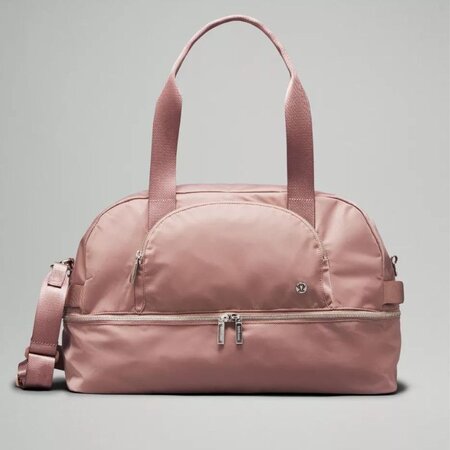 This gym bag can be carried using its handles or worn around the body using a detachable strap. It has a number of pockets inside and out, perfect for organising your essentials. It also includes a padded exterior to secure your electronic devices.
Love it more for its trolley-compatible sleeve making it travel-friendly too!
Get it on lululemon for HKD1,480(~SGD254) here.
12. Lorna Jane 1989 Canvas Duffle Bag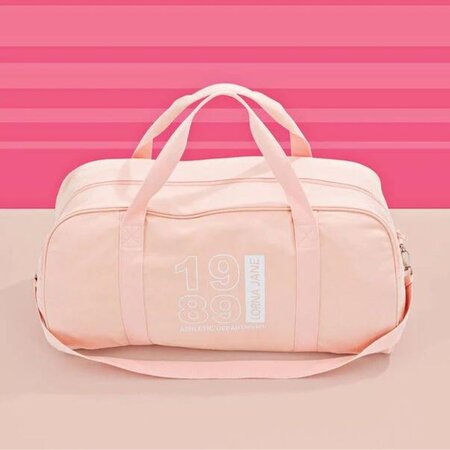 This bag has detachable and adjustable straps, a roomy main bag, an exterior pocket for your other essentials, and an easy-to-clean canvas material.
Love it more for its number of colour options ranging from pink and off-white to blue and black.
Get it on Lorna Jane's website for SGD100 here.
Prefer doing your cardio workout at home? Check this out.
Comments, questions or feedback? Email us at [email protected].