Our "I Am Her" series features the female movers and shakers of the industry to learn how femininity and power coincide beautifully and seamlessly together.
The phrase "It's not personal, it's strictly business" encapsulates what people think the professional world values — that is, detachment and ruthless competitiveness. We're primed to think that if you want to get ahead in your career, you have to put on a cold, emotionless professional persona that's ready to stomp on others. But we have to stop and ask: is this really the only way to succeed in business?

Here at Clozette, we believe that there is always room for compassion, authenticity and tenacity not just in business, but in life as well. To further inspire our community in embodying these values, we partnered with illustration studio Company Of The Brave for our limited-edition IWD 2021 T-shirt collection. With every piece sold until the end of April, Clozette will donate SGD10 towards Daughters of Tomorrow, an organisation that helps empower women through support programmes.
Read on as we speak to ShopBack's Chief Commercial Officer Candice Ong, Perk By Kate founder Kate Low and BloomBack founder Hazel Kweh, who are living proof that having these traits is the key to running a thriving business.
Candice Ong on tenacity
Candice is more than a boss to her employees, she's also their mentor. This is what makes her not just any leader but a good one. No matter if they are her interns or general managers, Candice takes the time and effort to advise and groom her team members — many of which have gone on to be excellent leaders themselves. Among them are the founders of ShopBack, one of the largest rewards platform in the region where Candice serves as the current Chief Commercial Officer.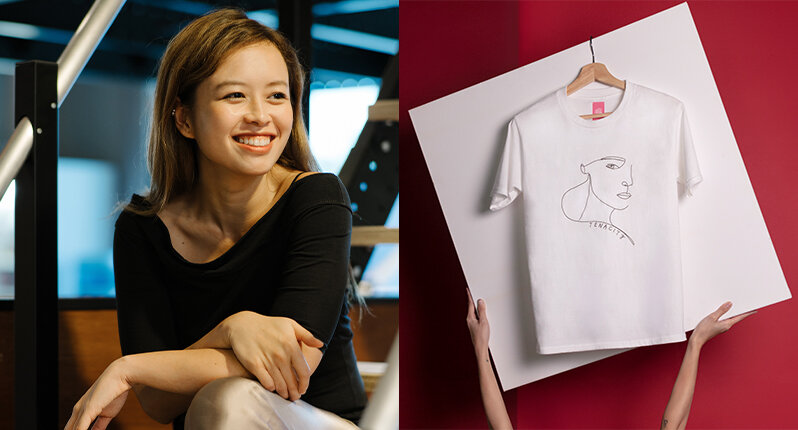 The power and determination of the Tenacious woman — just like Candice — are immortalised into the Clozette x Company Of The Brave IWD 2021 "Tenacity" T-shirt, which commands attention with its use of solid, purposeful strokes. Evoking a resolute mood and atmosphere, the minimalist face line drawing featured on the T-shirt makes a subtle yet strong style impact.
Her success in climbing the corporate ladder came with its challenges and she describes the journey as "neither straightforward nor linear". One of the things that helped her is having the tenacity and commitment to broadening her horizons. She took on different roles in different departments, from marketing to procurement to human resources. Even a substantial pay cut didn't deter her tenacity. Knowing that she will be paid less, she still moved to different industries and she's glad for this decision because it helped her develop valuable skill sets and provided her with longer-term opportunities. In the end, the whirlwind experience gave her a "well-rounded perspective". Truly, when you have mindful tenacity that's anchored on collaboration and consideration for others, you'll thrive and make good things happen. We ask her more about how one could be more tenacious especially in these trying times.
Fill in the blank: I'm a woman, a leader and __________.
A force to be reckoned with.
In your opinion, how can someone be more tenacious to face everyday hurdles?
I think it is important to dissociate the notion of failure with one's own identity. In other words, I may have "failed in a project: or "made a mistake" but it does not mean "I am a failure". This ability to not take things too personally is critical when facing multiple hurdles. I also believe that a strong support system is crucial to help one to see different perspectives, reframe problems, and bounce back from setbacks.
How do you define a good leader?
What personality traits of yours make you a good yet tenacious one? I think a good leader cares for those under his or her charge and improves the status quo for the long term. For myself, I believe I am fairly persistent in driving outcomes. I also am mindful to contribute to my teams' growth by investing time and energy to coach and mentor.
How do you handle pressure and stress with grace?
I seek to be aware of my emotions and do a timeout if things get heated. It's important to recognise that these feelings could pass with time and not to act on them rashly.

Kate Low on authenticity
A lingerie is something personal and intimate and should fit you perfectly. So when Kate, a lingerie lover, could not find pieces that fit her well, she decided to make one instead of adjusting. Staying true to what she likes helped her uncover a niche and resulted to Perk By Kate's signature padded bralette. Going against the popular "thick, heavily padded bras", Kate designed bralettes that will give shape and comfort to women who prefer to wear this type of more relaxed lingerie. She's 100 per cent self-taught and relied on her keen understanding of what women like.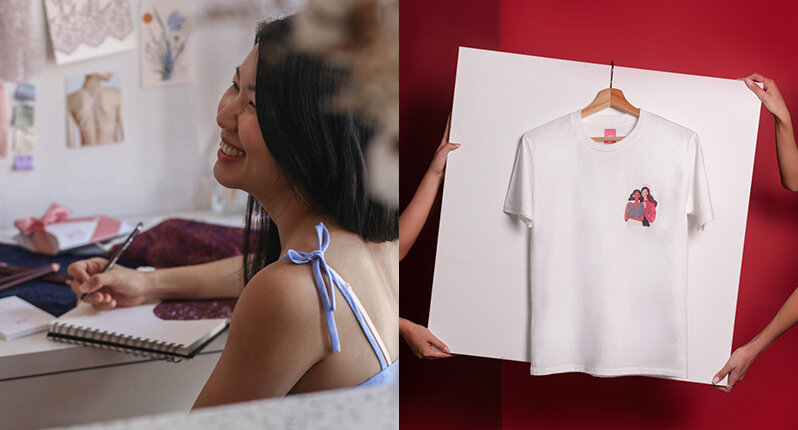 The genuineness and strength of the Authentic woman — just like Kate — are brought to life in the Clozette x Company Of The Brave IWD 2021 "Authenticity" T-shirt, which aims to convey a message of sisterhood and community. The T-shirt design thoughtfully features a portrait illustration of two women who have bravely come out of their shells and have learnt to embrace their unique selves.
In a way, Kate was not just creating a new design but also influencing the perception of women about lingerie, which was focused on the male gaze. Kate shared that her unconventional designs spread the message that lingerie can be comfortable, effortless and doesn't have to be worn for anyone else but yourself. By believing in what she truly likes and prefers instead of being swayed by popular opinion, Kate became a catalyst for a shift in perspective through her designs. Learn more as she shares more about how authenticity played a huge role in her success below.
Fill in the blank: I'm a woman, an entrepreneur and __________.
An eternal optimist.
How did being authentic and staying true to yourself help you achieve your goals?
Staying true to myself helped me to achieve my goals in a way that I could feel proud of. The journey to achievement took a long time, but I did not have to compromise my values. That was far more important than speed to achievement. In this day and age, we all look for brands we can relate to. Staying true and authentic helped me to stay relatable. I try to keep it real, showing the true side of entrepreneurship rather than the glamorous side.
How does Perk By Kate challenge conventional beauty standards?
For you, why is it important to do so? We do not intentionally challenge conventional beauty standards per se, we just remind women they do not have to follow them. It is absolutely important to me because I want every woman out there to know they can be beautiful and attractive without having to look a certain way. Femininity and beauty do not come from meeting certain beauty standards. It comes from being feminine, being accepting, being soft, and being generous with one's love and heart. And to get there, one has to love herself first.
Do you believe that well-fitted beautiful lingerie can help women accept their authentic selves? How so?
I never believed this myself until I've had customers share their personal experiences with me. One, in particular, was about how she felt really bad about herself post-pregnancy and breastfeeding, and how putting on my lingerie made her feel different. It made her feel good. It made her feel like she can handle anything that comes her way. It even made her look at her stretch marks and scars a different way. That made me believe in my own work, that I was not just selling lingerie. I was selling confidence, I was selling self-esteem, I was selling comfort. And that was transformative.

Hazel Kweh on compassion
Something as simple as giving flowers can uplift one's spirits and Hazel recognised this when she started a passion project. She and her team upcycled flowers from events, which would have been sent straight to the trash can, and rearranged them and turned them into "treasures" that will be given out to hospices and nursing homes to bring cheer.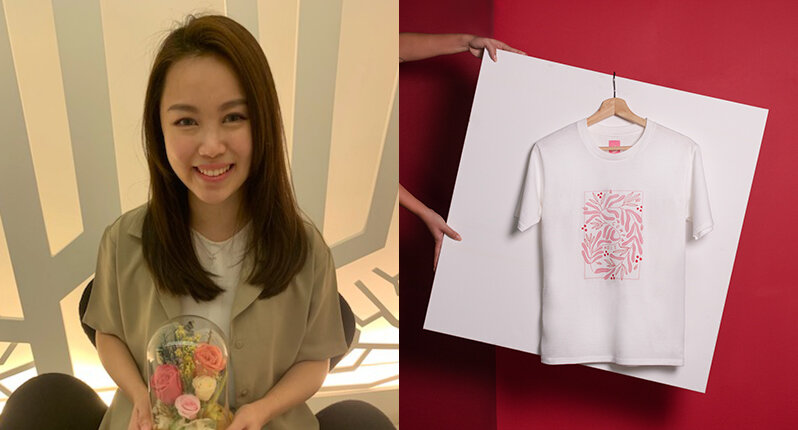 The grace and empathy of the Compassionate woman — just like Hazel — is evident in the Clozette x Company Of The Brave IWD 2021 "Compassion" T-shirt, which is designed to illustrate a feeling of compassion and kindness in a garden of calm. The feminine yet abstract drawing of plants and shapes serve to remind women to remain empathetic towards not just others and their surroundings, but also towards themselves.
Eventually, it became what is now a beloved flower shop specialising in preserved flowers called BloomBack. Hazel shared that the store's name itself has many meanings. It represents how they are using "flowers as a vehicle to give back to the community" through their beneficiaries, and also signifies a certain sense of renewing strength in a challenging world.
We often see kindness and compassion as a weakness and equate it to being naive, but Hazel proves that when you care — for fellow human beings, the environment, the community you're part of — you thrive. Taking time to be compassionate to yourself and others may be challenging to do in a busy world, but it can be done.
Fill in the blank: I'm a woman, a social entrepreneur and __________.
A work-in-progress.
Do you think being compassionate is something that has helped you become successful in your endeavours? How so?
When love and compassion are in the equation, life and business will prosper naturally. When you genuinely care for others, be it your family, team members or customers, and spend time to think in their shoes and help them, many times you will realise that the root issues can be solved and everyone will progress together. Businesses are run by people and if you put people first, things will continue to blossom. Bloom one step at a time and trust the journey even when you don't understand it.
In what little ways can we be more compassionate to ourselves?
I am guilty of occasionally having doubts that I can achieve so much more. It takes a positive thought to heal a negative thought, so I have learnt to be kind to my mind and believe that I am enough. A famous author Joseph Prince once said "Right believing leads to right living" and I totally resonate with that. When we believe right, we live right. It takes conscious efforts to constantly fill our thoughts with positive messages. Choose to surround ourselves with people who love us and lift us up.
In the four years that you've been running a flower business, what is the number 1 life lesson you feel you wouldn't have learned if you didn't take this path?
Having managed a team with diverse backgrounds and dealing with teammates with medical and mental conditions has made me stronger and taught me so much about humility. It's essential to work on what's inside of me before I can take on greater things in life.
We hope that with their stories, you'll be inspired to persevere tenaciously despite challenges, stay true and authentic to who you are and what you want, and always be compassionate and kind whenever you can.
Inspired? Check out stories of other exceptional women here.

Comments, questions or feedback? Email us at [email protected].