Our "I Am Her" series features the female movers and shakers of the industry to learn how femininity and power coincide beautifully and seamlessly together.
When we think of stage performers, the first image that comes to mind is that of people who are flawless from head to toe, filled with every ounce of confidence one can possibly contain in a single body. Sometimes, we may find ourselves envying them and their boldness. But for musician, voice-over artist, and body-acceptance and diversity advocate
Rozella Marie Mahjhrin
, everyone can and must seize every opportunity to shine. The first step is to allow ourselves to feel comfortable in the skin we're in, metaphorically and otherwise.
Born with a birthmark on her face, Rozella grew up with self-esteem issues rooted in society's beauty standards. At first, it prevented her from pursuing performing on stage despite her love for music. But her passion for singing and composing outweighed her feelings of self-doubt and enabled her to just go for it.
At present, aside from her career as a self-managed artist, she is the founder of
True Complexion
, a community that advocates for diversity, inclusivity, and body acceptance. Her work has earned her various recognitions, including awards from the Obama Leader: Asia-Pacific program, the Eisenhower Global Fellow program, and the Women of the Future SEA Awards.
Ahead, we chat with her about her advocacies, her music, and her thoughts on empowerment by making her two passions meet.
You are a musician, a voice-over artist, a body-acceptance and diversity advocate, and a ______________.
"Storyteller."
How does your life as an artist intersect with your life as an advocate? Which one came first?
"I have always loved music since I was younger and I have always wanted to pursue it. But I was too insecure about the way that I look and I was too afraid to perform on stage. It was until I hit rock bottom and realised that I was really unhappy with my life that I decided to give it a shot.
Somehow, the more I performed, the more I felt comfortable in my skin. And that gave me the courage to open up about my birthmark, a topic that I was too ashamed to talk about. When I was growing up, I always felt so alone, like no one understood me. I didn't have anyone to talk to and I didn't know anyone who looked like me. That's why I created True Complexion, so people could feel heard and seen. So people could have the support of a community that understands what they're going through, a community that doesn't judge them for their differences.
When I started True Complexion, I didn't know anyone from the community. I didn't have any stories lined up. I just shared my story on my personal Facebook page and I worked with a photographer,
Melissa Toh
, who believed in the project. We reached out to people, got to know them, and that's how the community grew.
You don't have to be a public figure and you don't need a huge following to champion a cause that you're passionate about. You just have to figure out what you want to do, and just do it. Things will evolve as you learn, and that's how you grow. That's how I ended up organising community events and speaking at other events. You just experiment, explore, and focus on the things that excite you and give your life a sense of purpose and meaning."
What role did music play in your life growing up?
"My dad used to be in a band when he was younger so I grew up in a house filled with music. He is the reason why I love music so much.
Because of my birthmark, I was bullied and teased a lot when I was younger. I was very shy and quiet. I didn't have a lot of friends, and music was a friend that I could turn to when I was sad. It was a friend that I could have fun with when I was happy.
I was always doodling in my notebook and writing lyrics. Songwriting was my form of therapy and how I expressed my creativity. Even though I started writing songs at a young age, I was extremely insecure about sharing it with anyone. The idea of standing on a stage in front of people was scary. Music was something that I mostly dabbled with when I was alone."
As a self-managed artist, how important is an artist's freedom and control over their music or their voice when it comes to what you put out for your audience? Do you advise aspiring artists to follow your path?
"To me, there is no right or wrong choice. It's personal and it's different for everyone. Different paths will have different opportunities and challenges, and the path you choose will be its own unique experience.
I think the more important questions are 'Why are you doing this?' and 'What are you willing and not willing to compromise?' It's easier to make a decision if you're honest with yourself and you understand your true intentions and goals. And if the path you choose in the beginning ends up being the wrong one, you can always exit at the next junction and continue driving down a different road."

Can you tell us more about how you were able to manage your 15-year career? How did your experiences influence you to use your voice and put up True Complexion?
"I actually started performing in my hometown, Kota Kinabalu (KK) before I moved to Kuala Lumpur (KL) in 2015. It's a small city that has an equally small music scene, which prefers cover bands.


I knew that I wanted to perform my own music, so I avoided the commercial route. I collaborated with different arts groups, theatre productions, and dance troupes. That's really how I started. The first time I wrote a socially conscious song was for a play by the Green Leaf Theatre House. Because of them I got involved in Walk for Autism in 2014. Without me actually knowing it, that was the beginning of True Complexion (TC).

How did I manage my career? Honestly, I just followed my curiosity and trusted my intuition. I got to know people in the music scene and that's how opportunities came. In the beginning I said yes to almost everything. That's how people got to know me and how I started performing outside of KK.

In March 2015, I was invited to perform in KL for Froya's album launch. A month after that, I packed my bags and moved here. I met Melissa, who is also a fellow musician, and told her about my idea and the rest was history."

Speaking of True Complexion, which parts of societal perception of disabilities, chronic illnesses, and mental health do you want to change through your platform? How much of this has changed since you started and what are other aspects that you feel like can be improved?

"True Complexion was created to normalise and humanise people who live with physical differences and medical conditions. It was important for me to keep the focus on the person first, and the condition second, simply because we live in a society that judges people for their appearance or their struggles before we even get to know them. We emphasise our differences instead of our similarities, we often sympathise instead of empathise, and we don't take the time to understand what the community really wants and needs.

We often talk about equal rights and opportunities, but do we really understand what that entails when it comes to people living with different medical conditions? Do we have open and honest conversations about taboo topics such as sex, mental health, self harm or death when you have a disability or illness?
What you read online are just snippets of the actual conversations that I have with people. And at the root of it, people just want to be accepted for who they are and they want to feel like they belong in this world, in their communities. They want to be seen for more than just their conditions. They want to have opportunities to follow their dreams and provide for their families. Sometimes they just need extra support. But is society going to lend a hand?
There's just so many layers that we don't see from the outside until we get to know people on the inside and understand what's happening in their everyday lives.
But as an individual, I can only do so much. For some reason, this year I've had a few opportunities to work with young people (young girls especially), and it's been such a fulfilling experience. I struggled the most when I was an adolescent, and if I can help them navigate through this complicated and confusing time in their lives, then at least all the pain and struggles that I went through wasn't in vain."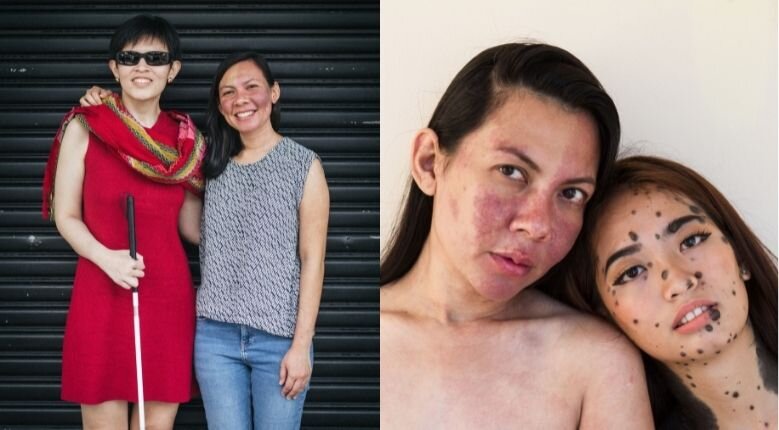 You are the definition of looking good while doing what you do. How do you remain empowered?
"It's so easy for negative thought patterns to take over, especially when life gets hard. My morning routine helps me start the day right. I use Robin Sharma's 20/20/20 Formula to keep me centred. Basically, the first hour of my day is spent doing three things that nourish my body, mind and soul.
Twenty minutes spent on exercising/stretching/dancing. Next, another 20 minutes for learning (reading/listening to a podcast or audiobook/ watching a YouTube video). And then ending the last 20 minutes with either meditation, journaling, or filling in a gratitude list.
I also end my day with a longer meditation to help me let go of anything negative or challenging that's happened."
Name 5 Clozette essentials. (It can be anything from beauty, fashion, wellness, tech or lifestyle).
"My phone, my laptop, a good book, sunscreen, and body cream."
Read more empowering stories of women here.
Comments, questions or feedback? Email us at [email protected].