Our "I Am Her" series features the female movers and shakers of the industry to learn how femininity and power coincide beautifully and seamlessly together.

Fashion wasn't Josie Natori's first love; surprisingly, it was corporate finance. After a thriving career at Wall Street, Natori wanted to search for another challenge to conquer. She considered many ventures before making a bold move to settle in the fashion territory. Her strategy was to showcase the Asian aesthetics she grew up with and add a touch of Western inspiration to create a unique and distinct style. The design philosophy proved to be successful. For over 40 years now, this has been the core identity of the Natori brand.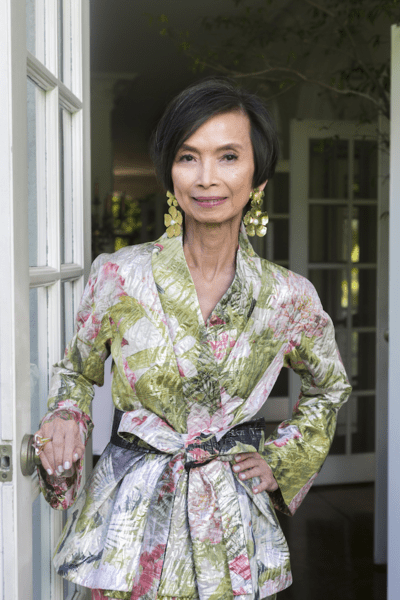 Keep reading to learn more about how Josie Natori made the transition from the corporate world to the fashion industry and what we can expect from the brand in the future.
Fill in the blank: I'm an entrepreneur, a fashion designer and ____________.
A musician
Tell us more about your transition from corporate finance to fashion design?
Wall Street to the fashion industry was a total accident. I never had illusions or dreams of being a designer or going into fashion. I approached it as a business. It was quite easy in the beginning. The craftsmanship of the embroidered collection became the DNA of the brand and was key to the distinctiveness of the Natori brand.
As someone who's been in the fashion industry for a long time, what would you say are timeless trends or pieces that every woman should own?
No matter what era or decade, there is always an appreciation for artisanship and craftsmanship which are the main codes of Natori. The quality of the print, embellishments and distinctive shapes are all important factors that must be considered.
Your brand is known for its "East-West" mix. Where do you usually get your ideas when it comes to conceptualising your pieces?
It's a lifetime of collecting artful objects and textiles from my international travels. I love art and believe in living in it and wearing it!
What collection of yours is your personal favourite and why?
I love all my various collections. I need them all.

What are your biggest challenges as a fashion designer and how do you overcome them?
In terms of fashion, the main challenge was that I had no formal education nor advisors when I was first getting into the business. I learned on the job, made mistakes and learned from them.
What's next for Josie Natori?
The best is yet to come. We are going on our 42nd year and working very hard to evolve and transform the company to be relevant to the next generation. With our brands, Josie Natori, Natori, N Natori and Josie, we are on the way to building each brand into true lifestyle brands that encompass apparel, home, accessories.
This interview was edited for brevity and clarity.

Inspired? Check out stories of other exceptional women here.
Comments, questions or feedback? Email us at [email protected].