Before it became a global brand, Wanderlust + Co was just a fancy dream Jenn Low had in her early 20s. She envisioned a brand that would give jewellery lovers the best of both worlds — elegant and has the look of luxury with an affordable price point.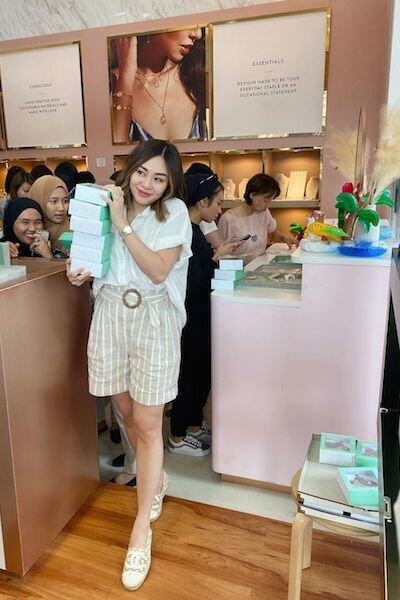 Fuelled by grit and passion, Jenn began to take steps to make her vision a reality and eventually began a small business operation from her bedroom. More than a decade has passed since then, and now we have Wanderlust + Co as we know it, an accessible jewellery brand that's sophisticated yet on-trend.
The brand's pieces have been worn by celebrities like Gigi Hadid and Kendall Jenner and beloved by fashionistas from the world over (us included!).
The story of Wanderlust + Co is a reminder that our passing ideas and daydreams have a potential to become something real and wonderful. But it isn't enough to just have a vision, you'll need to take action, too. Keep reading to know more about Jenn Low — her favourite piece of jewellery, her lifestyle must-haves and how she grew Wanderlust + Co from an idea to a small bedroom operation to now a global brand.
Fill in the blank: I'm an entrepreneur, jewellery enthusiast and __________.
A believer that all things are possible!
When did your fondness for jewellery-making start? What was the moment that made you realise you want to build a jewellery brand?
I had a tough childhood [and] my parents worked hard to make a better life for us. My dad ran his own business and over the years, I was inspired by his ability to create something out of nothing, and to think outside the box.

When I first came up with the idea of Wanderlust + Co, I was in my early 20s, living and working in fashion in Australia. I realised at the time that there wasn't a digital jewellery brand that was both on-trend yet affordable. I was really passionate about creating designer-looking jewellery pieces at an affordable price point that's both kind to the skin and the planet. This passion pushed me to focus on design, and from there we built a community of brand fans, whom we fondly call our #WCOgirlgang.
Eleven years later, I am continually inspired by our customers — they encourage my team and I to improve and grow.
Before becoming an entrepreneur, you had a career in buying and merchandising. How did you transition to be an entrepreneur? How did your background help the growth of your brand?
Starting my career in buying/merchandising helped me understand the entire retail journey, and numerical lifecycle of a product and collection. Whilst branding and design are incredibly important, production and the entire process around manufacturing is also key to building a successful brand. Being a natural creative, I found my merchandising work experience helped me better understand data to make core business decisions.
In your opinion, what are the things you did right that contributed to the success of Wanderlust + Co?
From a branding perspective, we have always emphasised our purpose and mission. It's 2021 and consumers have evolved from just wanting to purchase things that look good on the outside to wanting to be sure their purchase contributes to something meaningful.

Most of our decisions are also driven by data which makes everything within the brand very intentional — from why a design looks the way it does, all the way to how our customer service team responds to queries. My team and I have found that it is much easier operating from a core purpose.
From a leadership perspective, I would say grit has played a large part in my journey so far. I think that being persistent and consistent in the daily grind is much more important [than] the key highlights that make it to social media. The behind-the-scenes work [like] order fulfilment, operations, customer service, refining SOPs and managing team KPIs are not obvious from the outside but really contributes to the overall result.
How do you stay competitive in the fast-paced industry of fashion where competitors come up with new jewellery designs quickly? What are the things that you'd like to improve about the jewellery industry?
As a brand we are constantly raising our standards, expectations and quality of work for ourselves. We are currently focused on not just making the front-end look good, but ensuring that the process of how everything comes about, be it sustainable production, or work-life balance for our teams, is improving too. There can be so much pressure and wastage in the jewellery industry, and it's important to be aware and focused on how to make things better.

What was it like to move from Australia to Malaysia personal-wise and business-wise? What are the things that you miss the most about Australia? On the other hand, what are the perks of living in Malaysia?
I was in a long distance relationship with my now-husband. He's Australian, living in Malaysia, and I was Malaysian, living in Australia. It was definitely daunting when I decided to move, but here we are today! Moving back home has given us the opportunity to support other Malaysian brands and entrepreneurs because it benefits the industry if we uplift one another. Malaysians are hustlers and go-getters and I feel fortunate to have an agile, millennial team who embodies that. I definitely miss my family in Australia but with FaceTime, we manage to keep in touch.

What is your favourite piece of jewellery? What's the story behind it?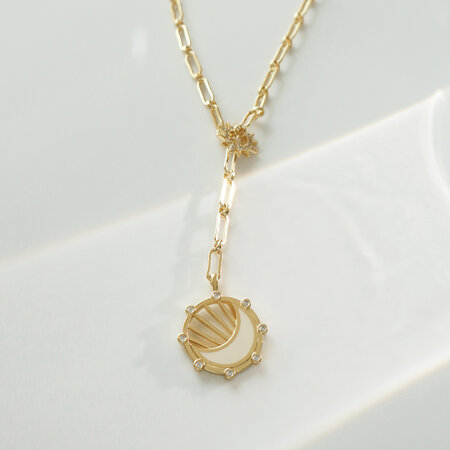 It's currently the
Moonbeam Necklace
from our latest collection
GOLDEN
! It's just such a nice piece to layer, and the chunkier chain means it never tangles. I love the hand-painted enamel detailing in the crescent moon as well.
What motivates you to do what you? What is your 'why'?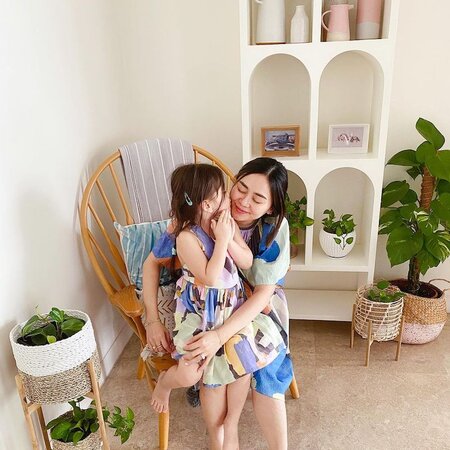 Being able to give back and create a positive pay-it-forward effect is something that is really important to me. When you turn on the news, there is an obvious negative state of the world today, be it politics or the most recent COVID-19 health crisis. Being in the pilot seat for the brand, I make a conscious effort to spread an optimistic message not because that's all there is in the world, but because at the end of the day, we have to redirect our energy to how things can be better. Being able to turn down the noise and enable positive change is important to me. Having two young children, I believe that the world can be an even better place 10 to 20 years from now.
Name your 5 Clozette essentials.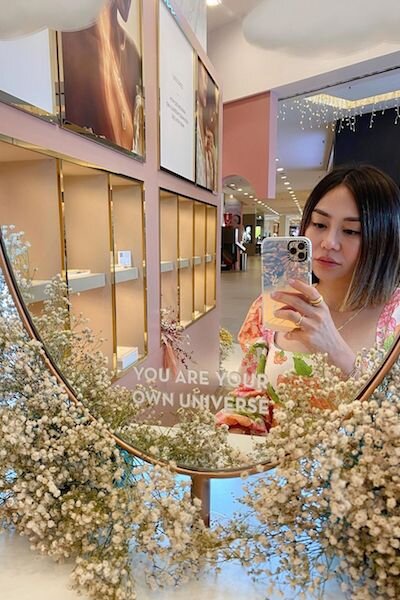 This is easy! Coffee and denim are my everyday staples. Also, I almost never take off my
Nameplate Necklace
, which says Olivia and Oscar [the names of my daughter and son ], as well as the
Connect Bracelet
from our demi-fine range. I shower, sleep, and do everyday things in these pieces. Currently, definitely a face mask and hand sanitiser!
This interview has been edited for brevity and clarity.
Comments, questions or feedback? Email us at [email protected].