Our "I Am Her" series features the female movers and shakers of the industry to learn how femininity and power coincide beautifully and seamlessly together.
Jeannie Javelosa believes that "sustainability and gender empowerment must be brought into the core of government and corporate policies" to be able to be realised. Seeing that there's a lack of action in both sectors, she decided to take things into her own hands and turn empowering visions into a reality.

An award-winning artist who has a Masters of Fine Arts degree from the University of Pennsylvania, Jeannie is not new to bringing abstract concepts to life. Just like how strokes of paint later turn into a masterpiece, her belief was breathed into life when she founded ECHOstore, the first retail store and social enterprise focused on sustainability in the Philippines and GREAT Women, a multi-sectoral, inclusive gender platform that supports women economic empowerment regionally, across the country.

She also continues to inspire as an art critic, a museum curator, a columnist, and the co-founder of stakeholder relations firm
The EON Group
, on top of her advocacies.
But how does she manage all these roles? We chat with her about her many advocacies, accomplishments, and personal endeavours.
I am a multi-hyphenate and dynamic social entrepreneur, a culture and sustainability advocate and a _________.
"...child of the Universe!"
What is ECHOstore and GREAT Women in a nutshell? What sets these apart from other sustainability and gender-empowerment initiatives in the Philippines?
"ECHOstore (ECHO = Environment Community, Hope, Organization) and GREAT Women (Gender Responsive Economic Action for the Transformation of Women) are two social enterprises focused on integrating the supply chains of women-owned enterprises and green sustainable lifestyle products.
The first is focused on programs for product development and market access for products of small artisan communities — and the accelerator of social enterprises.
GREAT Women, on the other hand, brings together international agencies, national government agencies, NGOs and the private sector to support women economic empowerment through a regional supply chain. It has its sub-retail brand GW by GREAT Women (focusing on fashion and home items that gives the market presence to an integrated handwoven textile supply chain in the country) and GREAT WOMEN Nourish (a loyalty and rewards app for food delivery that's currently in beta testing)."
What is your take on the current status of sustainability and gender empowerment in the Philippines? What do you think still needs to be done for both areas?
"Sustainability and gender empowerment must be brought into the core of government and corporate policies to really walk the talk. So much talk does not mean it is translated to actual programs where impact can be created and measured."

You also write news columns; you paint and have been an art curator. What are the lessons you've learned from these roles and how did these help shape the person you are now?
"It's the celebration of the creative spirit that I enjoy. I have been given many talents and I always like to push myself to see if I can develop these talents to maximum not only for myself but really, how this can help others. How can my writings and talks change consciousness? How can art be used to express the best of the human spirit and inspire others? What is new that we can push boundaries to innovate new systems and formats?
I am constantly with these questions. I also learned to strive to be authentic and thereby this becomes original. When the self is authentic, it cannot help but produce original and new innovations. So it has shaped me to become steady in my own voice, in my vision, in what I see can be done."
What's the inspiration behind your column's name "A Spirited Soul"? How does its meaning relate to your other endeavours?
"I like to see life from a deeper perspective, not just seeing life from our personality level, but something deeper inside and intrinsic in us. This is about what moves us inside. And this moving spirit must have vitality, life! I have always been on a conscious spiritual journey and thus come from a perspective that there is something deeper that moves the comings and goings of our lives."
Who are your favourite artists of all time and why?

"I have two: National Artist Carlos "Botong" Francisco — he has the most sinuous line showing his murals that speak of the myths, legends of our race; and Nationalist sculptor Eduardo Castrillo — in metal, he is the monument maker that strove to bring art to the public, and thereby inspire the little people of the heroism of our race."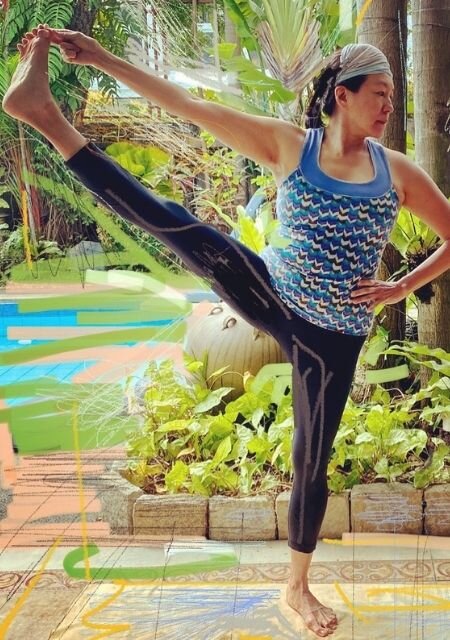 You are the definition of looking good while doing what you do. How do you remain empowered?
"Looking good means one has vitality inside. On the outside, it is the physical health with a fashion sense that is almost classic. I do not follow fashion trends. I guess being an artist and curator gives one an eye for symmetry and balance.
And I have to move!! If not practicing yoga (I am a certified ashtanga teacher), I swim, walk, climb mountains, do zumba — at least five to six times in a week. I eat healthy and especially love
ECHOstore's plant-based offerings
that we sell. Health and knowing that a lifestyle that is clean and green that supports the earth is so empowering. And the fact that we can inspire many to follow is itself also empowering.
My sense of empowerment is about raising this vitality and keeping my authenticity as a person. It's not about achievements made but more the purposeful and conscious understanding of one's unique and personal path in this life… and going after this, immune to the applause and/or the boos. I feel empowered when I can empower others, thus at this point of my life, it's using all I have, my talents, skills, works, social enterprises, projects and international awards and achievements that have helped with my personal empowerment — not just for myself anymore, but how I can use this for others who may need to be empowered."
Name 5 Clozette essentials. (It can be anything from beauty, fashion, wellness, tech or lifestyle).
ECHOstore's
body care products
(shampoo, body soap, body cream), GREAT Women Home leisure wear, even home textiles, a glass of good red wine nightly, night cream, and a yoga mat.
Inspired? Check out stories of other exceptional women here.
Comments, questions or feedback? Email us at [email protected].