Our "I Am Her" series features the female movers and shakers of the industry to learn how femininity and power coincide beautifully and seamlessly together.
Afaf Ismail is living proof that there are tremendous rewards in trying — an act that is seemingly so simple yet takes so much courage. Her major accomplishments — including becoming the first Asian woman to win the prestigious RIBA Norman Foster Travelling Scholarship in 2019, which is a research grant for a student of architecture — would not have come into fruition if she never had the guts to put herself out there, against all odds.
Now, almost a year later after winning the research grant, Afaf is getting closer to fulfilling her passion in life: designing disaster relief architecture. By travelling to areas hit by natural disasters in Indonesia, Japan and Pakistan, Afaf saw first-hand the situation on-site and collected valuable insights that will help architects design better and more sustainable disaster relief architecture.
We talked to her about being a woman in architecture, and the insights and challenges she has gained and faced through her travel researches.
Fill in the blank: I'm a scholar of architecture, a researcher and _________.
Manga reader. The one I love the most has already ended, it's Kimetsu No Yaiba. It's about a demon slayer. Haha!
What fascinates you the most about architecture?
I was fascinated by architecture because it involves art and science. I'm really passionate about art, but I didn't want to abandon science so I figured that architecture would be the best choice. But what solidified my passion for it was when the flood in Kelantan (a state in Malaysia) happened in 2014. As a volunteer at St. John Ambulance, we were sent to pack relief goods at the airport. I remember feeling that it wasn't enough. It was helping people at a very safe distance in the short term. I felt that architecture and providing good shelter could do more, and that's why I decided to pursue architecture.
What is it like to be an architecture student?
It's chaotic. It's true that sometimes you sleep on the floor. There are a lot of memes that accurately describe the situation. And I used to be like that, I prioritise work and was proud of going to school in my hoodie and sweatpants because I felt like it showed that I worked hard the night before. But now, I realised that was so childish of me and that I should take care of how I look to promote a sense of professionalism, especially when doing on-site research. I should also take care of myself before I take care of work. Right now, I'm trying to grow away from that mentality and strive to be calm and collected.
You're the first Asian woman to win the prestigious RIBA Norman Foster Travelling Scholarship. What motivated you to you apply for the scholarship?
I already knew about it for a long time. So it's always been at the back of my mind. And when I have a goal or an aim, I will start working on it bit by bit. I realised you can't just work a one-time big time to get that result. You have to work in small batches — every small accomplishment has to go towards achieving that big goal. So whatever I do, for example, I applied for PAM (Pertubuhan Arkitek Malaysia), an institute of architects in Malaysia. They have a scholarship too, but a smaller version, and it was just enough to let me go to nearby countries and I went to Indonesia.
So because of that I already had a case study to apply to RIBA Norman Foster Travelling which I think was the reason why I got the award; I already had the experience of doing research of that nature and I already had Indonesia in my research. One thing that I want people to know is that I just tried. Honestly, I didn't expect to win. I had hoped but I didn't expect it. I was very surprised when I got it. Looking at the roster of past winners before me, most are educated in western countries and there were only three women, and looking at that, it didn't really inspire much hope in me. But I tried and I got it.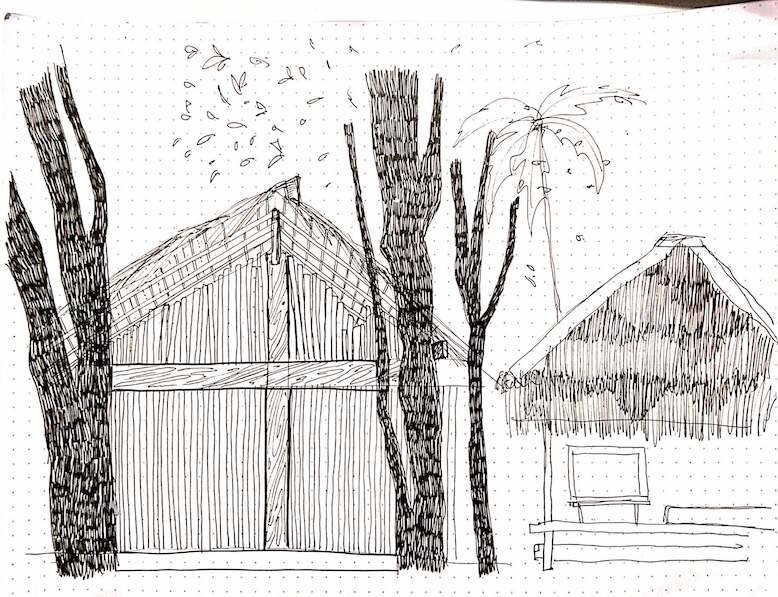 Tell us more about your work, "Architecture of Humility". What inspired you to work on this concept?
The term "Architecture of Humility" is coined by my mentor, Jimmy Lim. The Architecture of Humility package architecture as more of a humane profession. Because currently whether it's in schools or in the industry itself, architecture often serves as a medium for your individuality or personality. So when you design a building, you want it to stand out. You want people to ask who's the architect. You want people to remember.
Being humble is the opposite of that. In architecture, after a disaster, you don't really have the means to be loud. But what takes place is architecture driven by the community and it's very humble. It's not elaborate or grand but it's close to your heart. For example, in Indonesia, there's a family who suffered a loss after a disaster and lives in a house with no doors and yet they have a patio where they can look over the view at the back of their house. So the point of this is that, it goes against the idea of a formal architecture but still gives importance in the humble luxuries of life — like getting the sun in the morning, having window by a kitchen or just having a place where your family can sit down. It's that emphasis in the quiet, essential things.
What is it like to conduct travel research alone as a young woman abroad?
I planned a lot, and of course, safety is the main concern. For example, in Pakistan, I made sure to book a hotel in a major street in front of a major mall — things like that. But contrary to expectations, being a woman is an advantage when doing research.
In my experience, as a woman, you don't really inflict a lot of fear. You're not perceived as a "threat" and people are more at ease with you. When you do research, you have to engage with the community. In most cases, people aren't comfortable letting you in their house, and much less in sharing with you their pain and vulnerability and walk through their old house that was struck by disaster, and yet they still let me in. And usually, it's the women that helped me a lot. They were very supportive of another woman being in a foreign country alone.
Another thing is that you should do your best to take part in the community and they will take care of you. Understand their language and culture.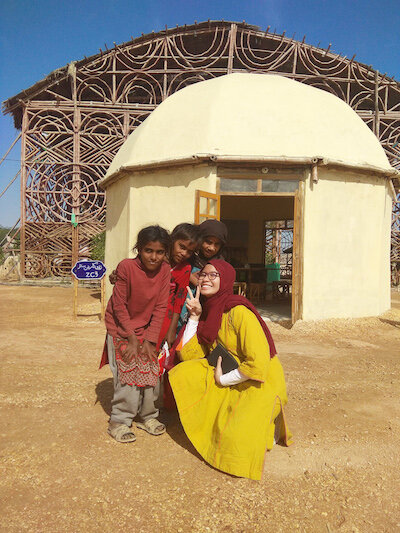 What is your fondest memory of your time doing architectural travel research?
My fondest memory is when I was in Hokkaido. I just came from the district government office to ask permission to conduct research. On the way to the bus stop, a car stopped and a man asked, "Hey are you okay? Are you lost?" because it wasn't a tourist area, there were no English signages around and I was standing out with my hijab. And I told him that I was okay and I was just going to the bus stop. After a while, he came back with his wife and they asked again if I were okay and offered to take me to my destination. It was a very kind act and on the way, we talked and it turned out they were a victim of the earthquake disaster that happened in Hokkaido. They offered to show me their house and introduced me to the other people in the community who also went through the same experience.
What insights did you gain from the experience?
Nothing is what it seems. The media, they would portray an idea, but the suffering and the pain they can portray only a snapshot of it. Another is that if I want to solve something, in this case providing better disaster relief shelter, I have to go and be there in person and get to know the people. I can't say I want to build shelters for disaster management and then never meet the people I'm building the house for. When you're at a distance, you have a different perspective of how things should be, but when you're on-site that changes — and for the better.
On a lighter note, what were your beauty must-haves while out conducting research?
Sunscreen, of course. I use Anessa Perfect UV Sunscreen. Even though it's pricey, I invest in it cause it's the one that really works cause I'm sweating on-site. I also use a two-in-one shampoo from Percy & Reed for dry and sensitive scalp. It's only a small bottle and has a safety lock so it's perfect for travelling. I also use soap from a local brand called Root Remedies. I have eczema and this helped me so many times; I use it for both my face and body. Lastly, lip balm is essential for keeping lips moisturised. I only use Eucerin Lip Active which also has SPF.
This interview was edited for clarity and brevity.
Inspired? Check out stories of other exceptional women here.

Comments, questions or feedback? Email us at [email protected].