Our "I Am Her" series features the female movers and shakers of the industry to learn how femininity and power coincide beautifully and seamlessly together.
When it comes to creativity, there's always the possibility that a creative block would soon rear its familiar head. After all, art is always in the process of achieving its perfect form. But for bespoke jewellery designer
Yani Monroy
, it's the exact opposite. She embraces the imperfections found in her materials to create beautifully unique rings that tell stories of hope, love, and fulfilment.
At
Little White Pouch
, Yani's online store, clients come for one-of-a-kind jewellery pieces that encapsulate happy milestones in their lives. Often, these are beaus budding to propose to their significant others. In other situations, they are parents finding the perfect piece to symbolise their love for their child. Else, they are women looking to celebrate life. For whatever reason, there is a piece from Little White Pouch that will find its perfect home.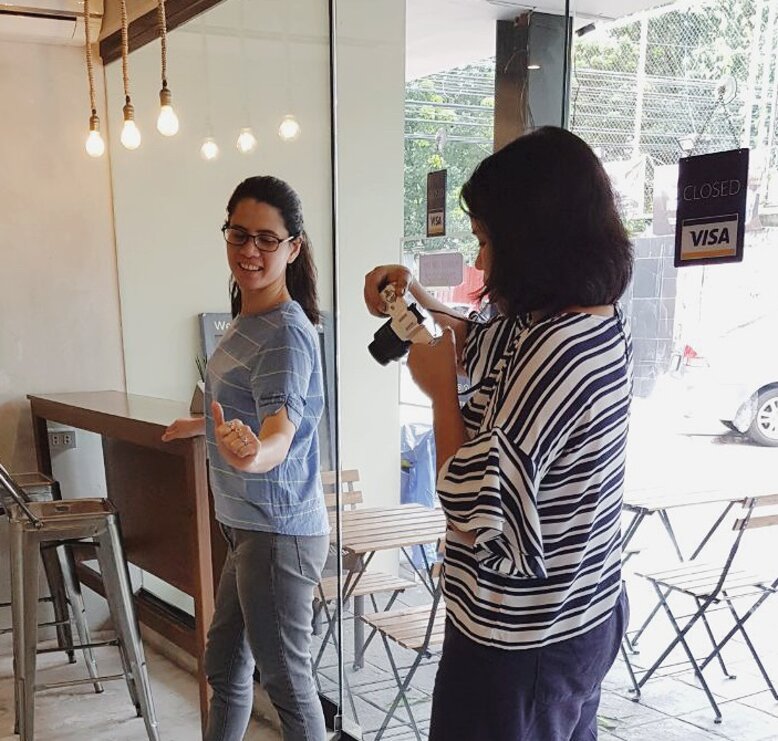 Yani (on the right) during a photoshoot for Little White Pouch.
Read on to learn how Yani discovered that partaking in other people's happy endings can also become a source of personal joy.
Fill in the blanks: "I am a _____, a _____, and a _____."

"I'm a mom, a jewellery designer and a student of life."
What was your life like before Little White Pouch?
"I was a Graphic Artist and Interior Designer before Little White Pouch. I mostly designed condo units, houses, furniture and some logos on the side. Most of my time was spent in front of the computer working on renderings. And I was always outsourcing and buying materials for clients.
My current business is very different but some aspects are somewhat similar where every detail has to be drawn and called out. And every request of the client should be attended to. I had to adjust drawing from meters to millimetres and recalibrate my sourcing skills — from big tiles to tiny gemstones. I think my previous "bigger" design experiences prepared me for this."
What got you interested in creating a jewellery brand for bespoke rings with classic designs?
"Growing up, I watched my dad run a small jewellery business on the side while he was working in the corporate world. He would bring me to his client meetings and would let me draw designs when he had a hard time conveying his ideas to our jewellery workers. His designs were usually grand and more elaborate but he would make simple ones every now and then. These pieces spoke to me. No-fuss pieces I can wear everyday with any outfit. Styles that can be taken from casual to formal occasions since they were classic and tasteful even if they were simple. I wanted to create something fit for someone who was just starting the "adulting" life like me."
How did you arrive at the decision to keep Little White Pouch as an online-based store for custom-made rings?
"To be honest, customising jewellery is far from easy. It takes a lot of time and effort to chat with each client, find out what they want and figure out how to do it! I would love to have my own store and just sell the jewellery that I design but right now I am still enjoying the process of creating something new and different for each client! The whole creative process of understanding what they want, drawing it on paper and then seeing the finished piece is exciting to me. And seeing the clients' reaction to their piece is magical."
Why do you use "imperfect" gems in your designs?

"I want my pieces to tell a story. Perfect is great but imperfections make [the stones] more interesting. I feel like there is more to look for when there's a flaw. It's as if the flaws tell the stone's story. I also like the idea of wabi-sabi, the Japanese concept of finding beauty in imperfection, because just like these stones, we, as well as the lives we lead, are far from perfect."
Walk us through a typical day in your life.
"My schedule is unpredictable but I always make sure that I start my day with my kid and my husband. We have breakfast together, play and read books, and then we prepare my daughter, Frida, for school.
Work usually starts after lunch for me when Frida takes her afternoon siesta. Most of the time, I leave the house to work at a coffee shop or a nearby co-working space - I easily get distracted at home with my daughter there. There are days when I solely focus on answering inquiries, or on some days I go to the shop to check progress or pick up finished pieces. I also dedicate some days to do LWP-related errands such as visiting my supplier to source for stones and delivering finished items. Of course, I also make time to take good quality photos of our finished pieces that we post on our Instagram account and, soon on our website.
I try to do one to two major tasks per day since I don't have enough time to finish them all in one day. I feel more productive when I focus on a specific task on hand. Work can be very stressful at times but it's one that I really enjoy doing."
How does it feel to to become part of other people's lives through your jewellery?

"Do you watch ASMR videos? That's what I feel when I see clients smile or tear up when they get their Little White Pouch pieces. I feel a tingle in the spine when they thank me for making their dream ring, when they share photos of their rings and proposal to me, or when they introduce their now-fiancée to me — someone whom we used to just talk about and kept secret. It's satisfying and relieving to know that these people are glad that I was part of their journey."
What keeps you inspired?
"Remembering that God has given me this job makes me grateful and knowing that I am able to help other people with it makes me joyful."
If you would have a piece of advice for someone who's interested in starting their own business, jewellery or otherwise, what would it be?
"Start small. Don't strive for perfection, strive for progress. And when things don't go as planned, be open to change. "
Lastly, what are your top Clozette (closet) essentials? It can be a mix of fashion, technology, and other lifestyle items.
"My Clozette essentials would include the Little White Pouch Rose Quartz engagement ring and the Little White Pouch Wideband thumb ring. For work, I need my Canon EOS m50 camera, my iPad, and my iPhone XR which I use to communicate with my clients and suppliers. As for my personal essentials, I would say the Rouge a levres Mac lipstick and the 3 L' Imperatrice D&G perfume are my top choices. You'll almost always see me wearing a pair of basic Uniqlo pants and shirt everyday, with my overused Balenciaga Day bag and the "Slow Down" sandals by Renegade Folk to finish off the look."
(Cover photo from: @littlewhitepouch)
Feeling inspired? Here are more stories from more amazing women like Yani.
Comments, questions or feedback? Email us at [email protected].