Our "I Am Her" series features the female movers and shakers of the industry to learn how femininity and power coincide beautifully and seamlessly together.

Man Chien's star rose quickly with her first collection and caught the eyes of Malaysian fashion mavens, making her a frontrunner in the realms of fine art and fashion. Her honest, emotionally fuelled style brings a totally different element to the scene and we eagerly anticipate her next masterpiece.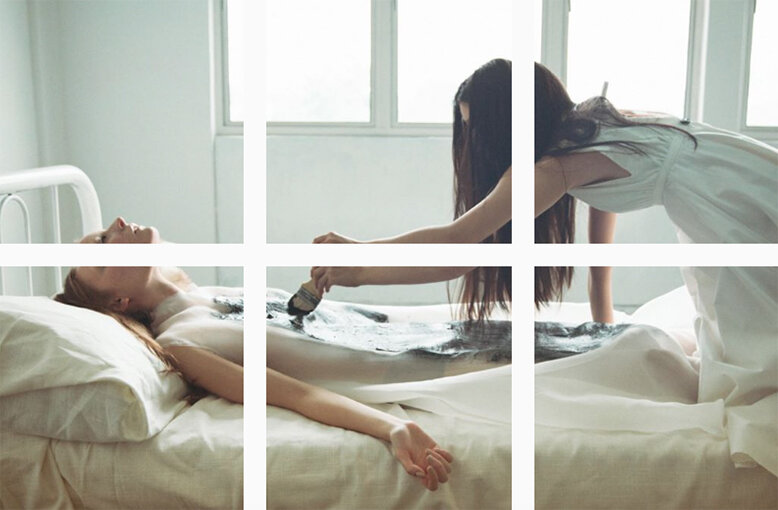 Fill in the blanks: I am a _____ and a _____.
I am an artist and a designer.
How did visual art and fashion come together for you?
I enjoy doing both very much, so much that I wanted to spend time bringing both together. When I was working on garments, I thought about paintings and wanted to create something that had character and its own story to tell; a piece of work that had a life of its own. So I used the pieces as my canvases and started turning them into paintings.
Describe your inspiration for both artistic processes.
Making paintings is so deeply rooted in emotional expression that I would often embrace life at the moment that I was creating. I consider my work a documentation of my personal journey – living with courage, and constantly in pursuit of self-discovery – through raw, naked expression with colours and textures.
On the other hand, when it comes to wearable pieces, my first thought is always to identify the functionality and usefulness of the final product, which is then treated with artistic expression on the 'canvas'.
Can you share some of your favourite techniques with us?
I stick by the immersive technique. Cut off all distractions, set the right ambience, playing the right music and creating a space where I allow myself to fully immerse with the purest of intentions. Sometimes this leads to transcendental moments where my hands start to paint on their own, or a truly focused moment where inspiration doesn't stop flowing.
What do the brush strokes and textures signify?
They are feelings of lightness, density, the urge to detach, to engage; sometimes they are created with the intention to bless the viewer or wearer.
Will you be creating more wearable art with different mediums?
Yes; while it takes some time to actualise the plan, I am working towards a new way to create.
What is your favourite kind of story to tell through your art?
Lighthearted stories, subjects that remind us that the simple things in life are worth celebrating.
Which of your pieces is your favourite, and why?
There are two pieces I'd like to highlight: the hand-felted wool blanket coat from The Norns Collection and the nine-collar scarf from Allegory of the Cave II. The wool coat was two meters long and handmade, the symbol of a goddess who weaves the fabric of life and death. It was a fun process to work with wet-felting and the outcome was incredibly fulfilling. While it reminded me of the joy of pure creation, the coat was light and serves its function of keeping one warm during cold spells.
The nine-collar scarf marked a turning point in my personal process, on conceptualising an idea as wearable art with no obligation of making it commercially friendly; it was meant as a show-piece. It's 4.5 meters long and can be worn in multiple ways in a red wool fabric, and the nine collars signify the different expectations that are projected onto us since the day we were born.
We adored the visuals for Allegory of the Cave, what's next for your label?
Functional designs in the form of fashion, products and fine art pieces.
Last but not the least, name 5 of your Clozette essentials.
Hats, basic white tees, a hand-painted floor length dress from my Allegory of The Cave collection, seamless lingerie, and comfortable yoga outfits.
(Cover photo from: @manchien)
Read more stories about other inspiring women here.
Comments, questions or feedback? Email us at [email protected].