Our "I Am Her" series features the female movers and shakers of the industry to learn how femininity and power coincide beautifully and seamlessly together.
Just like an abstract painting or a non-representational sculpture, the story behind a fashion designer's collection is often shrouded by mystery. Their craft, manifested through fabrics and threads, have their own way of captivating an audience even without the aid of words. But while some go for more vivid and relatable ensembles, Filipino designer KC Pusing takes her own stride at creating edgier, darker and raw creations with roots from the most unexpected inspirations. Ahead, we chat with KC about her collections, how her love for art bloomed into creating her own fashion label, and how she took aprons and video games to high-fashion status.
Fill in the blank: I am a fashion designer, a _________ and a __________.
... an INFJ/ENFJ and a Leo.
Why did you choose to venture into the fashion industry?
I've always wanted a job that [allows me to use] my creative juices. But I used to be in denial about wanting to work in fashion so I worked in a corporate setup. But... it's unexplainable. It's like how you love a person but you can't put it into words — you just feel it and you just go for it. I would always consider venturing into fashion as "unexplainable love".
Your brand is known for its luxury streetwear vibe, often inspired by bold themes. Where do you usually get your ideas when it comes to conceptualising your pieces?

Usually, my process starts with planning a theme. Then I look for ideas that will fit the theme by researching. [My methods include] going to the art museums, bookstores, and even just walking around. I have a notebook where I write random things to build concepts and organise my mind because I'm an overthinker.

What are your favourite pieces from your collections?

For The Isolation, my favourite pieces are the androgynous jacket cape [from the first image] which is a perfect statement piece, the scarf [in the second image] because a scarf with pockets is rare, and the apron [in the third image], because I think they should be the next trendy accessory.


For Silent Rebellion, I chose [the look in the photo below] because I love the combination of the dress, the apron, and the jacket. Remove a piece or just pair it with some heels, sandals, sneakers, or boots and it will still look great.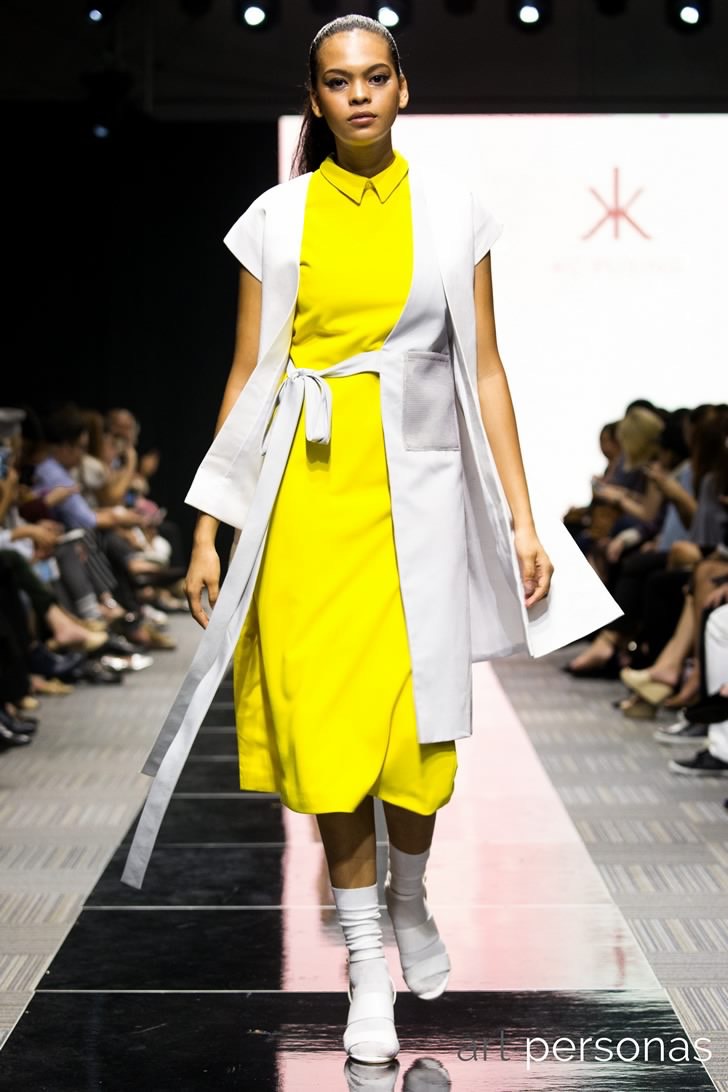 What are your dreams for the KC Pusing brand? What can we expect in the future?

[We're living] in a reality where people are inclined to buy more imported brands than local ones so it is hard to find a niche. I hope that someday, more people will support my brand in order for me to sustain my art [and my passion]. I would be delighted if my clients wear my creations as a part of their closet essentials.

Also, no definite plans yet — which makes it more exciting. [That's] the beauty of the unknown.

What are your Clozette essentials?

I am usually drawn towards collared shirts (short or long sleeves) in neutral colours, paired with wide-legged shorts or skirts as I need to be comfortable while doing designer duties. For shoes, I usually wear boots or sneakers as I love to walk. But don't get me wrong, I still wear heels! It's just that in this career, comfort is a must since I am a hands-on designer.
Be experimental with your style [when you're young] because as you grow older, your choice and tastes will be different. With this, my top fashion tip is to invest in easy-to-pair neutrals to make it easier to add colours, prints, or accessories [as your style grows].
This interview was edited for brevity and clarity.

r brevity and clarity.

More empowering stories about women here.
Comments, questions or feedback? Email us at [email protected].