Our "I Am Her" series features the female movers and shakers of the industry to learn how femininity and power coincide beautifully and seamlessly together.

Kaye Morales made waves back in late 2015 with her Spring/Summer 2016 collection, "Rebel." With her chic and edgy pieces, she caught people's attention perhaps not just because of the collection but also because she came out about her sexual identity through the show. With her bold statement, she served as an inspiration for those in the LGBTQ+ community still seeking acceptance.
In an interview with her back in 2016, Kaye Morales opened up about her beginnings. We learned about how she started her career in fashion, as well as her plans to change the local fashion industry one collection at a time. This month, we catch up with her to see how things have changed since. Read on to find out how her designs evolved with her identity.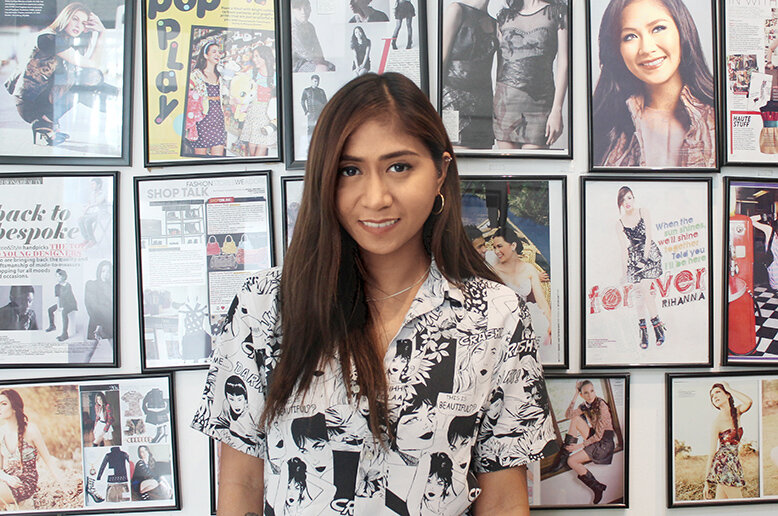 Kaye Morales
Fill in the blank: I'm a fashion designer and a ____________.

I'm a fashion designer, athlete, and an LGBT advocate.
It's been a while since you launched your "Rebel" collection. How have things changed since?
After "Rebel", I got featured in a lot of magazines and on TV, probably because I was the first designer who came out as a lesbian during a fashion show. Now, aside from designing, I've also become a part-owner of Nectar, an LGBT bar in BGC. Every Thursday, I hold "Girl Nation", kind of a girls' night out event, where girls and lesbians can have a homespace where they hang out and have fun.
Your identity and sexuality played a huge part in the creation of your pieces for "Rebel". Does this still remain true for your more recent collections?

Yeah, I always make sure that my collections still show my identity as a designer. I always make sure that they have this androgynous aesthetic. I love mixing and matching pieces, have male models wear oversized shirts paired with skirts. During my shows, I also make it a point that my models are diverse — they're a mix of straight, lesbian, gay, and trans people.
Your brand is known for pushing the boundaries of the local fashion industry. Where do you get your ideas when designing your pieces?
When I do my designs, the first thing I do is travel. I escape and kind of get a "restart" by going to the beach. When I'm there, that's when I start my sketching. I usually get my inspiration from my life story — from my past and present. My collections are all connected. You can see their continuity in the elements. For example, from black, the pieces gradually become red, and then colourful. These progressions are a representation of my emotions.
You've also dabbled in bridal wear, which is a bit different from your other collections. How was the experience? Will we see another bridal collection from you again soon?

I do streetwear, but I also do bridal wear, especially because a lot of clients approach me for it. I'm just not advertising it enough on social media because it might confuse people, but I join wedding exhibits. Weddings are like my backbone, it's where I express my romantic side. It can be quite challenging because it's so different from streetwear, but I enjoy it because it pushes my imagination.
What do you want your brand to be remembered for?
I think I'm the only lesbian fashion designer, but aside from that, I also want to be known as someone who also creates menswear. I want my brand to be known for my androgynous and oversized pieces, something strong, edgy, and fierce for different types of genders.
Which collection are you most proud of?

Maybe my latest one, "Rebirth", because it's like my rebirth as a person and as a designer. From my very first collection, this one really evolved in terms of colours, in silhouettes, and in its wearability. With this one, I mixed in avant garde with streetwear so it's like wearable art. It's also very personal for me because it's the story of my life and shows my freedom as a designer.
Can you give us your best style tip?
Don't be scared to express your individuality as a person. It's very important to show your character through dressing up. When you're brave, you stand out and your uniqueness shows. Just mix and match and be free.
Do you have a message for members of the LGBT community still struggling with acceptance?

I know it's hard to come out and be accepted. For now, if ever you plan on coming out, take time and think it through. It's difficult coming out to your family and friends, but it's also really important to educate them about your identity as well. Always check your mental health. If you think it's being affected, find an outlet. Just don't be scared to express who you are, because there's nothing wrong if you're gay or lesbian — we're all created equal.
Share with us your five Clozette essentials.
My phone, face powder, lipstick, blush, and oversized polos.
What's next for Kaye Morales?
I'm already working on a new collection for a show in Manila Fashion Fest this October. I'm also releasing my swimwear and beachwear collection soon. It's going to be called "Gypsy Nomad", featuring edgy and regional prints. The line made specifically for athletes will be available in Siargao and Manila.
The interview was edited for brevity and clarity.
Comments, questions or feedback? Email us at [email protected].