Our "I Am Her" series features the female movers and shakers of the industry to learn how femininity and power coincide beautifully and seamlessly together.

Artists have their own preferred mediums. But Thai jewellery designer and graffiti artist Pitchaya Srirapong, also known as Beerpitch, chose to bridge the gap between two different art forms. With her multi-disciplinary techniques, she invents a style that's truly unique to herself.
Beerpitch's journey as an artist began with jewellery design back in 2005. After working for multiple fashion brands, she finally created PITCH in 2010. It's her own jewellery brand that gave her the freedom to develop her own style. But her craft knows no limits. Aside from working on small-scaled creations, Beerpitch spreads positivity and encouragement with her colourful three-dimensional geometric murals.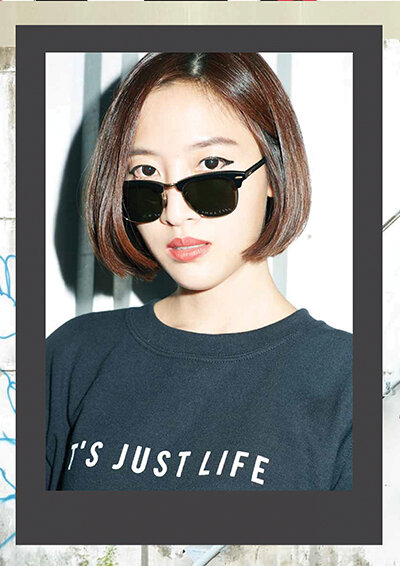 For her, the whole world is a playground for art. And so she finds happiness by creating whatever her heart desires in different forms. But pursuing an artistic life isn't always smooth-sailing and bright. Read on as she reveals the ups and downs of living as a jewellery designer and graffiti artist.
Fill in the blank: I am an artist, a designer, and a ______.
"Creator."
How did you come to be known as "Beerpitch"? Is there a story behind the name?
"'Beer' is a nickname given to me by my dad, who loves to drink beer when he's in a good mood. 'Pitch' is from Pitchaya, my given name, and PITCH, the name of my jewellery line. People started calling me Beer Pitch, which thus became my moniker."
As a child, was a career path in arts and fashion something you dreamed of?
"When I was younger, I got the chance to watch a conceptual jewellery runway show by a renowned art university in Thailand, Silpakorn University. That was when I really felt a calling for jewellery crafting; it was like I was falling in love. So I decided to pursue a degree in jewellery design and become a designer as I've always dreamt."
Which came first? Your fascination with street art or with jewellery design?
"I've been a jewellery designer for more than 10 years. I do small scale jewellery design, creating rings and bracelets. I'd like to think that being a designer means finding happiness in the ability to create whatever you want to. I'm the type of designer who's passionate about all kinds of art and design and I'm happy to paint on any kind of canvas given to me. That's why I started to do street art as well. So when I have the opportunity to create something large scale, like big paintings or murals, it always makes me feel excited and gives me a different kind of rush."
How was it like starting a career as a female artist in Thailand? Where there any challenges you faced due to politics or discrimination?
"It's no secret that even a male-dominated industry like this comes with its own share of politics and drama. But truth be told, this exists in every society and every part of the world – not just Thailand.
I didn't start out as an old school graffiti or street artist, but my husband Rukkit is a well-known street artist. As I became more involved in street art, many times I was still just seen as an "artist's wife". Even some of my husband's fellow artist friends treat me as just a "friend's wife" and not an artist like them.
I've cried because of this discrimination (I'm a woman and I'm sensitive!). But I gradually learned to ignore these people who live in a bubble, and instead focused on the work I love and the people who respect and appreciate what I create. I'm determined to constantly grow and develop myself and my skills because while you can't force people to respect and accept you, good works can."
Let us in your creative process when designing jewellery and painting murals. How do they both differ?
"For me, both jewellery and murals have the same designing processes, just a different production method. As a jewellery design technique, I design my work in 3D. So when I design other kinds of art, I always visualise them in three-dimension, too. I like creating my typo art from geometric structures step-by-step and forming more complex structures that become patterns. I also like transforming one-dimensional, flat alphabets into 3D structures because it looks more complex and fun."
When you're stuck in a creative rut, what do you do to get your ideas flowing?
"I sometimes get stuck in a creative rut when I'm stressing too much. Being relaxed is the best way for me — I always find inspiration from the things around me, such as my jewellery collections, moves, music, shopping, reading, nature, architecture, etc. There are inspirations everywhere! I just need to stop putting pressure on myself."
What do you love most about being able to create art?
"I feel so excited — like a child getting new toys — every time I get a new project. The fun starts when I design and put the ideas onto the actual thing, be it a body, mural, building, products, etc. I think the world is a playground for art."
How is it like collaborating with other artists? Would you say working with your husband, Rukkit is easier?
"I think working with my husband is easier than working with other artists because we're understanding of each other's work life and personal design styles. We also understand each other's struggles and that makes it better because we're in it together and it's easy to both celebrate and empathise that way.
The hardest part is when we have strong personal feelings about the personalities involved, which can lead to lots of emotions and frustrations building up, more than when working with other artists. While I enjoy working with my husband, working with other artists from time to time is a good opportunity to learn and gain experiences from them."
Any advice you want to give to others who want to pursue a career in jewellery design?
"Nowadays it seems easy to become a popular jewellery designer on social media, and the internet makes everything so highly accessible for this generation. People now have less patience and want to put in less effort. But if you want to be a good designer, you must keep practicing and constantly work towards improving yourself! Nothing is really easily acquired in this world."
If you could only wear one jewellery for the rest of your life, what would it be and why?
"For me, jewellery is the unique unity of body and art. I want to have tattoos of the stories, people and places that are close to my heart. Once on my body, I'd embellish them with jewelleries with precious materials and stones so I can keep these stories with me forever."
What are your Clozette essentials?
"First is my wedding ring, which I designed. I incorporated my husband's name, "Rukkit", written in his handwriting in my wedding ring design, while he has my name "PITCHAYA" on his. Aside from that, I like wearing bracelets from my jewellery line. I'm a jewellery designer but I don't wear big jewellery pieces for my everyday look, so the ones I wear most often are my bracelets.
Sneakers are important to me, too. I own over 40 pairs of sneakers because they go with everything. I also like choosing my shoes first before coming up with an outfit that matches.
Lastly, I think having good natural skin is important, that's why moisturisers and coconut oil are must-haves. I use many moisturisers for day and night. To remove makeup, I use coconut oil, which is easy to find in Thailand and has great benefits for the skin."
This interview was edited for brevity and clarity.

Follow Beerpitch on her Instagram and see more of her works at Culture Cartel 2019 happening at F1 Pit Building, Singapore this 6 to 8 December.
(Cover photo from: @beerpitch)
Next, read more inspiring stories of women here.
Comments, questions or feedback? Email us at [email protected].