Our "I Am Her" series features the female movers and shakers of the industry to learn how femininity and power coincide beautifully and seamlessly together.
Kids receive too many gifts they don't need — this was Gift-It-Forward's founder Theresa Evanoff's realisation after attending and hosting years of birthday parties for her three children. Naturally, being a woman of action, she came up with a solution that not only solves this "problem" — it also helps to inculcate the value of altruism in privileged children too.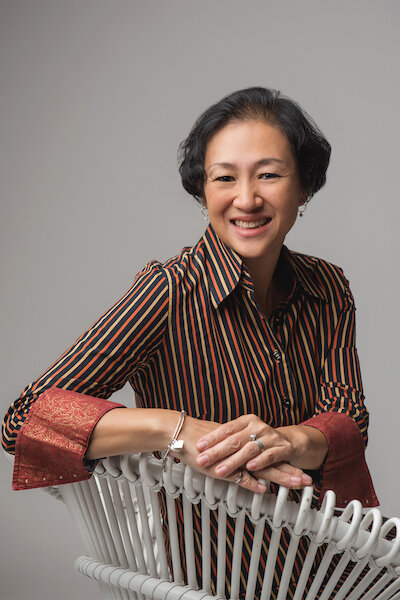 This was how Theresa's social enterprise, Gift-It-Forward came to be. Party hosts can select an e-invitation to be sent to their guests. This e-invitation will automatically generate a gift fund where a 50 per cent portion (or 100 per cent, you decide) goes to a charity, while the rest can be spent on a group gift. This way, clutter can be avoided, unwanted gifts won't go waste, and children get to be involved in a charitable cause. To date, the social enterprise has attracted numerous users and raised close to one hundred thousand dollars for its partner charities. Now that's a gift-giving game-changer.
But how does Theresa make a full-time career, a side business and motherhood work while being mindful that self-care is as important as everything else in her life? Get to know more about the woman behind Gift-It-Forward as we discuss the definition of "having it all".
Fill in the blank: I'm an entrepreneur, a mother and ________.
A changemaker. I always try to make a difference in everything that I do — with my children, the company I work for and the social enterprise that I'm currently running. I apply the same attitude in everything and I always try to see what I can do to make things better.
What inspired you to build Gift-It-Forward?
Essentially, it was my children who inspired me to build Gift-It-Forward. As a mum, we go to and host a lot of birthday parties. From firsthand experience, I know that it's very challenging to buy presents for these events and saw that privileged children, with their piles of gifts, don't always have the capacity yet to appreciate their blessings. And so, I wanted to teach my kids that giving is just as important as receiving. I want them to grow up being mindful of the community and the environment they live in as well as fully appreciating what they have.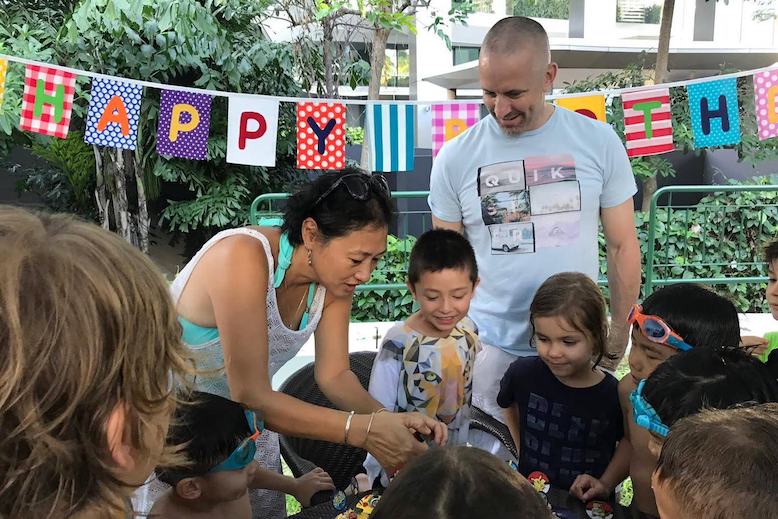 The concept of Gift-It-Forward is very new and different from traditional gift-giving. How were you able to entice people to sign up in the beginning?
In the beginning, we had to convince two parties to get involved. First was the charities and at the start, because it is a new concept and I didn't have the website up and running yet, it was very challenging. But because I truly believe in the idea and had a background as a professional strategist, I eventually was able to get them on board. It also helped that they will not need to pay any fees and it's essentially a new revenue stream for them. I also explained that it can be an additional marketing strategy since these charities have limited marketing budget but their voices still need to be heard by the community.
On the customer side, we relied heavily on word of mouth. We attended school fairs, environmental fairs and continuously shared the word with the community.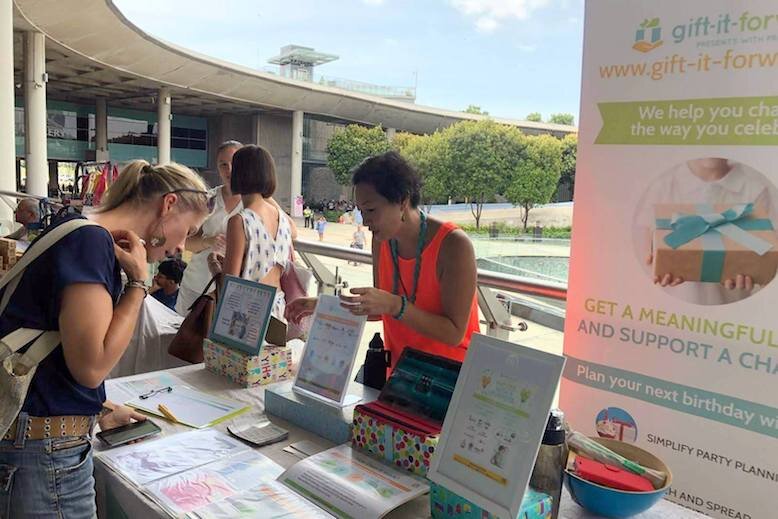 What were the other challenges you faced when you first launched Gift-It-Forward and how were you able to overcome them?
Personally, it was the lack of experience in running a start-up that was the biggest challenge. While I had experience in making strategic plans and have run various projects before, it was my first time starting a social enterprise. The learning curve was steep but, thankfully, I thrive on challenges. One of the things that helped me overcome these hurdles is by networking and learning from the vibrant start-up community in Singapore. Having that support system and exchanging advice really aided me.
Another big challenge is funding. As a social enterprise, we're not considered as a charity with exemptions and we're also not a tech start-up that can generate a huge revenue stream. So we keep operational costs low and continuously look for grants and funding.
Do you believe that women can have it all?
I think women can have it all eventually, but we can't "have it at all" at the same timeframe. It's all about priorities and making choices. It would be very challenging to be both a full-time mum and work a full-time job when the kids are very young.
Everybody also has a different definition of what it means to "have it all". Some are perfectly happy choosing domestic life, others are content with being independent and dedicate themselves to their work. Every individual has different wants, ambitions and ways of fulfilment. At the same time, there are still challenges modern women have to face. Whether we like it or not, right now, the burden of housework still falls on the mother. So while women now have a place in the boardroom, it's still not as common and it's because we all have these responsibilities that largely fall on females. Having a supportive partner really helps and, as a society, we're moving in the right direction — but we're not yet there.
Creating a balance in life is an art and a constant struggle. I love being a mother and working and having my business, so I carve out time for each and make the situation work. I also make it a point to do self-care. I make sure that I get at least six hours of sleep and find time to exercise several times a week to keep myself in a good frame of mind.
What are the most rewarding and the most challenging aspects of motherhood?
Definitely the most rewarding is the unconditional love your children give you. No matter how bad a parent you think you are, at the end of the day, those huge hugs and smiles remind you that you'll always have your child's unconditional love. It's also very fulfilling witnessing how my children's personalities develop and flourish.
Currently, the most challenging aspect for me is finding individual time for my three kids. Having children close in age, it can be a challenge to find time to bond with each. Although it's good that we do things together, I feel like each has individual needs that should be addressed.
What is one piece of advice about motherhood that you wish someone told you?
"This too shall pass." Childhood passes by very quickly and every stage — whether good or challenging — will eventually pass.
Do you have any tips for mums who want to build a business of their own?
Set realistic expectations. Running a business requires commitment both in time and finance. It has to be a family decision since it will affect everyone, so discuss it with your partner. Lastly, don't take too long to take action, don't deliberate too much and just do it — or else someone else might do it before you.
This interview was edited for clarity and brevity.
Inspired? Check out stories of other exceptional women here.
Comments, questions or feedback? Email us at [email protected].