Our "I Am Her" series features the female movers and shakers of the industry to learn how femininity and power coincide beautifully and seamlessly together.
When we think of fully realised successes, 'making it' in the global scene immediately comes to mind. But for fashion designer Esther Choy, thriving in our own region is something that should be championed.
After getting her big break with her label Esh by Esther in Singapore Fashion Week during her graduation showcase in 2016, she has since been lauded for her interesting and innovative designs that feature masculine aesthetics to fit the female form. This led her to showcasing her works in neighbouring Asian countries like Vietnam, Laos, and South Korea, which made her realise that engaging opportunities for budding creatives can also be found, quite literally, closer to home.

Now, as BHG Singapore's first-ever in-house fashion designer and product developer for the Singaporean department store's brands Societe, Otona Mode, and SBT, she currently leads a design team that aims to seek out and showcase stylish yet functional pieces from local talents.

With hopes to serve as an example for fellow talents wishing to 'make it' in the field, Esther shared her artistic inspirations, motivations on encouraging more local and regional pride in hailing success, and more, below.
Fill in the blank: I am a designer, a product developer and a ____________.
... yarn hobbyist.

Your philosophy is all about encouraging Asian talents to aspire to find success within the region even more so than 'making it' overseas. Why do you believe in the importance of focusing on the local industry rather than the 'global' fashion scene?

We have a lot of wonderful designers here waiting to be discovered and loved, and opportunities are opening up for local designers to showcase their talents. During my stint overseas, it opened my eyes to the fact that our local industry standard is actually the industry standard.
With that being said, encouraging our own talent pool will allow for a better understanding of the local commercial market even before expanding to a global scale, which would eventually allow Singaporean designs to shine on the global stage.

How do you juggle the creative and development processes between Societe, Otona Mode, and SBT without making them overlap in terms of aesthetics and production strategy?
The brand story and direction are very different for the brands.
Societe
is more for the office ladies in a corporate environment, minimalist designs that empower women to effortlessly move through different roles in their day to day life.
Otona Mode features Japanese inspired designs and is more focused on natural fabrics such as linen and cotton.
SBT is characterised by its fun weekender vibes. There is a heavy focus on the mixing and matching of separates, which provides the wearer with easy and unlimited possibilities of styling the collection to suit the individual's personal style.
You're known for genderfluid creations. What's the thought process behind this common theme in your designs? Is there a deeper story or message behind you choosing this kind of visual presentation?

Rather than genderfluid, I would say my designs for BHG are more menswear-inspired womenswear. My internship experience in London with Ada Zanditon moulded me into the designer I am today. Helping out with the menswear line there informed a great part of my design aesthetic. I felt very strongly about incorporating menswear elements and details into womenswear to increase functionality.

What's the story behind your favourite piece among all your creations?

Among the three brands I design for at BHG, my favourite piece is the Short Sleeve V Neck Tie Side Dress from Otona Mode. It features adjustable ties and deep pockets in a single design, which advocates my belief in making clothes wearable for a range of sizes as well as allowing for a high degree of personalisation in style (i.e. adjust to how you feel like wearing that day, loose fit or tight fitting showcasing your silhouette). And of course for the deep pockets, which are a feature I am passionate about for functionality.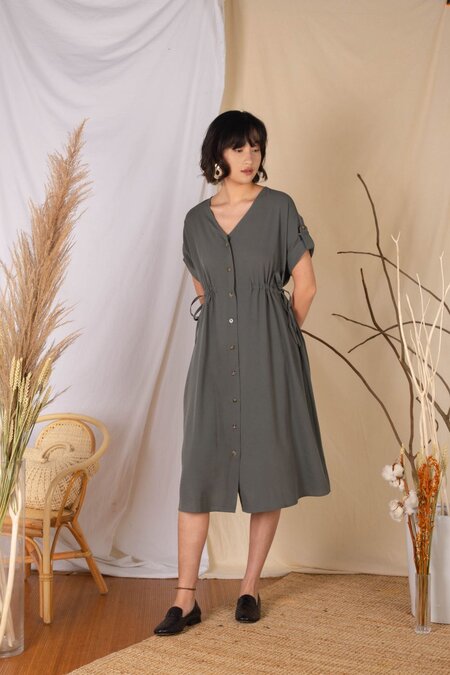 Have you ever experienced a creative mental block in between crucial times in the development/designing process and how do you overcome it?


Yes, for sure. My way of overcoming this mental block is to breathe and take a break. I tend to turn to my hobby, which is knitting. The repetitive and calming nature of knitting helps me sort out my thought process.

You've shown your works in runways across many Asian countries. Do you still get nervous or feel afraid that your works wouldn't be received well? Why or why not?

Yes, I will still feel a certain level of anticipation. All my designs and work are very dear to me because of the time and effort spent on them. That is why I hope that people will appreciate them as much as I did during the design process.
You are the definition of looking good while doing what you do. What's your secret to feeling and looking empowered?
Dress in your style — your self-defined style. For me, I like functional and comfortable clothes.
Name 5 Clozette essentials. It can be anything related to beauty, fashion, lifestyle, wellness or travel.


My Otona Mode short sleeve V-neck tie side dress (which I mentioned earlier), Origins GinZing™ Facial Scrub, Converse white sneakers, Kleen Kanteen water bottle, and Moleskin sketchbook plus pencil.
Inspired? Check out stories of other exceptional women here.
Comments, questions or feedback? Email us at [email protected].