Our "I Am Her" series features the female movers and shakers of the industry to learn how femininity and power coincide beautifully and seamlessly together.

From being a content creator to the Head Mouseketeer at Disney's Mickey Mouse Club, Charis Ow has certainly lived most of her 20s in the limelight. Her bubbly personality and amiable social media presence captivated a supporting audience through various stages in her career, amassing almost 240,000 followers across her Instagram and YouTube accounts (as of writing).


Despite the upward trajectory of her career, Charis realised that there's still room for more. Leaving behind her exciting life at Disney after three fruitful years, she recently added a new role in her belt signalling a new chapter in her life: fashion entrepreneurship.
Ahead, our chat with Charis about personal growth, maintaining positivity on her social platforms, and her decision to leave her dream job for her new 'mommy and me' venture
NIKO & CLARE
.
I am a singer, content creator, an entrepreneur, and a ______________.
...professional husband annoy-er.
It's been six years since we last spoke with you one-on-one. How much have things changed for you since?
So much has changed! Here's a summary of what happened: I got to work with one of the biggest brands (one of my favourites too!) in the world — Disney — for three years. It definitely changed my life and opened up so many doors along my career path.
I released three music singles:
Supernova
(2018),
Could This Be Love
(2018) and
Mahal
(2019) and was nominated as Best New Artist for Anugerah Planet Muzik in 2018. In 2020, I got married to the love of my life and my best friend, Daryll Tan. We were blessed to be featured on a cover of a magazine,
CittaBella Bride Malaysia
, where we got to share our love story.
Finally, this year, I launched a 'mummy and me' clothing line called NIKO & CLARE with my partner, Niniek Sugiarti.
What are the highlights and the lowlights of living out most of your young adult life in the limelight? How do you think this experience shaped you to become the person you are today?

To be honest, I wouldn't say I was full-on living in the limelight because I never considered myself as 'famous' at all. But being on TV and on social media did bring many opportunities for me in terms of working with reputable brands, connecting, and having the privilege of working with other talents in the industry.

Ultimately, having a huge online family is definitely one of the best highlights from this experience. I am forever grateful for my followers because they contributed to make me who I am today.


The 'lowlight' of being in this industry would be rejection and learning things the hard way — which kind of, in hindsight, turns out to be a blessing in disguise. I have learned to never take things personally (it's probably just a business decision), never compare, and always focus on my own progress and journey.
What's a side of Charis that you don't show people often? How does this side of you balance the more 'public' side of what people know about you?
I am pretty much 100 per cent myself when I am on social media and my followers know how dorky I can be. However, what I don't usually show in public are my challenges and 'down days' because I want to keep my platforms as positive as I can. Instead of showing these negative emotions online, I have a safe space and a support system where I can freely express and just vent my sadness, frustrations and anger — which is a healthier method, in my experience and opinion.
You shared that Disney played a huge role in your career. What made you decide to take the next step? Did you have fears about leaving that stage in your career and how were you able to overcome them?
Being part of Disney definitely launched my career; however, I was quite 'late in the game' because I was already 26 when I auditioned for the Head Mouseketeer role.
Although people say I don't look my age and that I fit in with the rest of the Mouseketeers, I knew for a fact that I have to 'grow up' and grow out of this image eventually. It was a comfortable and fun gig for three years, and I definitely had doubts and fears leaving that familiar stage but I knew I had to move on to the next phase in life. I trusted God's timing and His plans and things fell into place with my new business, NIKO & CLARE, where I found hope, joy and purpose again — and that's how I overcame it.
Speaking of your new venture, NIKO & CLARE, run us through the brand's concept and vision. How were you able to overcome challenges that come with starting a new business especially in today's health and economic situation?

NIKO & CLARE is a 'mummy and me' clothing brand that creates the finest choice of apparel for women and their loved ones as they celebrate every moment, turning them into unforgettable memories.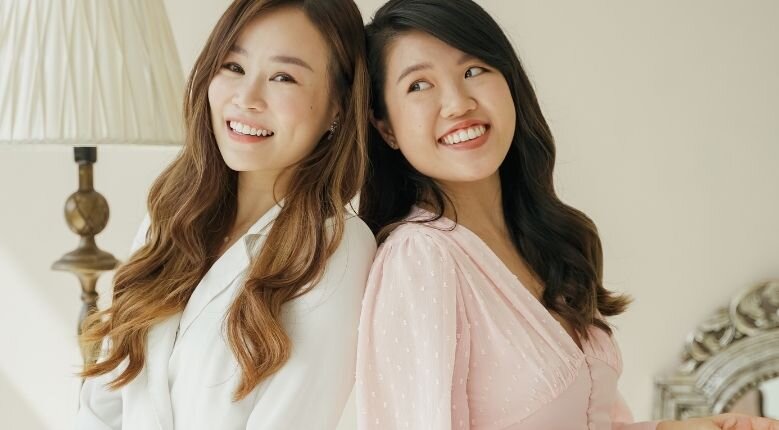 It started when Niniek and I were having lunch at my place. We wanted to start a business together but we couldn't quite decide what it should be. So, I asked her, "What do you want to solve?" and she replied, "I always find it hard to find matching clothes with Kyra!" (Kyra is her adorable three-year-old daughter, by the way). And that was how we decided on our brand's concept.
NIKO & CLARE believes in inclusiveness and that is why we made sure that we cater to even mummies with only boys, too, so that they can also wear matching attires together too.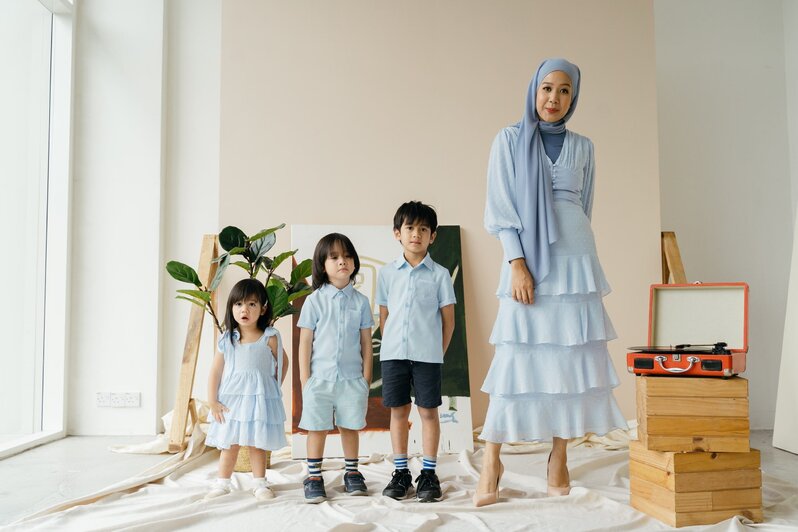 To be honest, there were many challenges, especially with the COVID-19 situation – shipment delays, factories closing down, creative limitations etc. But, Niniek and I both agree to take one step at a time and to grow NIKO & CLARE within our capacity without burning out. We are blessed with the opportunity of being able to fill in this market gap for mothers out there and we aim to continue to put their needs first as the core and value of our company.
You are the definition of looking good while doing what you do. How do you remain empowered?
Wait, I do (laughs)?! Well, I promise you that doesn't happen every day, that's for sure. There are days where I am just brainstorming in my pyjamas, packing orders in my sweats and days where I dread to fulfil my responsibilities.
But, in all seriousness, I remain empowered and focused by constantly reminding myself of my why and checking where my heart is at. If your heart is in the right place, everything will eventually work out and fall into place.
Name five Clozette essentials. (It can be anything from beauty, fashion, wellness, tech or lifestyle).
Phone, iced latte, the
Kyra Top
and
Ruffled Skirt
, and all of my skincare products!
Inspired? Check out stories of other exceptional women here.
Comments, questions or feedback? Email us at [email protected].