Our "I Am Her" series features the female movers and shakers of the industry to learn how femininity and power coincide beautifully and seamlessly together.
Cassey Gan didn't plan to become a fashion designer. At least, not at first. She spent her college years studying Chemical Engineering and eventually got her degree. Still, it didn't feel right; something was missing — and she found it in fashion design. That something was passion. And Cassey decided to take a leap of faith and follow it.
She went back to school to train as a fashion designer and graduated with a BA First Class Honours in Fashion Design & Technology: Womenswear from London College of Fashion. After taking a year to prepare, Cassey eventually launched her label in 2014. It didn't take long for people to notice her talent. She started making waves and was even featured in Vogue Italia as a designer to watch out for.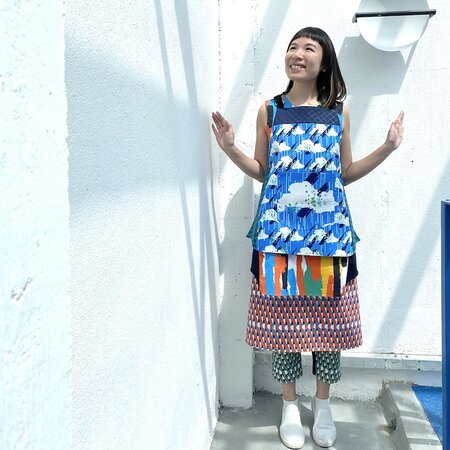 Even as she worked day and night on her designs, her spirit never felt tired. There was an inexplicable spark that continued to ignite her creativity. But make no mistake, pursuing your passion as your career isn't a walk in the park. Cassey has to wear many hats and balance creativity with business acumen. This is what it's like to be a creative entrepreneur.
Ahead, Cassey Gan shares more about her leap from the sciences to the arts, what it's like to pursue your passion and her thoughts on Malaysia's fashion scene.
Fill in the blank: I'm a fashion designer, a creative entrepreneur and ___.
"A new mom."
Why did you decide to pivot to fashion design after pursuing a degree in Chemical Engineering? What were the challenges that you had to face when you jumped from one industry to another?
"I went into Chemical Engineering without knowing much about what it was and hoping that it would be something I could learn to enjoy. Unfortunately, upon graduation, I felt lost and didn't think it was something I could go on to pursue. At that point in time, there was an opportunity to work for a fashion magazine and I took it. After a couple of years in fashion, my interest grew and I found myself extremely curious about design. With much encouragement from my parents, I decided to study fashion. The rest is history!
There were some challenges indeed jumping from science to art. In engineering, I was trained to work with structure and to a certain extent, precision, rigidity and discipline. In art school, however, I was always pushed to think outside of a box, be more fluid and free in the way I express my thoughts. That took a bit of time and a lot of pushing from my tutors. After a few years though, I find that it is an advantage to be able to use skills from both trainings in running my label. As a designer, I need to be able to design creatively. As a business owner, I need to be able to run it with structure and discipline. In the end, I'm thankful to have had the opportunity to be trained in both."

At what point did you feel that your gamble in pursuing fashion design instead of a career in engineering paid off? What did it take for you to get to that point?
"When I was studying fashion, I never felt tired. I could work on projects for many hours a day without sleep and still felt excited. I knew it must mean something. After I graduated from the London College of Fashion in 2012, I took another year to research and prep. Finally, I started my label in 2014. When did I feel my gamble pay off? Perhaps two years into working on the brand and slowly gaining public interest. I think perseverance, passion and support from my family kept me focused."
How does your personal style influence your designs? Why do you prefer to design non-form fitting silhouettes in particular? Who or what are your sources of inspiration for your designs?
"I design what I personally want to wear. I don't wear anything form-fitting because I like the relaxed aesthetic, to feel comfortable in a kind of understatedly confident manner — which is why I prefer to design non-form fitting silhouettes. I truly believe that inspiration is everywhere, which is also the tagline of my label. I get inspired by current affairs, travels, a conversation with someone, food, artists, architects and many more. It really depends on what speaks to me at a certain point in time. I don't have a particular person as my design muse — rather I design for women who appreciate comfort, colour and prints."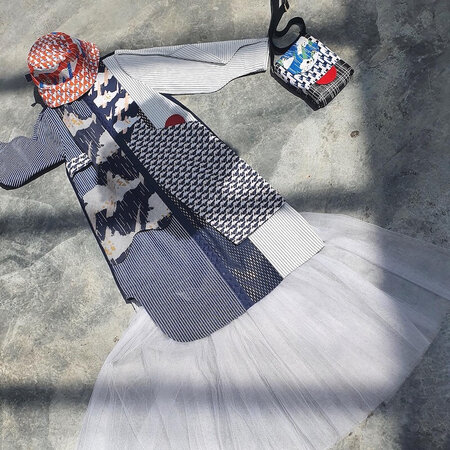 As a designer hailing from Malaysia, how would you define the local style? How does the local fashion landscape differ from London where you studied fashion design?
"The local style is getting more colourful and exciting. People are more daring in expressing their individuality through clothing and that truly is a breath of fresh air. In a way, it is quite like London where people are very experimental with their style. However, because London has the added advantage of having four seasons in a year, there is naturally a wider room for experimentation through layering and seasonal changes."

How did you manage to tailor your designs to the Malaysian market?
"We don't design based on trends. We design based on inspiration. Our team always makes sure that each design that we present fits our brand DNA. Our customers buy our designs because of our point of view and we have to always ensure we stay true to that."
What was the most important thing that you learned from being a fashion designer for almost a decade now?
"To run a sustainable label, it is very important to have a distinctive identity and brand DNA that is truly yours. It is also important to listen to our customers and strike a balance between what they want to wear and our design signature."

What's the most stressful part of being a designer and what makes all the stress worth it?
"There are two parts to this. As a designer, the most difficult thing is to ensure there is a team of people who can help bring my vision to life. It is no use if all I can do is to design and produce a sample and then no one else can replicate it perfectly when there are orders.
As a business owner, the most challenging is to ensure that the cash flow is healthy. As I am the designer as well as the business owner, I find myself having to learn how to strike a balance between both roles. Having said that, every time I see a happy customer wearing our creations with confidence, it makes all the stress completely worthwhile."
How do you stay inspired and empowered to do what you do every day?
"Passion. I truly love to design and there is nothing else I would rather do."
Share with us your Clozette essentials.
"Shorts, culottes, bibs, colourful socks and oversized shirts. Also, I can't live without my eyeliner!"
Read more stories of empowering women here.

Comments, questions or feedback? Email us at [email protected].