After the teaser of her arrival at the end of Avengers: Infinity War last year, the Marvel Cinematic Universe's most powerful superhero, Captain Marvel, finally graced the big screen. Timed just right this March as we're celebrating International Women's Month, we are introduced to Carol Danvers, an ex-U.S. Air Force fighter pilot and member of a Kree military unit who — not that it's a big deal — was set to settle a galactic conflict between two alien worlds with Earth in the middle of the battlefield. Girl power is definitely not short on this one.
But did you know that Brie Larson, the actress behind the starring role, also channels amazing features off-screen? Putting the 'her' in 'hero' even prior to taking part in the MCU, she has inspired us on what it really means to be strong and empowered. We talk more about them below.
Being multi-talented is just a part of her real-life superpower
We may know her more from roles such as Envy Adams in Scott Pilgrim vs. The World or Mason Weaver in Kong: Skull Island but did you know that she also once went on a music tour with Jesse McCartney? Yes, this girl was also a pop-star. Her VEVO account may not be updated anymore but you can still find traces of her Sessions@AOL videos. Acting, filmmaking and singing? Talk about having multiple superpowers, right? But aside from being a multi-faceted entertainer, she's also a women's rights advocate. At the moment, one of her biggest involvements is with Time's Up, which is behind the #MeToo movement.
She's unapologetic when it comes to standing for her convictions
In 2017, Brie Larson made headlines for handing an Oscar and standing her ground by refusing to applaud Casey Affleck, a man accused by several women of accounts of sexual assault and harassment. A longtime advocate for victims of sexual abuse, Brie did not clap or even smile like the rest of the audience after Affleck took the stage to receive his award. She did the same thing previously on the Golden Globes when she was also selected to hand out the award for Best Actor. But that's not all. She did not even bother giving a statement about how she acted, because why would she? As they say, action speaks louder than words.


She's not here to 'smile more' just because the audience wants her to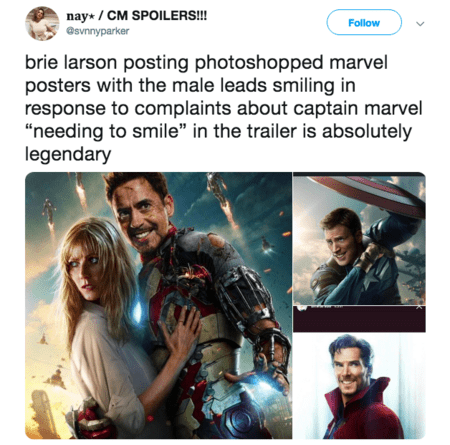 One of the biggest and most annoying things that made the news back when the teasers of the Captain Marvel movie was released were comments on how Brie should 'smile more'. Completely missing the point of her piercing gaze and robust attitude consistently seen in the posters and trailers of the movie, trolls noted how she's 'too serious' and 'doesn't look like she's having fun' as if the teaser were for a rom-com. Some even went to lengths to edit smiles on screenshots of her face from the video, just to press their point. And of course, Brie was not having it. Sharing edited images of her fellow Marvel stars Robert Downey, Jr. (Iron Man), Chris Evans (Captain America) and Benedict Cumberbatch (Doctor Strange) with eerily creepy smiles on her Instagram stories after catching wind of the commentary, she slammed the point to her haters' faces even without a single word spoken.
She's all about women supporting women
Are you following her on Instagram? If not, here's just one of the reasons why you should: she's a great source for information about other inspirational and empowering women. From time to time, Brie makes it a point to post about women from different decades, races, ages and fields and just talks about who they are and why we should know about their legacy in detail. Some of the women she's featured on her feed are Queen of Tejano and music icon Selena Quintanilla, artist Frida Kahlo, and entertainer and activist Josephine Baker. She also has a habit of sharing screenshots of tweets that talk about women empowerment and sharing snaps of magazine covers featuring women she's inspired by.
(Cover photo from: @brielarson)
Speaking of empowering women, read more about them through our I Am Her series.
Comments, questions or feedback? Email us at [email protected].