Our "I Am Her" series features the female movers and shakers of the industry to learn how femininity and power coincide beautifully and seamlessly together.
Farkhanda Chaudhry, who is more popularly known by her online alias Anda The Sea, is a multihyphenate. She's a beauty and lifestyle content creator and an entrepreneur with a diverse portfolio.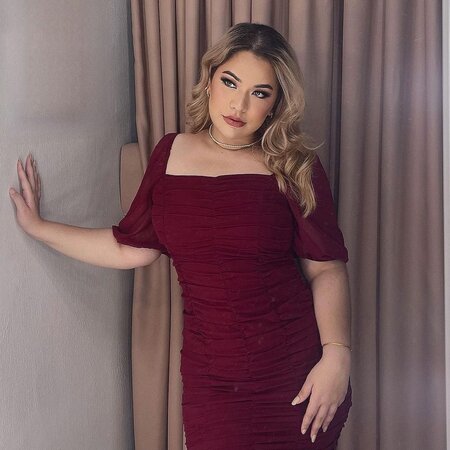 Her three businesses were borne out of her experiences and each provides unique solutions to common problems.
Clothing company WearBums produces sustainable, high-quality jeans that provide a great fit thanks to its wide size range, carrying sizes from 3XS to 4XL. Meanwhile, Araes Nails provides Muslim women with stylish water-permeable nail lacquer in fun colours.
Anda The Sea is also the founder of Singapore's first indoor glamping experience, BumOutSpace, which features cute spaces for casual hang-outs and special moments like surprise marriage proposals.
Curious how she was able to do all these? Farkhanda Chaudhry a.k.a Anda The Sea spills the tea on how she juggles her multiple ventures, how she deals with burnout and more.
Fill in the blank: I'm an entrepreneur, content creator and .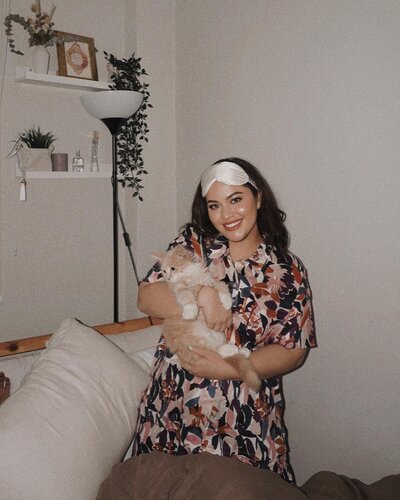 "Cat Mum!"
You started your career in retail in 2012 and subsequently worked in sales, marketing and brand management. Tell us how you were able to transition into entrepreneurship. What did you have to consider and prepare before making the career change? Why did you decide to change career paths?
"I feel like… I didn't really plan to go to entrepreneurship, it was just something that happened. When I started my venture, I was still working a day job back then. I was travelling a lot, and one thing I realised as a plus-size girl was that shopping was more fun overseas! The clothes looked and fit better and I just felt great. And I wanted to bring that experience back home! No more crying in fitting rooms, please! Haha."
You run several businesses that are quite different from one another. What made you choose these ventures? What do you envision for these brands?
"It's mainly things I genuinely love! I started WearBums because I love denim but I don't look good in it. And so, I decided to create a brand that's size-inclusive. If you can't find one that fits, we make one!
As for Araes, I founded it because as a Muslim, I can only use water-permeable nail lacquer. Most of the colours available for that are 'meh' and I was looking for ones that match my outfits and makeup — and so Araes is born!
Finally, I got the idea for BumOutSpace when I was still dating my husband. He was still in school at the time and on a budget. Having a hangout place is so expensive and I realised that other people may have the same problem as me. So BumOutSpace is here as an affordable option where friends and couples can bond."
You're quite a busy gal! As someone who's juggling several businesses and doing content creation, how do you manage your time? Are there productivity tips you swear by?
"If you can buy something to save your time, do it. That's why I hire a team! Or else, I'll be working too much and won't have time to grow my business. But apart from that, I follow an early morning schedule! I sleep early and start my day at 7 AM."
You've been quite open about how easy it is to experience burnout in the career path that you chose. How do you manage the stress that comes with your work?
"I think it's really important to find a balance and leave your work area once in a while. For me, I go out for activities where I don't ever take out my phone. It's also important to wind down so self-care days are important to me. I need my bath bombs and masks to detox my brain. Also, I keep two phones separately for business and personal matters.
So on days when I'm on Do Not Disturb mode, I don't check my work phone. People need to respect your time."
What's the most common misconception people have about being a beauty influencer and an entrepreneur?
"That we have it easy. I always laugh when I hear this because we work the minute our eyes open because our brain never stops thinking of content and we can't clock out. But I guess the grass is always greener on the other side."

If you were a makeup product, what would you be and why?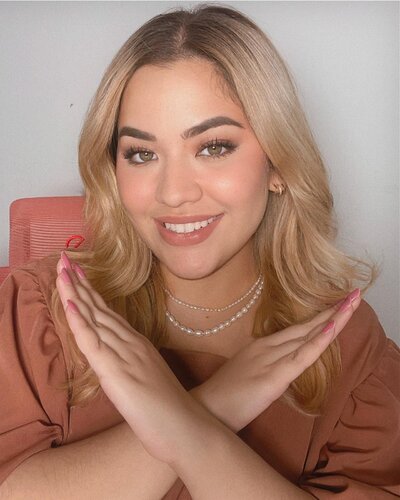 "I'd be a cheek and lip tint cause I can make you look awake and brighten up your day easily!"
Share with us your essentials. What are your must-have beauty, fashion and lifestyle products?
"I can't go without my favourite CHANEL tints and hair mists! Then for fashion, I'd say my accessories because I love 'bunning' my hair and wearing baggy clothes, so my glam touches come from necklaces and earrings. Of course, one of my essentials is my phone. My brain will go crazy without it!"
This interview has been edited for clarity and brevity.
Read more empowering stories about women here.
Comments, questions or feedback? Email us at [email protected].