If the noughties gave us a plethora of celebrity perfumes, the next decade proved to be a moment for beauty brands by movie stars, singer-songwriters and reality show icons. And it's looking like this trend is still going strong even in this era, but this time, more men are entering the scene. Harry Styles launched his brand Pleasing in November 2021 and it's been a hit since, with the initial pre-order collection immediately selling out upon release.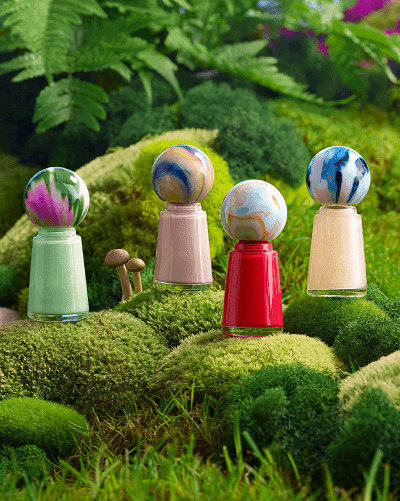 Pleasing is set to launch its new nail polish collection called "Shroom Bloom", which features four shades: light green, neutral grey, bold red and glitter coat. The nail polishes are priced at SGD29 each and SGD94 as a set.
The brand is also releasing a new addition to its skincare line, the Acid Drops Lucid Overnight Serum, priced at SGD51, which is said to be great for exfoliating the skin. There's also the Hand + Nail Balm, available for SGD37, which helps pamper your hardworking hands.
These products will be released on 15 March via the brand's website. Curious to know if you can snap them up? You'll be pleased to find out that Pleasing products are priced from USD20 to USD65 — and yes, folks, Pleasing ships worldwide!
More about the birth of a Pleasing beauty brand
Prior to the confirmation of Pleasing's launch, a Harry Styles fan account @TheHarryNews shared on Twitter that their idol has been listed as a director of a beauty company named "Pleased As Holdings Limited".
Harry is listed as a director under a new company, for perfume and cosmetics, as of May 25th. The company is named "PLEASED AS HOLDINGS LIMITED" as of now 👀 pic.twitter.com/m3R5w5CPfp

— Harry Styles Updates. (@TheHarryNews) May 28, 2021
Us Weekly confirmed this with some obtained documents. The papers say that the nature of the business is "wholesale of perfumes and cosmetics" and that Emma Spring, Harry Styles' former assistant, is also involved in the venture.
Some speculated that the brand name may be S.H.E. as in Styles, Harry Edwards, the musician's full name.
While some celebrities have been met with doubts if they even use their own products or questioned about why they're planning to launch a beauty brand when they don't use makeup, at the time, the news that Harry Styles will possibly launch a cosmetic company was curiously met — almost unanimously — with pure excitement.
harry coming out with his own perfume and cosmetics line??? if we are going to be able to say, "I'm wearing ___ by harry styles," you'll never hear from me again

— rachel🦋 (@canyonmoonblu) May 28, 2021
Harry Styles, a beauty mogul
Having a loyal, solid fanbase that followed him even after the hiatus of One Direction in 2015 could be a factor why a beauty brand from Harry Styles is welcomed by many. However, we also can't discount that he has become somewhat of a fashion slash beauty icon who's admired for bending gender expectations. He wears dresses. He's not one to shy away from makeup. He's obviously very fond of a good manicure and is seen wearing different polish styles, from quirky fruit designs to classic bold red.
It's even said that his "glamorous ways" have contributed to making makeup something that's not just reserved for ladies but for everyone. So it feels natural for Harry Styles to enter the world of beauty. While Pleasing has yet to release makeup products as of 2022, we won't be surprised if he would in the future as celebrities like him — and also K-pop stars — have normalised wearing "guyliner".
Skincare first, makeup next
You may not be surprised to know that skincare for men, along with grooming and hair styling products, have been seeing a rise in popularity as of late. It's no secret that established brands like Kiehl's, Nivea and Clarins among others now have dedicated skincare lines for men. The stigma for males using creams, toners and facial washes just isn't as strong as it used to be. But what about makeup?
Well, there's a good reason to believe that makeup will soon follow skincare's footsteps in getting destigmatised; concealers and powders saw a sales uptick in the past years among male consumers, according to a Singapore-based distributor.
With these developments, men can now be classified as "beauty-curious" but not yet enthusiasts, according to Vogue. This sets a good stage for Harry Styles' beauty brand Pleasing to expand his brand.
(Cover photo from: pleasing.com)
Curious where One Direction is now? Catch up with what they're up to here.

Comments, questions or feedback? Email us at [email protected].