Tired of having to shave daily? Speed up your hair removal ritual with the help of FOREO's new Peach™ 2 IPL Hair Removal Device!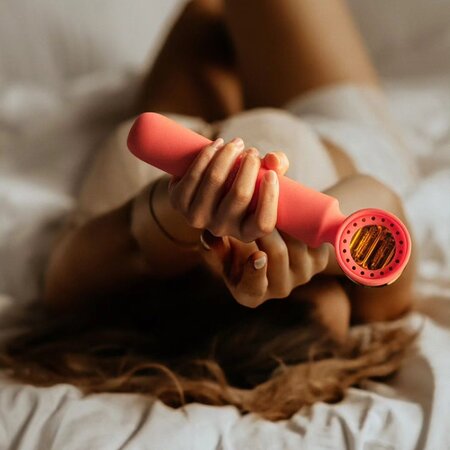 FOREO Peach™ 2 IPL Hair Removal Device
The FOREO Peach™ is an at-home IPL device that offers an accessible alternative to medical-grade IPL hair removal services you can get at aesthetic centres.
Due to its extra large treatment window and ability to deliver 120 flashes per minute, the FOREO Peach™ can be used on areas such as your face, underarms, and limbs and clear any unwanted hair in just 10 minutes. According to FOREO, you'll be able to see significant hair reduction after eight weeks of consistently using the device.
You can switch between two modes depending on how much area you want to cover. There are also five intensity levels that cater to different levels of skin sensitivity.
It has a lot of features that make the IPL hair removal more comfortable too. The built-in skin cooling system with 360° air ducts along the rim lets in a continuous breeze of cool air during treatments and calms the skin area. FOREO's signature T-Sonic™ massage temporarily dilates your pores so the light pulses can reach the hair follicles more easily.
The Peach™ 2 is also designed with a Smart Skin Sensor that only allows the IPL to work when the treatment window is in full contact with the skin.
It's made with body-safe silicone and comes with a power cable with four plug adaptors, a cleaning cloth, a Quick Start Guide and a General Manual. Plus, it comes in two colours: Peach and Mint.
While this device promises to be easy to use at home, you should still practise proper IPL aftercare like staying away from hot showers, suntanning, or applying scented products on the area. The brand also recommends using the Peach™ 2 with its PEACH™ Cooling Prep Gel for added skin cooling.
Price and where to buy it in Singapore
Need this handy-dandy device in your body care arsenal? It's priced at SGD639 and is available at Sephora Singapore and Selfridges.
(Cover photo from: @foreo_official)
Next, discover the new shu uemura New Serum-In-Cream Foundation.
Comments, questions or feedback? Email us at [email protected].