First, there was the Supersonic™ Dryer, then the Airwrap™ Styler, and now we have the Dyson Corrale™ Hair Straightener. Dyson's newest hair tool — years of research and development in the making — was unveiled last night, and needless to say, it's already creating a lot of buzz. It has a chic design that's almost too pretty to hide away in a drawer. While its features may have caught your interest, its price tag of USD499.99 might make you take a step back. Before you ultimately swipe your card for it, we break down the ins and outs of the Dyson Corrale to help you figure out if you really need this handy tool.

Do you have damaged hair?
If you've been styling your hair frequently, your hair is damaged in some form. Dyson's founder and chief engineer, James Dyson, shares that through their research, they've discovered that regular flat hair irons apply an uneven amount of heat and tension on the hair strands. The hair strands splay out as the straightener passes through, creating flyaways and unevenly straightened hair. This makes you go over the same area several times in order to get it completely straight. The steam emitted from the straightening is actually your hair oils being pushed out of the hair. This is when extensive hair damage occurs.
With the flexible plates in the Corrale, the hair is enveloped from all around so the heat and pressure are evenly distributed as you go down the length of your hair. This also lessens the amount of heat the hair is exposed to, so it minimises the potential damage (by half, Dyson claims) it might experience.
Do you have time to style your hair in the morning?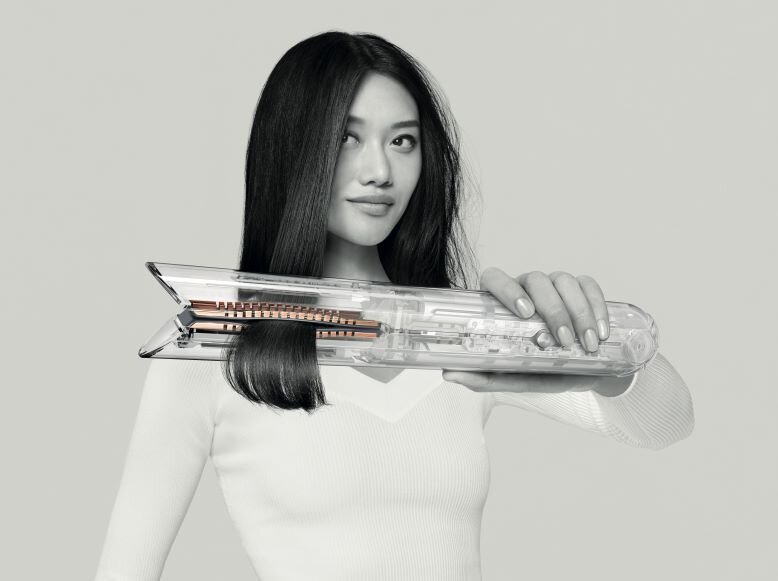 If you don't have quite a lot of time to prepare for your day, this might interest you. A Byrdie editor said that the Corrale turned her defined 3c curls to stick-straight strands in one swipe at only 365 degrees Farenheit. (Note: It took 400 degrees to get the same result with her regular straightener).
Not only that, the Dyson Corrale hair straightener has a rechargeable battery. So you don't have to worry about fighting with a plugged-in cord when you're in a rush. A full charge takes 70 minutes via cord or dock and can last up to 30 to 45 minutes, depending on the hairstyle you're doing. It's not the longest, but it's enough time to tame the flyaways — or if you're a daring soul, while in transit. "You can do your hair in the car as long as you're not driving, you can do it at work, you can do it in the washroom… you can top up [your hair] at any time," Dyson says.
Does your air-dried hair look frizzy?
While your hair needs to be completely dry when using this, a quick pass of the Corrale may be the solution to your frizzy-hair woes. The Corrale has three precise temperature settings: 165, 185, and 210 degrees Celcius that you can use depending on your hair type. If you have thin to medium hair, go for the lowest setting to make your hair sleek and shiny.
Do you like trying out different hairstyles?
Celebrity hairstylist Jen Atkin demonstrated how you can use the Corrale to achieve different hairstyles on models with varying hair types (watch it above!). She created bouncy waves on the model with straight hair, straightened the curls on another, and finished by making beach babe waves on the last model. "One of my favourite things is the flexible plates make it so the hair doesn't snag or catch as you glide the iron through the hair." As Atkin pointed out, the Corrale is versatile and easy-to-use so you can achieve the same bouncy and various styles without the extreme heat damage you'd experience from a regular hair straightener. Its power is most visible on the curlier hair, but can be used by women of varying hair types.
Do you dislike using hotel-provided hair dryers to style your hair?
You may have noticed while travelling that most hotels provide guests with a hairdryer to use. While it gets the job done, it may not be your preferred styling tool. The Dyson Corrale™ Hair Straightener actually has a flight mode feature that meets air travel standards. Since it's battery-operated, Dyson installed a plug that deactivates the battery so you can keep it in your carry-on luggage. It also has universal voltage, so you can re-charge it anytime and anywhere you are.
With all these considered, do you think you'll be buying the Dyson Corrale™ Hair Straightener when it becomes available in your country?
(Cover photo from: Dyson)
Watch our unboxing video of the Dyson Airwrap™ Styler.
Comments, questions or feedback? Email us at [email protected].