BLACKPINK's Lisa has served us various nail art inspirations that are bold but wearable, and these new '90s colourful gradient nails are no exception.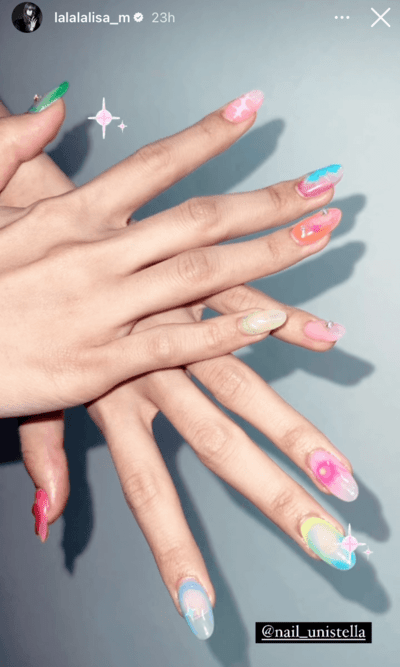 The 25-year-old rapper showed off her latest retro-inspired nail look in an Instagram Story. Her digits sport a gradient look that features dreamy translucent shades including pearly blue, cherry red, raspberry pink, zest orange, fresh green and baby pink. One finger stands out among the rest with its eye-catching two-toned lime and aquamarine palette.
When compared to Lisa's previous nail art, such as the extra-long pink square-shaped claws she wore in 2020, her newly dressed talons are much easier to maintain with their nice oval shape and medium length.
The artist behind the art? None other than celebrity nail artist Park Eunkyung, also known by her pseudonym Unistella.
Unistella has a long relationship with BLACKPINK and has worked with the K-pop girl band for various nail projects. Remember Lisa's ice cream-themed nails for the Ice Cream music video with Selena Gomez? Yup, that's made by Unistella!
Now that Lisa is rocking another stunning nail art, could this mean that a music video is already in the works for BLACKPINK's reported upcoming comeback? We certainly hope so.
(Cover photo from: @lalalalisa_m)
Want to get bold nails without the hassle? Check out these best nail wrap options.

Comments, questions or feedback? Email us at [email protected].