BLINKS, after more than a year of waiting, it's finally happening! Yesterday, BLACKPINK members Lisa, Jennie, Rosé and Jisoo simultaneously posted teasers to their upcoming comeback single How You Like That. Each member is notably donning hype-worthy hair transformations.
Both
South Korean
and
international fans
expressed their excitement over the news, with the girls' upgraded hairstyles getting the attention. Followers of the idol group have been
pressuring the girls' agency YG Entertainment
for new music since their hit
Kill This Love
was released back in April 2019, making this comeback undoubtedly much-anticipated.
Even so, we still have to wait a little bit longer as the single will only officially drop this 26 June. In the meantime, what do you say about celebrating the news by ranking some of BLACKPINK's best hair transformations we've seen through the recent years? Let's go.
Lisa's black locks
It's hard to talk about BLACKPINK hair transformations without mentioning Lisa's signature full fringe. But even if we've loved her in it in blonde, ashy grey, and various shades of brown, striking black immediately topped our list. Despite being natural among Asians, black locks look incredibly otherworldly when contrasted with Lisa's doll-like features, emphasising her round eyes and full lips even more. This also highlighted her similar features with Japanese actress and model Komatsu Nana, whom fans have dubbed Lisa's doppelganger. Don't believe us? Just check out this photo as proof!

Pull it off: A full fringe is definitely not for everyone. But if there's one thing we've learned from Lisa — and other Asian celebs who love this hairstyle — spunk and confidence trump most rules in fashion and beauty. Just make sure that if you do decide to get a full-fringe inspired by BLACKPINK's main dancer, going to a professional is very much recommended than doing it yourself, especially if you're trying it out for the first time.
Red rose Rosé

Everyone's raving about Lisa's red hair in the How You Like That teaser so we're here to remind you that Rosé did it first. Before her more-recognised blonde hair, Rosé was all about channelling her flower namesake with beautiful beach-waved red locks. Her affinity for pink and orange makeup complemented the hairstyle flawlessly, giving an alluring edge to her natural soft features. And sure, we love her current choice of hair colour, but we're really hoping she gives this shade a second chance.

Pull it off: Red dye has always been a popular choice for anyone who wants a major hair revamp. But the secret to pulling it off like Rosé is in choosing a shade that works well for your skintone. Not ready to commit? Try out her favourite beach-waves instead by using a bigger barrel on your curler or using socks for heatless, loose curls — there's a TikTok tutorial for it.


Jisoo's brief pink hair moment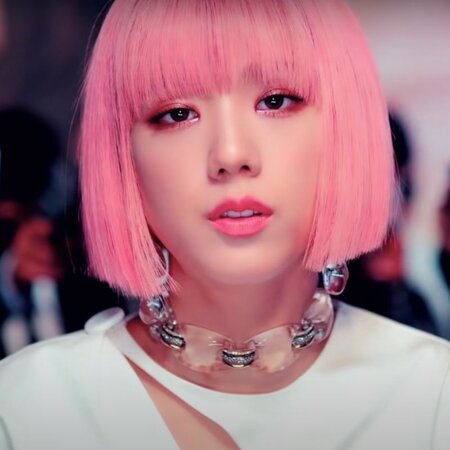 Just like Rosé, Jisoo also sported red hair for some time. But her brief pink moment in their
DDU-DU DDU-DU music video
is what truly caught our eye. Sure, she's wearing a wig in the scene but the traffic-stopping colour matched with the rounded bob was visually exciting, especially since we're so used to seeing her with fringeless long hair in more neutral colours. It's also interesting to note that among the previous BLACKPINK hair transformations we've mentioned, this one holds a specific meaning.
As confirmed by the girls in a 2018 TV appearance, pink-haired Jisoo in the music video is meant to represent her 'true-self', contrasting her other 'image' typically focused on by the media. In the sequence, Jisoo donning the bold hairstyle is ignored by the cameras who are obsessed with her more 'pristine' celebrity photo. That is until she trips and falls. Sad, right? We love you, Jisoo!

Pull it off: If committing to pink hair is too much for you at the moment, we say focus on Jisoo's choice of cut instead. Rounded bobs are a great choice if you're thinking of a shorter chop that still gives a bit of volume and shape. It's also a lot friendlier for varying hair textures as compared to a blunt cut since its softer edges need less styling and maintenance.


Barbie Jennie
Among the other girls, Jennie is probably the least experimental when it comes to her hairstyle and hair colour. So her short stint as a blonde in the group's Kill This Love music video is definitely one to take note of. This is a BLACKPINK hair transformation that truly took a 180-degree turn, giving Jennie's usually soft and adorable features a somewhat badass and edgy vibe we often associate more with Lisa. Simply put, Barbie Jennie is too much for our hearts to handle so we can totally see why she didn't make this permanent!

Pull it off: Bleached hair is nothing new to us Asians. But while going for lighter locks is not that big of an issue, post-treatment hair care is still of utmost importance. Bleached dark hair easily gets brassy when not taken care of properly so aside from using purple shampoo to neutralise yellow and orange tones, make sure you consult your hairdresser for more hair maintenance measures.
(Cover photo from: @blackpinkofficial)
From K-pop to K-drama, have you seen our plot predictions for Kim Soo-Hyun and Seo Ye-Ji's upcoming drama It's Okay Not To Be Okay?
Comments, questions or feedback? Email us at [email protected].