This article was first published on 29 July 2022.
Want to change up your look? Try having bangs for a change. Whether it's a full fringe or face-hugging side bangs, this hairstyle can help upgrade your appearance in a quick but lasting way. Don't want to head to the salon to get it? You can try snipping off your tresses at home. Here's how to cut your bangs on your own.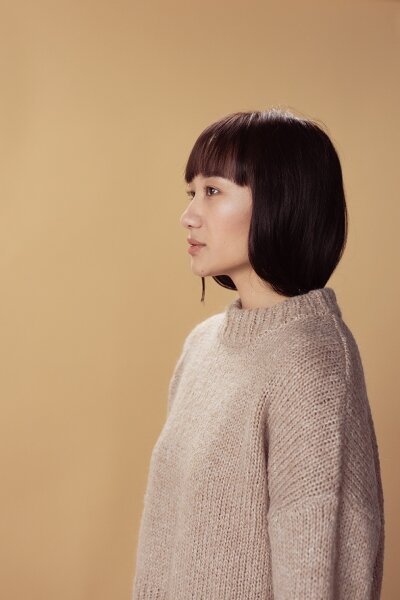 What you need to cut your bangs
All you'll need is a pair of scissors and a fine-toothed or rat-tailed comb. The first one is self-explanatory — make sure they're sharp! The comb will be used to section your hair and achieve a precise part.
If you've already committed to managing your own haircuts in the future, you can invest in salon-grade hair sheers.
1. LePinko Hair Cutting Scissors Set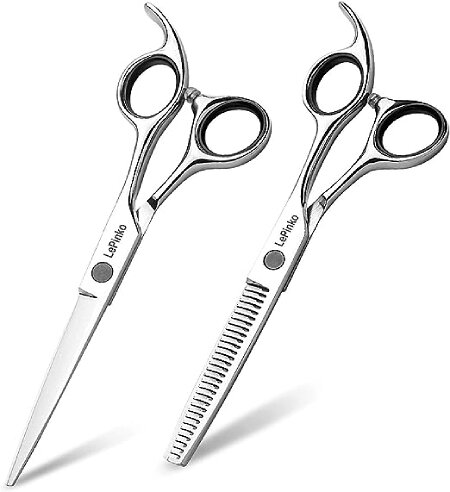 This set comes with two types of hair scissors. These are premium and handmade from Japanese stainless steel. The brand also promises these are anti-static, so you won't deal with post-cut frizz. You also get a PU leather case to protect the scissors whenever they're not in use.
You can find it on Amazon for SGD39.99.
2. Matsu Be Seen & Precise Scissors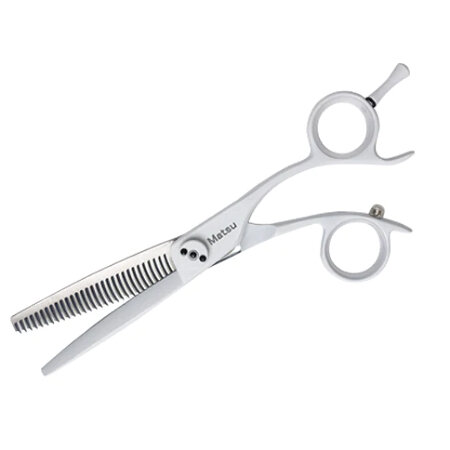 If you're just looking to buy one pair, the Matsu Be Seen & Precise Scissors will be a worthy investment. It has precision-cut blades that are coated with an anti-rust agent to keep it shiny and sharp for years to come.
You can find it on trendsupply.com.sg for SGD45.90.
For a full, blunt fringe
A full fringe a.k.a. blunt bangs are probably what you think of when you think of bangs. It's cut straight across the forehead and will cover your eyebrows. Some celebrities you've seen rocking blunt bangs are BLACKPINK's Lisa Manoban and Ariana Grande.
Step 1: Start with dry hair
We often see hairstylists do haircuts on wet hair but this isn't recommended for DIY hairstyles, especially for bangs. Your hair bounces back and is shorter in length once dry. Chances are you'll cut your bangs shorter than you planned and will have to wait for them to grow up before being able to remedy the situation. So keep your tresses as dry as possible.
Step 2: Section off the front section of your hair
Starting from the front of your ear, create a part going up to the top of your head and continuing on to the other ear. From there, section off a triangular shape coming from the top and going to your forehead's hairline. This will make up your full fringe.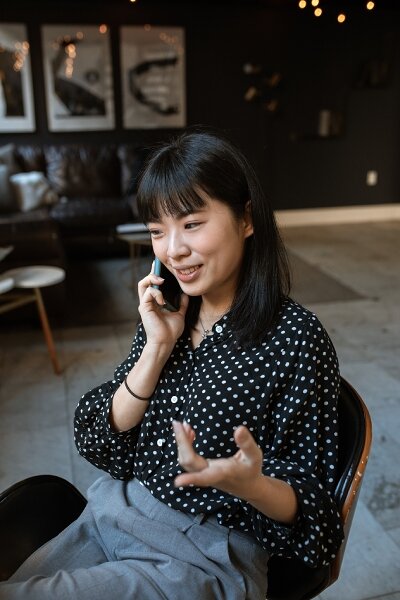 Step 3: Get to snipping
Twist the hair strand until everything's bundled up, hold the end between your middle and pointer fingers, and estimate the ideal length you're going for. Place your scissors a little below the ideal length and cut your hair straight across, using your fingers as your guide. This creates a blunt straight line. You can soften the edges by holding your scissors vertically and snipping off any flyaways or stragglers.
Step 4: Style your bangs with heat and a little bit of hairspray
Comb through your newly cut bangs to check for any unevenness. Once you're satisfied, you can use a hairdryer and a round hairbrush to style your bangs. Remember to roll the brush outward with the heat directly going to your bangs. Lock them in place with a bit of hairspray.
Go for a hairspray with a flexible hold like the Drybar Money Maker Flexible Hold Hairspray. It helps tame any frizziness without leaving your bangs stiff or crunchy.
It's priced at SGD46 per 218G at
Sephora
.
For curtain bangs
Curtain bangs are parted down the middle, hug your face, and blend into the rest of your mane. They're wispier and have less hair needing to be cut. It's definitely a more subtle option if you can't commit to the full fringe. You'll see K-pop soloist IU and actress Dakota Johnson sporting curtain bangs at the moment.
Step 1: Put your hair in a high ponytail at the highest point of your head
Create a high ponytail with the front half of your mane, starting from behind your ears. Once you have the ponytail secured, twist the tress throughout its length. Keep a hold of the very end and cut straight across about two inches up from your fingers.
Step 2: Measure an inch back from your hairline
With your hair still up in a ponytail, use your comb, measure an inch from your hairline, and part it down the middle. Take one section and twist it away from your face before snipping off one to two inches of hair at a downward angle. Do the same for the other side. Make sure they're symmetrical! This will be the face-framing hair strands.
Step 3: Finish off the layers
Take down the ponytail, separate your hair into two halves, and section off an inch from your hairline on either side. Gather a half-inch strand, twist it away from your face, and cut it straight across. You can perfect the hair blending by cutting some of the longer strands at a downward angle.
Step 4: Style your bangs
The work isn't done yet! Bust out your hair curler, preferably one with a medium-sized barrel, and curl your bangs away from your face in one-inch sections. This will give your hair more body and make the bangs blend more naturally into your hair.
If you want a softer curl, you can use hair rollers — yes, exactly like you see in K-dramas — to add some bounce to your bangs.
Having bangs is an effortless way to add more life to your everyday hairstyle. With this guide, you can achieve it easily at home.
Here's a quick tutorial on how to curl your hair with a flat iron.
Comments, questions or feedback? Email us at [email protected].