This article was first published on 15 April 2022.
If you're a first-timer at getting any sort of aesthetic treatment or facials done, the thought of it can get a little… daunting to say the least. Where does one even begin? Are you really just lying down in a cold, white, sterile room leaving your face and body in the hands of a perfect stranger? Is the front desk going to be unflattering, overhead lights fronted by a nonchalant receptionist?

Modern aesthetic clinics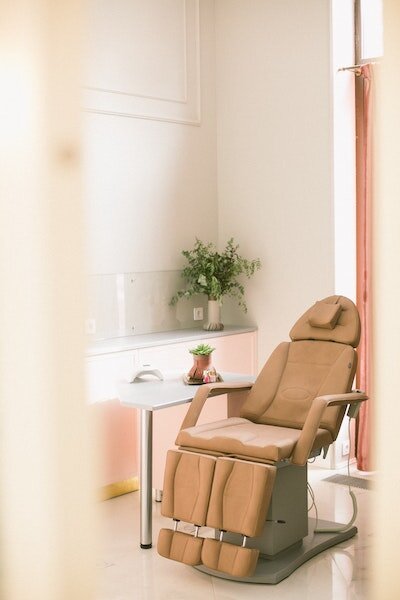 Well, we're here to tell you that clinics like that are a thing of the past, and most clinics now pay the utmost attention not only to the technology and efficiency of their treatments but the look and feel of their clinic interiors. After all, getting any sort of treatment done is a form of luxury, and with luxury, the experience and the ambience matter just, if not as much, as the actual product you're selling.
While treatment efficacy is important, being taken care of in a place that is aesthetically pleasing might put you in an even better frame of mind to enjoy the experience. Here are some clinics in Singapore worth checking out.


1. Epion Clinic
With its iconic black and white striped marble flooring, gold panels, plush velvet furnishings and art deco fixtures, one might have thought they'd step back in time into a 1920's mansion from The Great Gatsby at the Epion Clinic.
Why you'll love it: When it came to the design of the place, according to founder Dr Melvin Tan, he wanted the surroundings to mirror their approach to aesthetic finesse and efficacy, and be a chic, stylish space that one can retreat comfortably to and emerge feeling like a better version of themselves. This warm and inviting space will surely make you feel like you're at an upscale hotel that you'll never want to check out of.
Epion Clinic is located at 145 Tanglin Rd, Singapore 247931.


2. The Covette Clinic
If you're coming in for a treatment to beautify yourself, then it makes perfect sense that you would want to be surrounded by beautiful things. Citing their opulent clinic as a "medical revolution" The Covette Clinic takes luxury to a whole new level. With soft, flattering lights everywhere and a soothing palette of neutrals, this is one clinic that will make you feel good not just walking out, but walking in as well.
Why you'll love it: With private rooms for hair, body and facial treatments, the clinic also boasts private relaxation pods where you can indulge in some light refreshments before embarking on your treatments. So if you're planning to get something done here, be sure to arrive early to make full use of their amenities.
The Covette Clinic is located at 22 Malacca St, Level 6 RB Capital Building, Singapore 048980.
3. Cambridge Medical Group
Interior speaks volumes of the clinic you're visiting, and invokes a certain emotional response you feel towards the place, even before you've spoken to any doctors or tried out their treatments. If discretion and a sense of privacy is super important to you, then you might want to give Cambridge Medical Group a try.
Why you'll love it: At first glance, the clinic might be mistaken for a trendy boutique hotel in London's Soho area with its glass fixtures and modern design. The vibe is intentional, as the clinic values discretion and comfort for the high-end clientele that walks through the door, facilitating a restful environment where patients can sit back and relax.
Cambridge Medical Group is located at 391B Orchard Road, #08-05A1, Tower B, Ngee Ann City, Singapore 238874.
4. SW1 Clinic


Founded by Dr Low Chai Ling and Dr Kenneth Lee, SW1 is their second iteration of The Sloane Clinic, the name is actually the postcode of Sloane Street, the infamous upscale area in the borough of Chelsea, London.
Why you'll love it: Swathed in shades of pastels, this 8,000 sq feet clinic at Paragon is a Pinterest dream come to life, with its millennial pink interior being its star attraction (besides their award-winning treatments of course!). Gone are the giant office desks, and consultations are done in well-decorated rooms filled with sofas and cushions, making you feel like you're in your friend's living room. Hands down this is one of the prettiest clinics in Singapore.
SW1 Clinic is located at 290 Orchard Road, #13-01/2/3/4/5/6, Paragon, Singapore 238859.
5. Skin Pple
Erm, is this a spa? Or the Aesop store? Either way it doesn't matter because if just looking at Skin Pple's environment calms our soul, we're sure it's going to do wonders for our skin. Rest in tranquility as you soak in the wabi-sabi vibes of the space.
Why you'll love it: With a philosophy of activating the body's inner intuition through its five senses, the enveloping space immediately invokes a sense of calm, making you feel you're about to enter a private grotto, only instead of finding Ariel's treasures, you're treated to a myriad of experiential beauty treatments that will ensure you're beaming both on the inside and out.
Skin Pple is located at 391 Orchard Rd, #03-08C Ngee Ann City, Singapore 238872.
6. Bespoke Aesthetics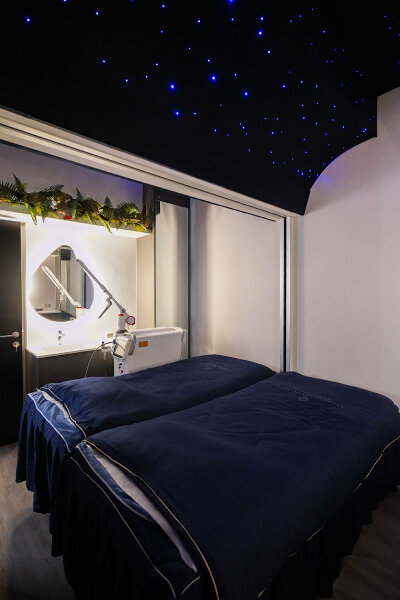 Founded by Dr. Hong Foo, Bespoke Aesthetics is a holistic wellness, beauty, and lifestyle clinic found at Lanson Place Winsland on Penang Road. The clinic offers holistic MedSpa treatments for the face and body, so you feel beautiful and rejuvenated from head to toe.
Why you'll love it: Bespoke Aesthetics' 1,500 square feet space is inspired by the cosmos and nature. In this Instagrammable aesthetic clinic, you can enjoy a relaxing facial treatment in a room with dark walls and colour-changing LED lights that mimic a starlit sky filled with shooting stars. The MedSpa also has a members-only lounge where you can enjoy a refreshing drink after your treatments. It's truly a treat for your mind and body.
Bespoke Aesthetics is located at Lanson Place Winsland, Unit 01-01, 167 Penang Road, Singapore 238462.


7. illumia Medical
This aesthetic clinic provides great long-term solutions for all your beauty needs. Their industry experts also promise to guide you through your pampering journey, making sure that you get the results you need with as little compromises as possible.
Why you'll love it: With their wide array of services, you'll have every option to choose between invasive and non-invasive treatments to suit your preference and budget. Their clinic's sleek interiors also serve as the perfect backdrop for your pre- and post-treatment selfies.
Check out illumia Medical's various locations here.
8. The Clifford Clinic
Looking for non-invasive aesthetic treatments with little to no downtime? The Clifford Clinic is the place to go. This trusted clinic offers services that allow you to get high-quality services you can easily squeeze into your busy schedule without any fuss.
Why you'll love it: This clinic addresses many concerns, from hair loss and scalp issues to face and body skin improvement, making it a one-stop shop for all your beauty needs.
The Clifford Clinic is located at 50 Raffles Pl, #01-01 The Clifford Clinic, Singapore Land Tower, Singapore 048623.
While you're at it, check out these next-level facial treatments, too!
About the author
Noemi Lange is an individual made up of coffee, crystals and anxiety. She spends way too much on designer clothes and believes that everyone should make time for therapy (both retail and the regular kind). In her free time, she likes listening to fictional rock bands, actual rock bands and taking long walks in the Prada store.
Comments, questions or feedback? Email us at [email protected].