A chemical peel might sound daunting with its name and all, but it's actually one of the most effective aesthetic treatments available. The procedure involves the topical application of a chemical solution (hence the name) to improve and smoothen the texture of the skin by removing its damaged outer layers. It is helpful for individuals with facial blemishes, wrinkles and uneven skin pigmentation.
Three basic versions of a chemical peel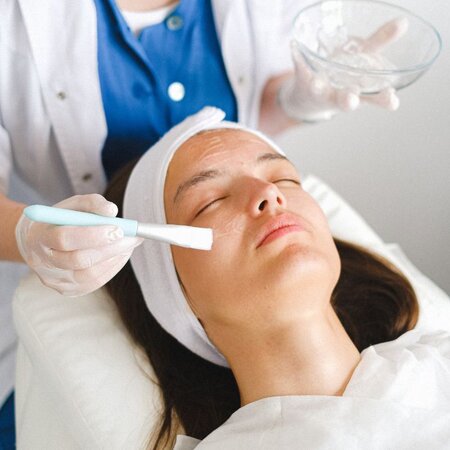 1. Superficial
This penetrates only the outermost layer of skin to gently exfoliate it. This treatment is used to improve the appearance of mild skin discolouration and rough skin.
2. Medium
This one penetrates the outer and middle layers of skin to get rid of damaged skin cells. This treatment is used to improve age spots, fine lines and wrinkles, freckles and moderate skin discolouration. It can also be used to treat some precancerous skin growths.

3. Deep
Trichloroacetic acid or phenol is applied to deeply penetrate the middle layer of skin to remove damaged skin cells. The treatment removes moderate lines, age spots, freckles and shallow scars. As the patient will see a dramatic improvement in their skin, some moderate downtime might be required.

Additional reminders when getting a chemical peel
While the procedure is simple, always ensure you pick the right clinic and trust your skin in the hands of a reputable doctor as the wrong combination of products (or even leaving the solution on for too long!) might cause chemical burns on your skin.
Another thing to note: your skin will temporarily be more sensitive to the sun after treatment, so be sure to avoid any prolonged sun exposure and slap on even more sunscreen after to make the results last as long as possible!
Here are ten clinics that offer different-grade chemical peels that you can check out in Singapore.
1. Only Aesthetics
A five-minute express medical facial peel by
Only Aesthetics
, this treatment is a good one for anyone who's looking for a quick fix, but can't spare the luxury of spending hours at a clinic. With a specially formulated formula that boosts skin renewal and aids exfoliation, it will help to get rid of bacteria and accumulated dead skin.
Address: Various locations
2. Ensoul Clinic
Best suited for people with sun-damaged skin, pigmentation, uneven skin tone, and fine lines on the skin,
Ensoul Clinic
has a range of chemical peels — ranging from superficial, medium and deep — depending on how deep your skin issues lie. Depending on what you choose after your consultation with one of their doctors, the different peels will target the different layers of your skin.
Address: 360 Orchard Road, #08-01/08 International Building, Singapore 238869
3. Singapore Aesthetic Center
Using different acid types available in different strengths and combinations to improve skin conditions such as — Lactic Acid, Glycolic Acid, Salicylic Acid, Phenol & TCA — Singapore Aesthetic Center's chemical peel is used to treat fine wrinkling, areas of dryness, uneven pigmentation and acne. For those with sensitive skin or looking for a mild peel, you may request for Alphahydroxy Acids (AHAs) and Betahydroxy Acids (BHAs) such as glycolic, lactic or fruit acids for a gentler approach.
Address: 10 Sinaran Dr, #10-13 Novena Medical Center, Singapore 307506
4. Cambridge Medical Group
At Cambridge Medical Group, you can get chemical peels for your face, neck and area around your eyes. The clinic is a big believer of the benefits of the treatment, stating that it can help improve the following issues — uneven skin tone, skin cell regrowth, skin hydration, breakouts, skin buildup, superficial scars and fine lines and wrinkles.
Address: 391B Orchard Road, #08-05A1 Tower B, Ngee Ann City, Singapore 238874
5. Cutis Medical Laser Clinic
Does your skin look lackluster or feel rough and unhealthy? At Cutis Laser Clinics, they have different types of Cutis chemical peels for dealing with several skin concerns/problems. Ranging from superficial peels that utilise plant extracts to medical-grade peels that contain a special formulation designed to address a number of skin issues, book a skin consultation with their doctors to see what suits your best.
Address: 9 Scotts Road Pacific Plaza, Scotts Medical Center #08-07, Singapore 228210
6. Radium Medical Aesthetics
A popular clinic to get this skin resurfacing treatment,
Radium Medical Aesthetics
believes that a chemical peel is one of the most convenient and inexpensive ways to start your anti-ageing skin regime. Their doctors regularly recommend this treatment as a way to treat various types of skin pigmentation and to achieve a brighter, smoother skin tone.
Address: 3 Temasek Boulevard, #03-325/326/327/328 Suntec City Mall, Singapore 038983
7. Astique The Aesthetic Clinic
A relatively mild chemical peel that's great for beginners,
Astique
's chemical peel begins with cleansing, followed by the application of a glycolic peel to the treatment area. The peel is left on the skin for a few minutes before a neutraliser is applied. At the end of the treatment, moisturizer and sunblock is then applied to the skin. The whole process only takes 10 minutes and requires no downtown — great for those who want a quick lunchtime fix!
Address: 1 Grange Road, Orchard Building #12-02, Singapore 239693
8. Bio Aesthetic Medispa
If you're interested in adding exfoliating peels to your monthly skin routine, try
Bio Aesthetic Medispa
's
Classic Hydra Peel Facial
. A fan of local beauty influencers and celebrities, this treatment helps to gently cleanse and draw out impurities while soothing the skin with vitamins, minerals, enzymes and amino acids.
Address: Various locations


9. Angeline Yong Dermatology
Founded by renowned Singapore dermatologist Dr. Angeline Yong, this centre offers a number of treatments aimed to rejuvenate your skin. Their chemical peel treatment aids collagen production and helps repair your skin and even out your skin tone.
Address: 6 Napier Road, #02-04/05 Gleneagles Medical Centre, Singapore 258499
10. Fusion Medical
This aesthetic clinic uses a customised chemical peel formulated for those with sensitive and acne-prone skin. The procedure aims to lessen oiliness and deal with common causes of breakouts. If you want a full body treatment, they have other peels you can avail of to get your desired results.
Address: 501 Orchard Road, #04-11, Singapore 238880
Next, why not book a gua sha facial in these aesthetic clinics?
Comments, questions or feedback? Email us at [email protected].