Picture this: The sun shines brightly outside. You hurriedly get out of the shower and are ready to take on the day. You put on your cream lotion and revel in how moisturised your skin feels. Come mid-day, the moisture turns into a sticky, greasy mess, especially with the sweltering heat. You ask yourself why you put on lotion in the first place.

That's often the image that comes to mind when we think of cream lotions. But did you know that you can get skin hydration in the same format minus the greasy, sticky feel? Meet the
NIVEA Body Souffle in Cherry Blossom
, a new cream lotion that dispels all the notions of creams being heavy and greasy. It's true! Here's why you'll love it.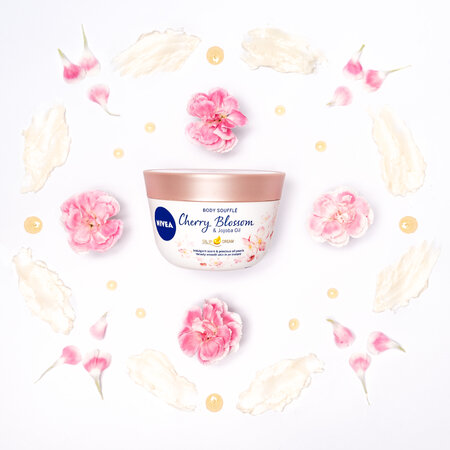 Deeply nourishing
It's a luxe cream lotion that gives the skin deep nourishment. Infused with extra-hydrating and skin-saving real Jojoba oil and precious oil pearls that melt onto the skin, this body souffle is great for moments you want to pamper your skin — whether you're preparing for the day or getting ready to doze off at night.
Jojoba oil is great because it moisturises the skin without clogging the pores — so you're sure to get skin that's soft without any hitch. It also has shea butter that restores the skin's elasticity, giving you skin that's soft and smooth.
Luxurious but lightweight
Despite its richness and extra-hydrating benefits, it's incredibly lightweight. Indulge yourself in applying it because it's fuss-free and gets absorbed by the skin quickly. It moisturises the skin effectively, leaving it with a soft velvety finish that doesn't get sticky or greasy.
So whether you're at home or in the office, you can refresh and moisturise your skin without having to wait a long time before the cream dries. Plus, it has a cherry blossom scent that rejuvenates and refreshes.
Get the NIVEA Body Souffle in Cherry Blossom here.
Comments, questions or feedback? Email us at [email protected].