We know how important it is to follow a healthy and nutritious diet. But showing TLC for our bodies shouldn't stop there. NIVEA has unveiled its 10 Super Vitamins & Skin Foods Lotion, which aims to hydrate, brighten and repair dull, damaged skin with its nutrient-rich formula. Check out our review of this body lotion below.
But first, my skin woes: dry patches and a dull skin tone
Let's start with a little background about my skin woes. I work in an air-conditioned environment and spend hours under the sun during the weekends. It doesn't help that I've been neglecting my bodycare routine too. These external stressors have caused my skin to show visible signs of dullness and damage, such as dry patches around my knees and elbows as well as dark spots on my chest and arms.
NIVEA Super 10 Lotion product benefits: brightens and repairs dull, damaged skin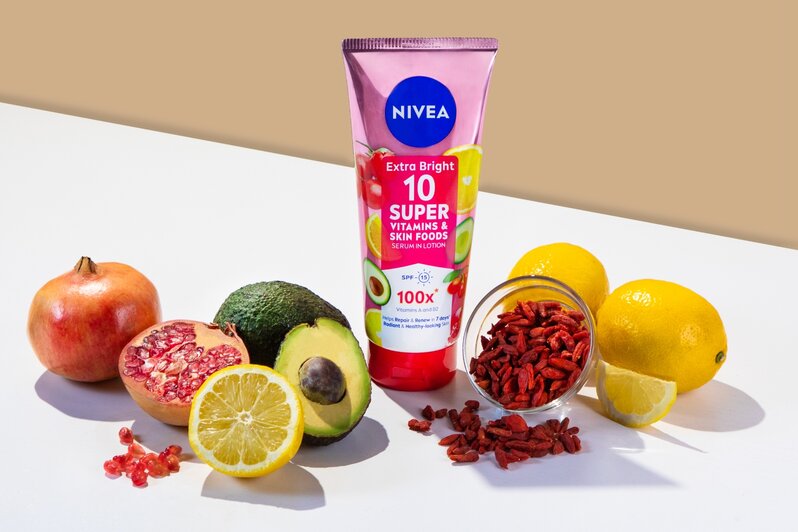 The NIVEA 10 Super Vitamins & Skin Foods Lotion boasts a powerhouse combination of vitamin C and niacinamide, which aims to help users achieve radiant, youthful skin in seven days. It contains antioxidant-rich ingredients such as lemon, goji berry, pomegranate and avocado extract to nourish and smoothen the skin. Plus, it offers SPF 15 sun protection and has 100 times the repairing power (thanks to its vitamins A and B2) to repair dull and damaged skin.
My first impressions of the product? It's housed in bright and bold packaging and comes in a large squeeze tube. Each tube offers 320ML of product and dispenses a controlled amount each time so you won't need to worry about spillage. Its distinct scent and texture remind me of berry-flavoured yoghurt. The product gets absorbed quickly into the skin, is non-sticky, and feels lightweight yet hydrating — thanks to its body serum-in-lotion formula.
Sure, the product looks, smells and feels good, but is it actually nourishing for the skin?
Before and after using NIVEA Super 10 Lotion: what are the results?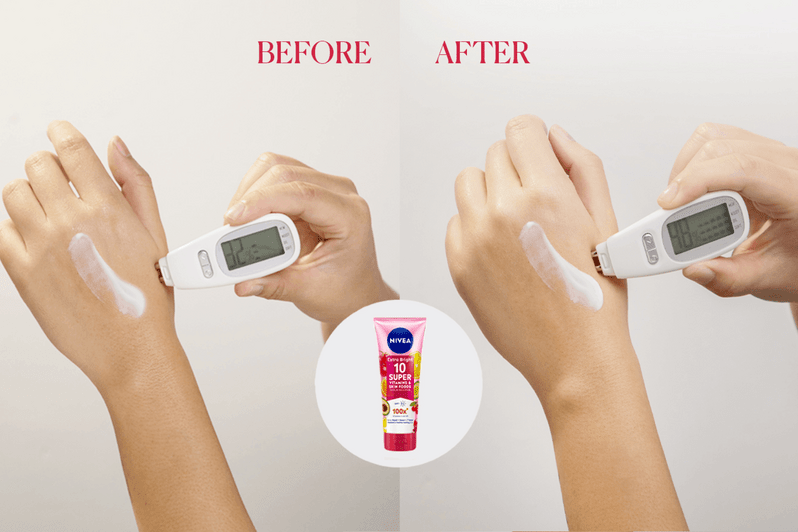 Dry, flaky skin is one of the most visible, telltale signs that your skin is damaged. With the help of a moisture meter, I decided to compare my skin's moisture retention levels before and after using the NIVEA Super 10 Lotion.
My skin's moisture level was at 32%, which indicated that it was dry. Upon applying the lotion, my skin's moisture level rose to 48%. My skin looked more hydrated, supple and radiant and I liked how the lotion did not leave behind a tacky feeling either. In all, the NIVEA Super 10 Lotion has done a great job boosting and retaining my skin's moisture levels.
Unlock radiant skin with the NIVEA Body Even Tone Vitamin range
The NIVEA 10 Super Vitamins & Skin Foods Lotion has impressed me with its moisturising properties. But what I also appreciate about this product is its lightweight, fast-absorbing texture. It makes it so much easier to re-apply the product throughout the day whenever my skin feels dry. With continued use, I'm keen to see how it can make my skin look even more radiant and youthful.
Curious to check out the product for yourself? The NIVEA Body Even Tone Vitamin range also includes two other variants to meet different bodycare needs. All three products in the range focus on repairing dull and damaged skin, but you can opt for C&E for radiant and moisturised skin, or C&A for radiant and smoother skin.
Now, discover some reviews from our TheBeauClub members and see what they have to say about the NIVEA Body Even Tone Vitamin range.
Ready to repair and restore radiance to your skin? Shop the NIVEA Body Even Tone Vitamin range today.

Comments, questions or feedback? Email us at [email protected].