When was the last time you gave yourself time to unwind? With our busily packed lives, we often forget that setting aside time for self-care should be a priority. And no, you don't need to spend a fortune on going out to pamper yourself. You can do so in the comfort of your own home, with just a few accessories and tweaks to your routine. Check out our checklist for the ultimate home spa experience.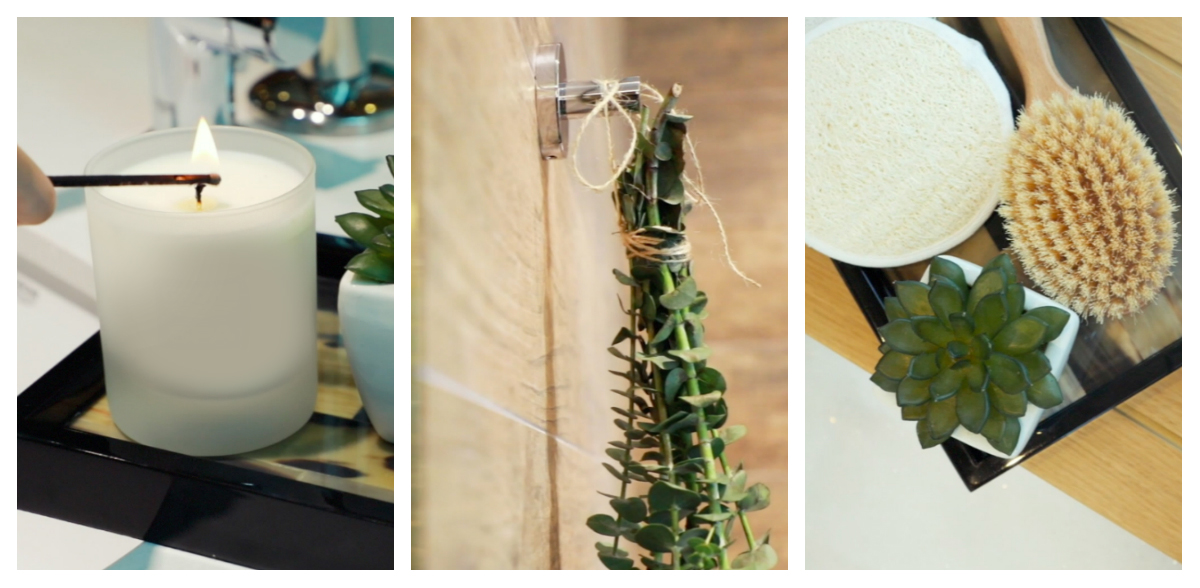 Set the mood with a scented candle
Luxurious spas evoke a relaxing feeling through the sight and smell of flickering candles, so let's create this same experience at home. Choose a scent that relaxes you and that signals to you that the work day is over.
Hang eucalyptus on your shower head
The scent of eucalyptus is invigorating. It calms your mind while also energising your senses. Hang a branch of eucalyptus on your shower head and let the steam of the hot water release its scent. Plus, did you know that eucalyptus also has antibacterial properties? Your skin will feel extra clean after your shower.
Exfoliate with a loofah

Treat it like getting the stress off your skin. Choose the type of scrub that works best for you — a body scrub in a jar works well while a loofah or a dry brush is also good for a more thorough exfoliation — for a brighter complexion. It works like a massage for your skin, too.




Lather like no other

Indulge in a bath gel that you can use for more than just cleansing and that elevates your bathing experience every single time.
Neutrogena Rainbath Shower & Bath Gel
is great for cleansing, softening and conditioning the skin.
Aside from skin-saving properties, Neutrogena Rainbath comes in different variants infused with different scents to give you the feeling of a luxurious spa experience in your own home.
Pear & Green Tea
helps take away your stress by creating an image of peaceful greeneries with every whiff.
Gold Lush
has a spicy fruit scent that makes you feel relaxed and refreshed.
Ocean Mist
lets you conjure up images of days by the beach and hearing the sound of waves.
You can also use the Neutrogena Rainbath Shower & Bath Gels as a shaving cream alternative — but with an added perk of smooth freshness! If you have a bathtub, lather up a bubble bath for an opulent me-time.


Match it with music
Make your at-home spa experience a multi-sensorial one with the help of music. Set the mood and chill out to tunes that evoke calmness and serenity. Of course, that could mean different things to different people, so pick your go-to playlist, whether it be cheery pop songs or soothing classical tunes.
Feed your mind
What better way to escape the stressors of real life than diving into a fictional one? There's just something about turning the pages that an e-book cannot replace. If you're not the type to pick up a book of fiction, bust out your non-fiction or self-help faves. Take this opportunity to not only relax but also feed your mind with new knowledge.
Here's your checklist for the ultimate home spa goals – at a glance:

Neutrogena Rainbath Shower & Bath Gel
Your favourite book
A cup of tea
A scented candle
A branch of eucalyptus
A loofah or dry brush
A bathroom waterproof speaker
Enjoy everyday spa-like indulgence with Neutrogena Rainbath Shower and Bath Gels.
Plus, visit Neutrogena Singapore's Facebook page to stand a chance to win up to SGD8,400++ worth of products from Neutrogena and Grohe!
Talent: Elaine Jasmine

Location: Grohe Spa Flagship Store
Shaw Centre, 1 Scotts Road, #01-04/05, Singapore 228208
Comments, questions or feedback? Email us at [email protected].