When life gets busy, it becomes easy for us to feel stressed out. If you're feeling overwhelmed and under the weather these days, take this as a sign to reset, recharge and rejuvenate your mind and body. Enjoy a spa-like indulgence — without leaving the comfort of your home with the Neutrogena Rainbath Shower and Bath Gel range and its new indulgent variants.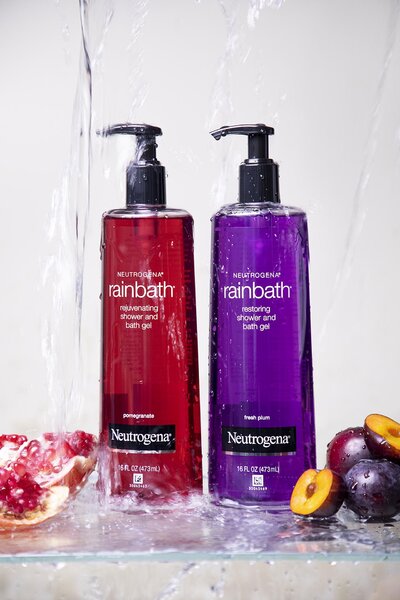 Me-time to the max
It's okay to be selfish — you deserve it. Go all out with pampering yourself. And what better way to start than with a bath? Indulge in a relaxation session like no other so you can feel refreshed and ready to take on new challenges. More than just cleanse, nourish with the Neutrogena Rainbath, now with two new variants — Neutrogena Rainbath Fresh Plum and Pomegranate.
Take in Fresh Plum's alluring mix of fruit and florals and find yourself getting whisked away to a revitalised state of mind. Enjoy a zing of freshness as you lather and smell the energising juicy scent of Pomegranate.
These, and other variants, are great for cleansing, conditioning and softening the skin. They contain ingredients formulated for skin-caring benefits like no other. But aside from that, their scents take your stress away as you lather and luxuriate. Plus, they come in a luxurious texture you'd love to feel on your skin — not to mention they look incredibly post-worthy.
Set the mood
Establish an ambience that evokes serenity. Did you know that scents
affect
your mood and stress levels? So it's important to choose one that energises and renews you. Whether that's through getting a whiff of your favourite scented candle or pouring Neutrogena Rainbath in a jar to let its fragrance exude, let the scent you choose envelop you with good energy.
Engage in a calming experience
If you've been feeling a bit off lately, try to shift your focus on a calming exercise. A mini mani session can help to take your mind off things — and transform your digits while you're at it. Giving yourself time to zero in on an activity that requires your utmost attention is a great way to help you have
less anxiety
. If you want indulgence without any type of movement, sleeping under a weighted blanket might do the trick for you. Sleep with a light heart to wake up with a renewed spirit — reset done right.
Cart out on Redmart from 15 to 31 July and enjoy 15 per cent off with any four items purchased and receive a free SGD10 voucher!
Comments, questions or feedback? Email us at [email protected].