TWICE Mina's Instagram @minajype is filled with a lot of fresh-faced looks from the K-pop star that are oh-so enviable. They're not just stage photos or comeback visuals either; the 25-year-old Japanese member of the South Korean girl group also shows off her beauty in the most casual and candid of IG moments. Curious to see which ones make us stan her all over again? Below, TWICE Mina's best Instagram beauty moments we can't help but obsess over.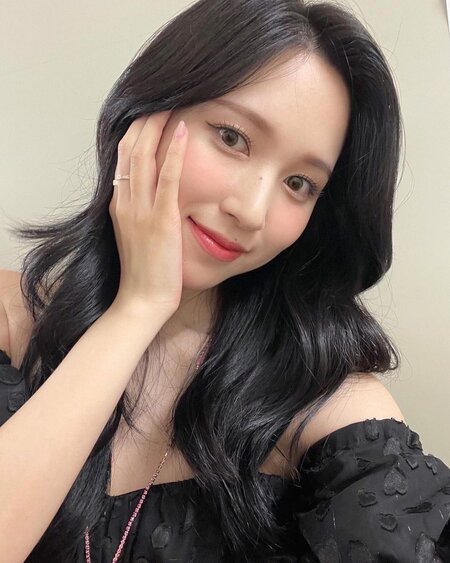 1. Bare-faced beauty
Mina showed off her porcelain skin — and adorable cheek dimple — in this casual mirror selfie from February 2022. Her hair is pushed back by sunglasses, showing a full view of her beautiful bare face. While we can't channel this exact level of effortlessness, we're still happy that Mina shared her beauty secret in achieving her naturally radiant look.
The TWICE main dancer said her go-to skincare product is SK-II's PITERA™ Essence which keeps her skin glowing and hydrated. (P.S. she's the brand's latest ambassador, too!) She also advised drinking tons of water and prioritising rest to keep your skin looking its best. We're taking notes, Mina!


2. Soft wing + cherry red lips
Just when we thought she couldn't look any more doll-like, TWICE Mina dropped this Instagram bomb. The soft wing and
manga-like lashes
gave her a more wide-eyed appearance. She also sported sparkly eyeshadow, which is a popular J-beauty trend. Finally, Mina wrapped up the look with a gorgeous cherry red lip that gives her an
irresistible pout
.


3. Spicy red monochrome look
Mina posted this on Instagram in 2020 when she was promoting TWICE's YouTube Originals series
Seize The Light
. It's quite rare to see the K-pop idol wearing bolder makeup than her usual soft wing and rosy lips so this spicy red monochrome look is one for the books. It reminds us of the now-popular
douyin
makeup trend that's taking over the Chinese and
Japanese beauty TikTok scene
.
4. Nude makeup stage look
Getting your photo taken candidly and still looking great in them is an actual skill and TWICE Mina seems to be a master at it. In this performance photo she posted on Instagram, the K-pop star is seen looking particularly gorgeous in a nude makeup look that matches the tone of her dress. It's quite different from her preference for rosy and peachy tones, but the change still resulted in one of the prettiest looks to see on her IG grid. Plus that
milk-tea-inspired lipstick
shade? Divine!
5. Subtle under-eye blush
Mina's look for TWICE's
Eyes Wide Open
album is simply breathtaking. We're totally gushing over her subtle under-eye blush, which is a fresh take on the
igari/drunk blush look
.
This look can be achieved by blending your blush with your undereye concealer to result in the most natural-looking flushed look, according to TikTok.

(Cover photo from: @minajype)
Next, check out these beauty trends sported by our favourite K-celebs.
Comments, questions or feedback? Email us at [email protected].